Guilty of Assault
The Diss Express of Friday, 4th August, 1905, reported on proceedings at the East Harling Magistrates Court. This included the case concerning a fracas between two women in Great Ellingham.
Widow Elvina M Rushbrooke of Great Ellingham was charged with assaulting her neighbour Maud Halls on the 23rd July. Halls was charged on a cross-summons with assaulting Rushbrooke.
The report did not give any details surrounding the case. Accordingly, we do not know whether the two women usually 'rubbed along' , or, whether they regularly had spats and, on this occasion, the disagreement got out of hand.
Nevertheless, the two women were convicted. Each received a fine (with costs) of eleven shillings, with seven days imprisonment for non-payment.
Neighbours
We know from the report that Elvina Rushbrooke and Maud Halls were neighbours in Great Ellingham. Also that Elvina was a widow.
I have not been able to find either Elvina or Maud on the 1901 census. Indeed, I have not been able to trace Maud Halls at all.
However, I found Elvina Rushbrooke in the Register of Electors for 1906. Elvina lived in house on the Attleborough Road, Great Ellingham. Given that the court case was held the previous year, I think we can assume that Elvina and Maud were neighbours on the Attleborough Road. At that time, there were very few dwellings along the Attleborough Road (which then followed a slightly different route).
By 1911, Elvina moved out of the village. The census of that year finds her living in Besthorpe with her son, Cecil, and his wife and two daughters.
Elvina Rushbrooke
Elvina Rushbooke was born c.1852 in the village of Ashwellthorpe. The 1861 census captures 8 year old Elvina with her parents, James and Margaret Brown, 'by the Mere' in Scoulton. Elvina was then one of 5 children. Her father was a local gamekeeper.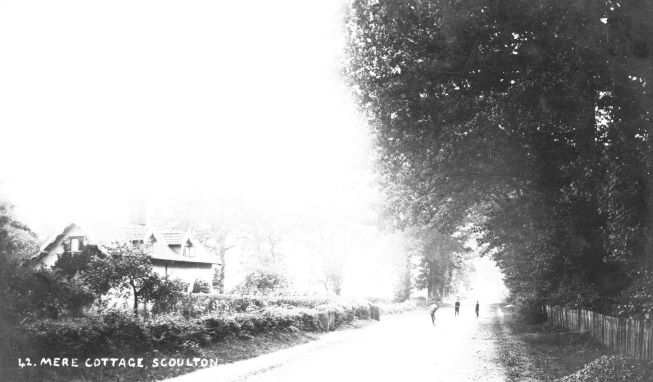 Mere Cottage, Scoulton no later than early 1900s. Original postcard from author's collection not very clear
Marriage
At 21, Elvina married Scoulton born Alban Rushbrooke in 1874. Their marriage was registered between April and June of that year.
A farmer of some 374 acres and an employer of at least 13 labourers and two boys, Alban was a good 33 years older than Elvina. His first wife, Berthalina, had died aged 24 in January 1860. Alban was left with two young sons, Alban and Ernest.
However, it was not until some 14 years after the death of Berthalina that Alban remarried. By then, his two young sons were in their teens.
Was his marriage to Elvina an arranged marriage or one of convenience – or neither? Elvina's family was not of the same social standing as the Rushbrookes. However, by 1881 Elvina's father, James Brown, had progressed from a gamekeeper and woodman to a bailiff with the responsibility for some 263 acres.
Children
Elvina gave birth to Clement on the 19th November, 1874. Given that Alban and Elvina married earlier in the year, it is likely that Elvina was already pregnant when she married. Was this the reason for the marriage?
Nonetheless, Alban and Elvina continued to live in Scoulton and have further children.
Death of Alban Rushbrooke
Alban Rushbrooke died on the 28th March, 1895. Alban is buried with his first wife Berthalina in Scoulton. At some point, widow Elvina moved to Great Ellingham.
Other Rushbrooke connections to Great Ellingham
This Rushbrooke family had other associations with Great Ellingham.
In 1884, Ernest Rushbrooke, the son of Alban Rushbrooke (and step-son of Elvina), married Ellen Sarah Wright. The couple moved into Bury Hall, Great Ellingham which was not far from Ellen's family home. However by 1897, Ernest and Ellen along with their extended family, left Great Ellingham for a new life in New Zealand.
Death of Elvina Rushbrooke
The death of Elvina M Rushbrooke was registered in the Wayland District between July and September 1916. She was 64.
Sources:
GRO Index. Viewed via FreeBMD website.
https://www.freebmd.org.uk/cgi/information.pl?cite=EG5f%2B%2BSKMqDbcgv5d0N5zA&scan=1
https://www.freebmd.org.uk/cgi/information.pl?cite=Wt1qI%2BC88DkQmxz3sbskRQ&scan=1
https://www.freebmd.org.uk/cgi/information.pl?cite=rAwo%2BpqXTBjBHPjYGG%2BHIQ&scan=1
Diss Express 4th August 1905. Viewed https://www.britishnewspaperarchive.co.uk 24 September 2021
1911 census RG14/11472/42
1891 census RG12/1550/32
1881 census RG11/1975/41, RG11/1976/4
1871 census RG10/1842/45
1861 census RG9/1238/46
Scoulton Parish Registers. Norfolk Record Office.PD 366.Viewed via England Births and Christenings, 1538-1975″, database, FamilySearch (https://familysearch.org/ark:/61903/1:1:J958-6VZ : 18 September 2020), Alban Rushbrook in entry for Clement Rushbrook, 1874
Transcript of Scoulton, Monumental Inscriptions 1440 to 1997 Norfolk Family History Society.https://norfolkfhs.org.uk
Electoral Register 1906 Mid division. Norfolk,England, Register of Electors 1832-1915. Ancestry.com. Norfolk, England, Register of Electors, 1832-1915 [database on-line]. Lehi, UT, USA: Ancestry.com Operations, Inc., 2016. Original data: England, Norfolk Register of Electors, 1844-1952. Salt Lake City, Utah: FamilySearch, 2013