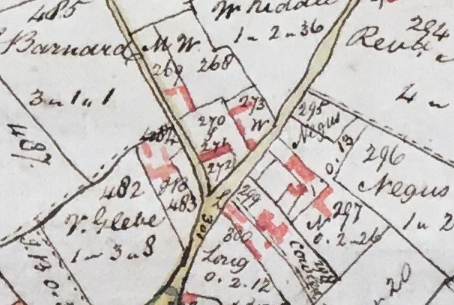 Extract from 1802 Map of Great Ellingham. Original held at Norfolk Record Office. Russell James Colman Plans. Cat. Ref. C/Ca 1/84.
With kind permission of NRO
Properties in Chequers Lane and Church Street
At the turn of the nineteenth century, Mary Warren owned five houses and land in Great Ellingham. These properties were in what we today know as Chequers Lane and Church Street.
The premises are identified and numbered 268, 269, 270 and 273 on the above extract of an 1802 map of the village.
A corresponding Particulars and Valuation of Great Ellingham prepared by the Commissioners for the Inclosures of 1800, confirms the following land and properties were owned by Mary Warren:
No.268 Hempland comprising of 2 roods and 20 perches (0a 2r 20p)
No.270 Chequer Public House & Yard 0a 0r 8p
Allotment upon Pennell Common 4a 0r 7p
Occupied by William Warren
No.269 Two Cottages Outbuildings and piece behind 0a 0r 27p
Occupied by Charles Hilthorpe (Thilthorpe) and J Fox
No.273 Two Houses, Outbuildings, Baking Office, Yard and Garden. 0a 0r 37p
Occupied by Webster, William Barnard, Wilkins & Coe
I believe that the larger of the buildings identified in the piece of land numbered 269 is the Chequer Public House (number 270).
Mary Warren had inherited the properties and land from her former husband, Charles Barnard.
Charles & Mary Barnard
Charles Barnard
At the age of six, Charles was baptised in the parish church at Great Ellingham on January 1st, 1766. The baptism entry records that his father, John Barnard, was then a widower. I think it unlikely that Charles was born in Great Ellingham.
Charles's parents were John and Martha Barnard (neé Roper) who married in the parish church in Wymondham on the 10th October, 1749. Their son Robert was baptised in the same church on the 23rd August, 1750. Charles was born around 10 years later.
Martha Barnard died before 1766. However, I have not yet been able to find a burial entry for Martha Barnard. Perhaps John Barnard brought his sons, Robert and Charles, to Great Ellingham following the death of Martha? In any event, widower John Barnard married spinster Mary Mead of Eye, Suffolk, in the parish church of Great Ellingham on the 22nd October, 1773. John Barnard died nine years later.
Marriage and Children
Just a few months after the death of his father, Charles Barnard married Mary Cushing in the parish church at Watton on the 3rd October, 1782. Both Charles and Mary were single.
The couple had four children baptised in St Andrew's Church, Hingham: Charles William on the 15th December, 1783, John Robert 18th February, 1785, Mary Anne on the 23rd April, 1786 and Anne Elizabeth (born 14th March, 1788) baptised on the 27th April, 1788. Sadly, Charles and Mary Barnard buried Mary Ann in Hingham just over a month after her baptism.
I presume that Charles Barnard returned to Great Ellingham with his wife and their three surviving children, at some point after 1788 but before he died in 1796. Charles Barnard was buried in the churchyard of St James on the 6th June, 1796.
Charles Barnard's elder brother Robert was living at Great Ellingham Hall around the time that Charles (his younger brother) was buried in the churchyard.
Widow Mary Barnard
Mary Barnard was left a widow with three children, Charles William being about 13, John Robert 11 and Anne Elizabeth 8.
In his will of the 5th March, 1796, Charles Barnard left all his messuages, lands or tenements in Great Ellingham (which he had inherited from his father, John Barnard) to his wife Mary for her use during her lifetime. Charles's paternal grandfather had purchased these same messuages, land or tenements from William Mallows and his wife Mary.
Charles's will also mentions the occupiers of the various messuages and lands (in 1796) as: James Webster, Thomas Duffield, Edward Lovett, Charles Thilthorpe, John Fox, Alice Sippens and Sarah Tyrrell (both widows).
Marriage to William Warren
Widow Mary Barnard married widower William Warren of Caston in St James's Church, Great Ellingham on the 3rd November, 1800. An Indenture of 1813, refers to William Warren as being of Great Ellingham and a victualler. Accordingly, William Warren was likely the landlord of the Chequers Public House following his marriage to Mary Barnard (if not before).
Ownership of Properties pass to Charles Barnard's Children
Mary, the wife of William Warren, and formerly the wife of Charles Barnard, died on the 10th July, 1808.
Following Mary's death, the ownership of the various properties (including the Chequers Public House) passed to Charles William Barnard, John Robert Barnard and Ann Elizabeth Chaplin, the children of Charles and Mary Barnard, by the provisions of Charles Barnard's will.
Sources:
1802 Russell James Colman Plans. Great Ellingham. Catalogue Ref. C/Ca 1/84.
1799-1842 F W Horner, Records of the Surveyors to Commissioners for Inclosure in Parishes in Norfolk and Suffolk. Great Ellingham (Act 1799). Norfolk Record Office. Catalogue Ref: NRO, BR 90/2
1800 Inclosure Commissioner's Particulars and Valuation, Great Ellingham. Norfolk Record Office. Catalogue Ref: NRO, MC 2213/119
Great Ellingham Parish Registers. Norfolk Record Office. PD609. Also available at www.familysearch.org
Watton Parish Registers. Norfolk Record Office. PD218. Also available FreeReg website https://www.freereg.org.uk/
Hingham Parish Registers. Norfolk Record Office. PD575. Also available FreeReg website https://www.freereg.org.uk/
Wymondham Parish Registers. Norfolk Record Office. PD184. Also available FreeReg website https://www.freereg.org.uk/
Abstract of Title. Wymondham Town Archive. Reference 11773. John Gall Jnr. Lands in Great Ellingham sold to Wm Rose on 1/11/1842.