Marriage and Children
Charles Thilthorpe arrived in Great Ellingham with his wife Frances (neé Bunkall) sometime after their marriage in Watton on 11th October, 1772.
Baptisms for at least eight children of Charles and Frances Thilthorpe appear in the Great Ellingham Parish Registers between 1774 and 1785. One entry confirms that Frances was formerly spinster Frances Bunkall. At least three of the children died in infancy.
Where did the Thilthorpe's live?
The Particulars and Valuation of the parish of Great Ellingham taken by the Commissioners for the Inclosures of the commons, common fields and waste lands of 1800, mentions that Charles Hilthorpe and J Fox occupied two cottages with outbuildings (and a piece of land behind) belonging to Mary Barnard (later Warren). However, the document does not state whereabouts in the village the cottages stood.
Before her marriage to widower William Warren, Charles Thilthorpe's landlord Mary Warren was married to Charles Barnard. Charles Barnard had inherited several properties (including at least seven tenanted properties) from his father John Barnard. Charles Barnard died in 1796 leaving various properties to his wife Mary for her life, and thereafter to his children. Some of these tenanted properties were in what we know today as Chequers Lane. I have previously written about Charles Barnard and William Warren.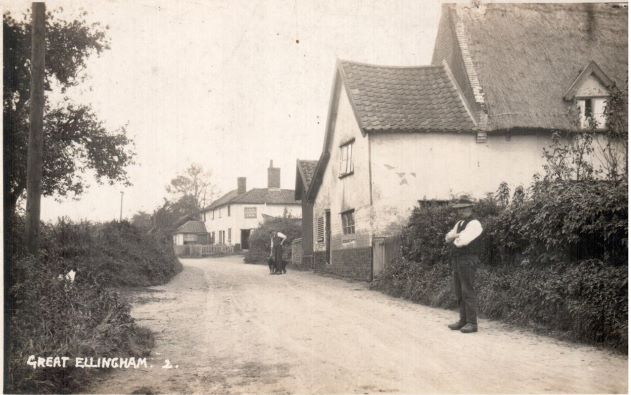 Chequers Lane. Postcard Carol Ewin
Charles Thilthorpe may well have occupied part of the property in the background of this postcard.
1811: Last Will & Testament
On the 8th October, 1811 Charles Thilthorpe, a baker, of Great Ellingham signed his last Will and Testament. Charles did not actually sign his name on the Will but put his mark 'X'. This is puzzling as 39 years earlier, Charles had signed his name in the marriage register at Watton – assuming, though, that the Charles Thilthorpe and Frances Bunkall married at Watton and the Charles and Frances Thilthorpe later living in Great Ellingham are the same.
When Charles Thilthorpe made his Will, he may have been in poor health which prevented him from actually writing his signature on the Will. Charles died less than two months after making his Will. His executors James Barnard (farmer, of Great Ellingham) and Samuel Heyhoe Le Neve Gilman (gentleman, of Hingham), proved the Will on the 2nd December, 1811.
With no mention of his wife Frances in his Will, it seems likely that Frances had predeceased Charles. I have not found burial entries for either Frances or Charles Thilthorpe in the Great Ellingham Parish Registers.
It also appears from the Will that at least three of Charles and Frances's children (who had reached adulthood) had also predeceased Charles: his son John Wace Thilthorpe (baptised in Great Ellingham February 15th 1778), and daughters 'Frances the late wife of John Lebble of Great Ellingham, shoemaker' and 'Ann the late wife of Henry Barrett of Great Ellingham, turner'. Both Frances and Ann were baptised in Great Ellingham on November 7th, 1774 and February 11th, 1781 respectively.
Charles provided an annual income from a trust fund of £200 for his daughter Thomasin who was the wife of wheelwright William Brooke of Great Ellingham. He directed that this income was for Thomasin's 'sole and separate use' without being liable for any contracts or debts of her husband.
Charles also left a legacy of £10 to his granddaughter Elizabeth Lebble which was to be paid to her on reaching the age of 21 years.
He left the remainder of his estate to Thomasin – again for her 'sole and separate use'. After Thomasin's death, the money from the trust fund (£200) was to be shared equally amongst his grandchildren.
Given that Charles does not mention any other of his children (apart from Thomasin and his deceased children John Wace Thilthorpe, Frances Lebble and Ann Barrett), it appears that the only child of Charles and Frances Thilthorpe to survive them was Thomasin.
Thomasin Brooks
The 1841 census captures 50 year old Thomasin Brook (entered on the census as Tamson) with her husband wheelwright William Brook with Hannah Brook aged 35, Frances 20, Edward 15 (also a wheelwright) and 5 year old James Brook living in Great Ellingham. It is worth remembering that the ages provided on census returns are not always correct.
10 years later, the 1851 census finds 64 year old widow Tomasin Brooks living in Church Street, Great Ellingham. With Thomasin are her two unmarried daughters 42 year old Hannah described as a servant and born in Thetford and 26 year old Frances, a dressmaker, born in Great Ellingham. Completing the household are Thomasin's grandsons 13 year old apprentice carpenter James Brooks and three year old Edward Brooks.
The death for a Tomason Brooks was registered in the Wayland District during October to December 1854. I have not found a corresponding burial in the Great Ellingham Parish Registers.
Sources:
Great Ellingham Parish Registers PD/609. Also available at FamilySearch.org https://www.familysearch.org/search/image/index?owc=4J8C-CB7%3A29627201%3Fcc%3D1416598
Watton Parish Registers. Norfolk Record Office PD/218. Also available at familysearch.org https://www.familysearch.org/ark:/61903/3:1:S3HY-6FMW-9T5?owc=4JFM-6S3%3A30381801%3Fcc%3D1416598&wc=4JJX-XCQ%3A30381801%2C29373001%2C29358702&cc=1416598
Free BMD Website https://www.freebmd.org.uk/cgi/information.pl?cite=%2Fr1avlUdnBp6aC6YWjUeAg&scan=1 Accessed 17.12.2019
Will. Thilthorpe, Charles, of Great Ellingham. 1811. Norfolk Record Office. ANF will register 1811-1813 (1811-1812) fo. 199 no. 92. Also available http://www.norfolksources.norfolk.gov.uk
Abstract of the Title of Mr John Gall Junr to Hereditaments and Premises situate at Great Ellingham in Norfolk. Wymondham Town Archive, Council Offices, 14 Middleton Street, Wymondham, Norfolk, NR18 0AD
1841 census HO107/781/8
1851 census HO107/1823/131