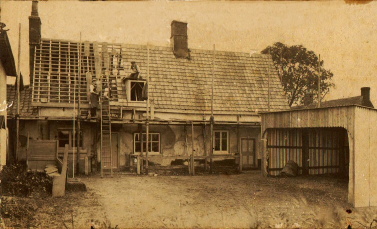 Chequers Public House. Date unknown. Photograph courtesy of Ray Beales
1800 Occupier of the Chequer Inn William Warren
According to the Particulars and Valuation of the Parish of Great Ellingham taken by the Commissioners for the Inclosing of the Commons, Common Fields and Waste Lands in Great Ellingham in the year 1800, William Warren occupied the Chequer Public House and yard. He also occupied an area referred to as Hempland and an allotment upon Pennell Common.
However the owner of the property and land was Mary Warren not William Warren.
Was there any family connection between Mary Warren and William Warren? Was Mary Warren William's mother or his wife or some other relative?
Charles Barnard & Edward Chapling
Details of the Licensees for the Chequers Inn, Great Ellingham referred to on the Norfolk Pubs Website is silent for the period around 1800.
However Charles Barnard was believed to be the Licensee in 1794 and Edward Chapling in 1830.
Marriage between William Warren & Mary Barnard
The Great Ellingham Parish Registers reveal at marriage between William Warren, a Widower from the nearby village of Caston, and Great Ellingham widow Mary Barnard on November 3rd, 1800. The marriage was by Licence and was witnessed by John Warren and James Webster.
An eighteenth century map of Pennell Common, shows Mary Barnard to own a piece of land on the common. This ties in with the Inclosure and Valuation of 1800 in which it is stated that Mary Warren owned an allotment upon Pennell Common.
Mary was a widow when she married William Warren. I believe Mary could well have been the wife of Charles Barnard the licensee of the Chequers in 1794 (referred to in the Norfolk Pubs website). I have yet to find a marriage to confirm this.
However a Charles Barnard, described as a married man, was buried in Great Ellingham churchyard on June 7th, 1796. This was four years prior to the marriage of widow Mary Barnard to William Warren.
It is interesting that an Elizabeth Barnard married Edmund Chaplin in Great Ellingham Parish Church on 16th April 1806. It is very likely that the Edward Chapling the licensee of the Chequers Public House in 1830 is the same person as Edmund Chaplin who married Elizabeth Barnard.
It is also likely that there is a connection between Mary Warren formerly Barnard and Edmund's wife Elizabeth Barnard.
Further research is needed here to tie this together but it is clear that William Warren was in occupation (and likely the licensee) of the Chequer Public House at the beginning of the nineteenth century.
Sources:
Great Ellingham Parish Registers Norfolk Record Office PD/609. Also available at FamilySearch.org https://www.familysearch.org/search/image/index?owc=4J8C-CB7%3A29627201%3Fcc%3D1416598
Norfolk Pubs Website http://www.norfolkpubs.co.uk/norfolkg/gtellingham/gtelch.htm accessed 11.06.2019
18th century Map Pennell and Anchor Commons in Great Ellingham held at the Norfolk Record Office catalogue reference MC 2213/114, 941X7
1800 Inclosure Commissioner's Particulars and Valuation Great Ellingham held at Norfolk Record Office catalogue reference MC 2213/119, 941X7