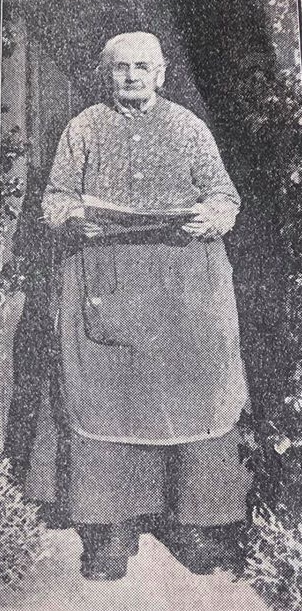 Newspaper Cutting
The recent find of an old newspaper cutting included an image of a past resident of Great Ellingham, 'Mrs M Pilgrim'. The cutting referred to Jubilee Celebrations in the village for which people of all ages in the village were taking an interest.
Taking part in the celebrations would be 92 year old Mrs M Pilgrim who would be singing the song 'Good-night, darling, I must leave you'. Mrs Pilgrim was said to have considered this to be a jolly song and proper. The newspaper cutting thought that Mrs Pilgrim was likely to be the oldest soloist taking part in the celebrations.
Who was Mrs M Pilgrim and when were the Jubilee Celebrations?
I found a burial entry in the Great Ellingham Parish Registers for Maria Jane Pilgrim aged 96 years who was buried on the 22nd June, 1939. Given that 'Mrs Pilgrim' was said to have been aged 92 at the time of the Jubilee Celebrations, I believe the celebrations were for the 1935 Silver Jubilee of King George & Queen Mary and the soloist, Mrs M Pigrim, was Mrs Maria Jane Pilgrim the widow of Maurice Pilgrim.
Sources:
Newspaper cutting. Elaine Snowling
Great Ellingham Parish Registers. Burials. Norfolk Record Office. PD/609