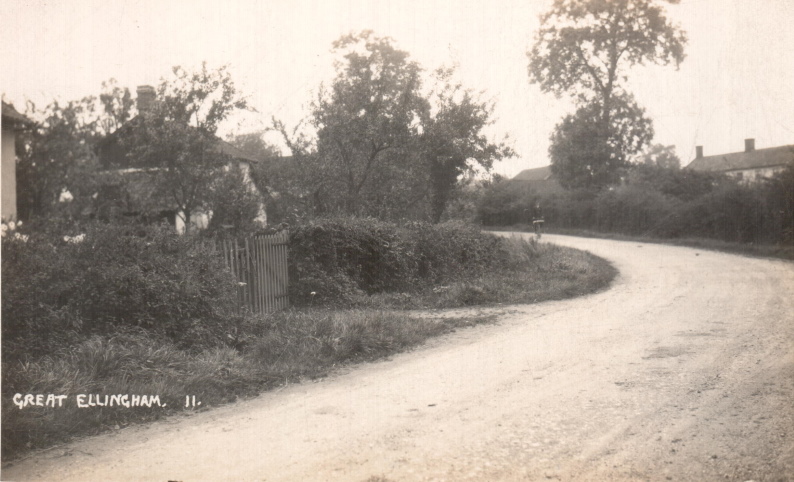 Long Street. Postcard Carol Ewin
Imagine the scene …….. a narrow country road with deep ditches either side; traffic approaching from both directions – no, not cars, but horse and carts! One vehicle allegedly in the middle of the road with nowhere for the other to pass. Possible bad blood between the parties…… this was never going to end well ……
Court Case
The Eastern Daily Press of April 7th, 1908 reported on a recent case heard before the East Harling Magistrates.
Maurice Pilgrim, a farmer, of Attleborough was charged by Thomas Pilgrim, also a farmer, of Great Ellingham, with obstructing the highway at Great Ellingham on 26th March.
Giving his evidence, Thomas Pilgrim said that his man was driving him in his horse and cart when they came across Maurice Pilgrim with a horse and tumbril in the middle of the road. In trying to pass, Thomas Pilgrim's cart was pushed almost into the deep ditch. On Thomas Pilgrim asking Maurice Pilgrim why he did not pull out, Maurice Pilgrim reportedly said "I would not pull out for you".
This account of events was corroborated by William Pilgrim (who was driving) and Edward Lincoln who was working in a field nearby.
In his defence, Maurice Pilgrim told the court that there was plenty of room for Thomas Pilgrim's vehicle to pass and that he had not been asked to pull out. He also told the court that "the action had been brought through spite".
The Chairman of the Magistrates informed Maurice Pilgrim that the Bench was satisfied about the case and that they could have fined him £10. However he was ordered to pay a penalty of 5s and costs amounting to 19s 6d with 21 days in default.
Who were the Parties involved?
Was it a coincidence that the defendant, complainant and a witness all shared the same surname? Were they related?
The incident occurred in 1908. The 1911 census finds 62 year old farmer Maurice Pilgrim living at Cakes (Cades?) Hill Farm, Attleborough with his 66 year old wife Maria Jane and his widowed mother, 84 year old Mary Ann Pilgrim. Both Maurice and his mother were born at nearby Morley St Peter.
At that time a farmer Thomas E Pilgrim aged 25 was living in Long Street, Great Ellingham with his wife Emma, children Thomas aged 4, Harrold 2 and eight month old Edna. Also living with the family were Thomas's uncle, William Pilgrim, a singleman aged 60 and Emma's mother, 67 year old widow Elizabeth Reeder. Thomas Pilgrim and his uncle William Pilgrim were both born in Morley St Peter.
Maurice Pilgrim also farmed land in Great Ellingham. The Eastern Daily Press of 10th December, 1910 referred to an Auction taking place at the Royal Hotel, Attleborough on the 15th December which included two enclosures of arable land "abutting on the road from Great Ellingham to Hargham occupied by Mr Maurice Pilgrim". I believe the land was at Long Street – perhaps not far from where the incident of 1908 took place?
In 1901, the Pilgrim household at Long Street comprised 49 year old farmer, William Pilgrim (head of household), his brother 51 year old agricultural labourer Maurice Pilgrim and his wife Ellen, 39 year old sister Mary Ann Pilgrim and Mary Ann's son, Thomas E aged 15. Thomas is also described as an agricultural labourer.
The three Pilgrim siblings were children of Thomas Even Pilgrim and his wife Mary Ann. All were baptised at Morley St Peter: William baptised November 21st, 1851; Maurice April 15th, 1855 and Mary Ann on June 5th, 1859. Other children of Thomas and Mary Ann Pilgrim were baptised in Morley St Peter.
In conclusion
The Pilgrims involved in the court case were brothers and their nephew. I can only surmise that the Pilgrim family had a falling out between 1901 and 1908. Perhaps because of continuing bad feeling the unfortunate meeting on the road on 26th March, 1908, got out of hand which resulted in the subsequent court appearance. This would not, of course, have helped in any attempt at reconciliation!
Sources:
Morley St Botolph Parish Registers. Norfolk Record Office PD/3. Also available at FamilySearch.org https://www.familysearch.org/ark:/61903/3:1:S3HY-DRNQ-RV4?owc=4J6P-Z17%3A29858601%3Fcc%3D1416598&wc=4J6P-87F%3A29858601%2C29359202%2C29857301&cc=1416598
Morley St Peter Parish Registers. Norfolk Record Office PD/3. Also available at FamilySearch.org https://www.familysearch.org/ark:/61903/3:1:S3HY-DRNQ-RV4?owc=4J6P-8M8%3A29861801%3Fcc%3D1416598&wc=4J6P-87F%3A29858601%2C29359202%2C29857301&cc=1416598
Eastern Daily Press 10th December, 1910
Eastern Daily Press 7th April, 1908
1901 census RG13/1867/79
1911 census RG14/11473/72, RG14/11470/91