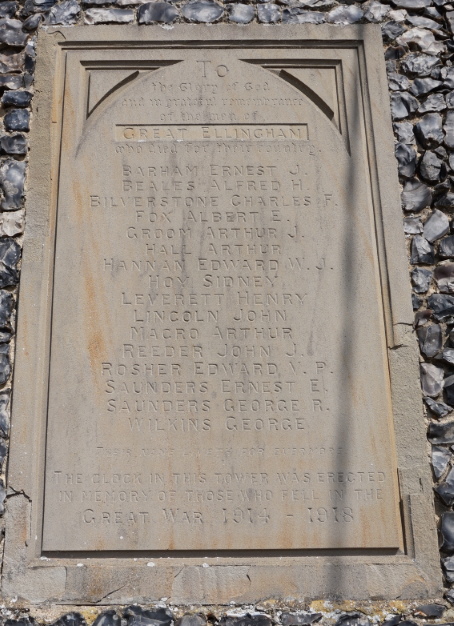 The name of George Wilkins is inscribed on the Great War memorial tablet on the west wall of the Church of St James, Great Ellingham.
George was a Private in the 1st Battalion The Buffs (East Kent Regiment). Aged just 29, he was killed in action in France, on the 15th September, 1916.
Early Life
George was born in Great Ellingham in 1887. His birth was registered as 'George Rivett' in the Wayland District, between July and September of that year.
His mother, Jane Rivett, was a daughter of local farmer Charles Rivett and his wife Letitia (née Smith).
Jane gave birth to George before she married Thomas William Wilkins (also known as William Wilkins).
Parents' Marriage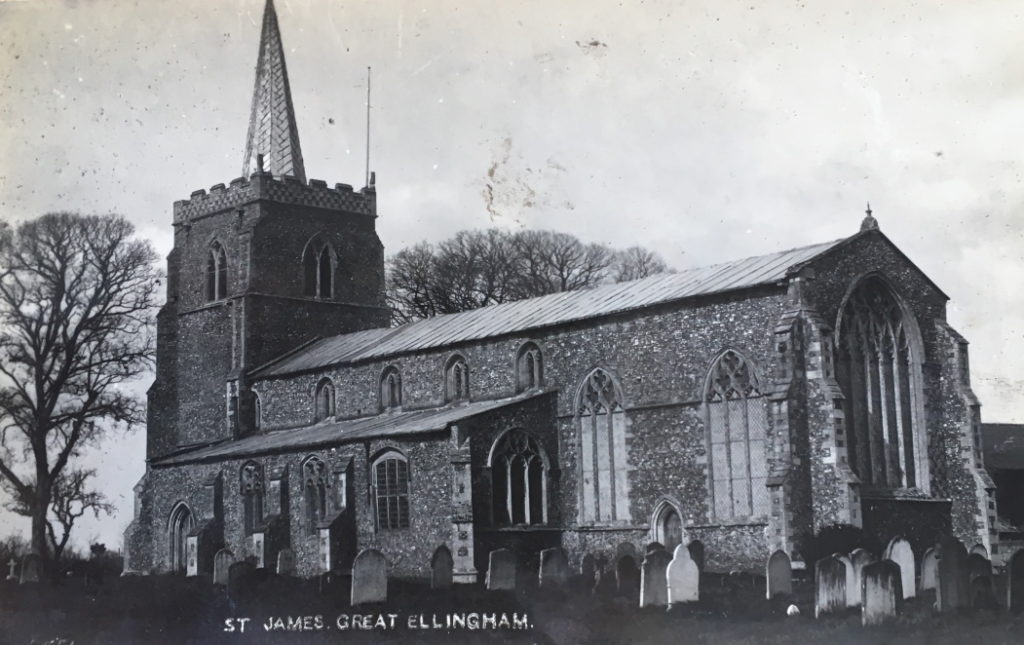 Church of St James Great Ellingham. Postcard courtesy of Attleborough Heritage Group
As 'William Wilkins', 20 year old Thomas married 21 year old Jane Rivett in the Church of St James on the 20th November, 1888. Thomas William Wilkins was a son of Great Ellingham butcher William Wilkins, and his wife, Ann Amelia.
1891 census
George grew up in the Town Green area of the village.
The 1891 census captures 3 year old George (as George Rivitt Wilkins) with his parents, Thomas William and Jane Wilkins at Ivy Cottage in the Town Green/Long Street area of the village. Thomas Wilkins is working as a miller's assistant.
1901 census
The 1901 census finds the family in Town Green. It is possible that the family were living in the same house as they were ten years ago.
Thomas and Jane have four children – George 13, Charles 7, Ivy 1 and three month old Ena. Employed as a miller, Thomas is using the name 'William Wilkins'. George is attending school. No doubt it was the Board School in Hingham Road, which opened five years earlier in 1896.
1911 census
By 1911, Thomas, Jane and their children moved to a four-roomed property in Swamp Lane. The family may have had the use of a scullery in addition to the four rooms. Almost certainly, the family would have drawn their water from one of the wells in Swamp Lane, and likely used an outside privy.
Aged 43, Thomas Wilkins is in business as a fish hawker (fishmonger). His two eldest sons, 23 year old George and 17 year old Charles, were also working as fish hawkers. Likely, George and Charles were working for their father. The other children in the household are Ena 10, Eric 7, Leslie 6 and two year old Thomas.
At that time, Thomas and Jane had been married for 22 years. The couple had nine children, seven of whom were still living.
George's Siblings
I have not found a baptism entry for George Rivett (or as George Wilkins) in the records for St James's Church, Great Ellingham. However, there are baptism entries for other children of Thomas and Jane Wilkins:
Walter Wilkins was born on the 14th September, 1891. He was baptised in St James's Church on the 17th September. Sadly, Walter was buried in the churchyard just ten days later.
On the 15th June, 1913, Thomas and Jane took five children for baptism in the parish church:
Ivy Letitia born on May 10th 1899; Ena Amelia born on Christmas Day 1901; Eric William born on May 4th, 1903; Leslie born March 6th, 1905 and Thomas William born on June 16th, 1908.
Killed in Action
Just three years later, Thomas and Jane's eldest son, 29 year old Private G/7208 George (Rivett) Wilkins was killed in action on the 15th September, 1916. He is commemorated on the Thiepval Memorial.
Sources:
Great Ellingham Parish Registers. Norfolk Record Office. PD609. Also available at www.familysearch.org
https://www.cwgc.org
1911 census RG14/11473/151
1901 census RG13/1867/69
1891 census RG12/1549/70