Fellow local historian, Cynthia Budd, has meticulously researched the men listed on the Great War Memorials throughout the Shellrock Benefice (Great Ellingham, Little Ellingham, Rockland All Saints, Rockland St Peter and Shropham with Snetterton).
She has kindly allowed me to reproduce her tributes to the Great Ellingham men, on the Great Ellingham One-Place Study website.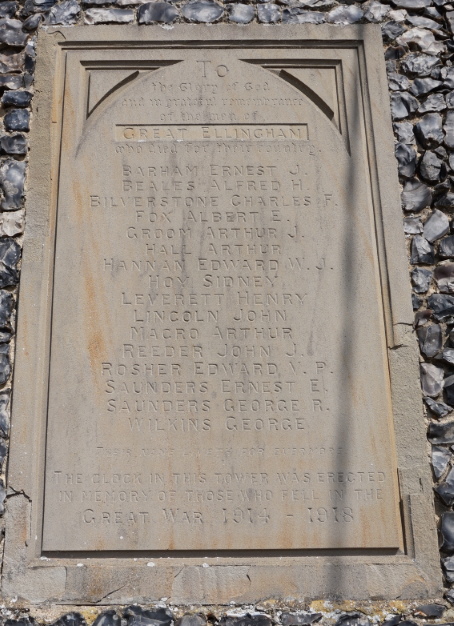 Great War memorial tablet on the west wall of the Church of St James, Great Ellingham
The following is Cynthia's piece commemorating Private 18217, Sidney Hoy, 9th Battalion, Norfolk Regiment:
Sidney's birth was registered in the first quarter of 1892 (Sidney Hoy).  Census records say he was born in Great Ellingham. His parents were John Hoy, also known as John Lee, and Jane, nèe Bilham. He had an older brother or half-brother; John William Bilham, an older brother, Albert and sister, Ethel. His younger siblings were George, May, Harry and Frank. 
The family was recorded as Lee in 1891, Long Street, Great Ellingham. On census day 1901 the surname was Hoy and the family lived on Bow Street. They were still there in 1911, surname Lee, Sidney was aged 19 and was a farm labourer.
He enlisted as Sidney Hoy and his service number suggests that he probably enlisted in September 1914. All of his Service was with the 9th Norfolk's who went to the Western Front at the end of August 1915. During September 1915 they had very large numbers of casualties. Sidney went over to the Western Front with a draft of reinforcements 4 October 1915. They spent many months in the Ypres Sector before moving to the Somme in mid-1916. They were in action there in September and October 1916. 
In 1917 they fought at Hill 70 in August and at Cambrai during November and early December. Once the German Spring Offensive began in 1918 there was little rest for the 9th Norfolk's over the ensuing months. Miraculously by the beginning of October 1918, there were still a few men who had been with the Battalion since 1915. Private Hoy was one of them and he was soon to be fatally wounded. 
The 9th Norfolk's took part in a series of successful but costly attacks near Brancourt and Bohain on 8th - 9th, 11th -12th and 14th -16th October. These were their final Great War battles. 
Private Arthur Wright of Little Ellingham was killed on the opening day of the attack on Brancourt. Private Hoy died of wounds 18 October in a Rouen hospital some 220 kilometres SE of his Battalion's last position. He is recorded as one of 572 9th Norfolk men wounded in October 1918, the exact dates are not given. 
Sidney is buried in St. Sever Cemetery Extension, Rouen; Age 25 (actually 26), son of Mr J Hoy, Watton Road, Great Ellingham. His gravestone inscription; 'GONE BUT NOT FORGOTTEN'. 
He was commemorated at a Memorial Service in St. James' 29 December 1918 as Sidney Lee and was awarded the Victory and British War Medals and 1914/15 Star. 
Deanery Magazine February 1919: 
"DEC 29th. Commemoration services for those who fell in the war during 1918 were held in both Parishes. Archdeacon MacDermott referred to the sacrifice our men have made and expressed deep sympathy of all for those who had lost their loved ones. The names are as follows: Walter William Taylor, Arthur James Wright, of L.E., Sidney Lee, Arthur Macro, George Reginald Saunders, and Ernest Edward Saunders of G.E."
With many thanks to Cynthia Budd and Chris Clarke.
Cynthia's sources. Please note that the sources include research carried out in relation to all the 'fallen' of the Great War throughout the Shellrock Benefice. Accordingly, not all the sources will be applicable to Great Ellingham :
Ancestry UK: Birth, Marriage, Death and Parish Records. Census Records and Electoral Rolls. Probate Records.Military Records; Army/Navy Service Records. UK Soldiers Died in the Great War Roll. Medal Index Cards. Medal Award Rolls. The Register of Soldiers' Effects. War Diaries. Canadian Military Records.
Archant Archives, Norwich. Also Thetford Library; The Thetford & Watton Times.
Australian War Records Websites: https://rslvirtualwarmemorial.org.au https://recordsearch.naa.gov.au
Commonwealth War Graves Commission
FindMyPast; Military Service Records. Electoral Rolls. British Newspaper Archive. The 1939 Register.
The General Record Office.
The History of the Norfolk Regiment 1914-1918 F Loraine Peter OBE
The London GazetteThe National Archives
The Norfolk Heritage Centre, The Forum, Norwich. Breckles and District Deanery Magazines. Norwich Mercury (Microfiche)
The Norfolk Record Office.
Norwich Cathedral Library; 1919 Diocesan Roll of Honour.
Picture Norfolk https://www.norfolk.gov.uk/libraries/picture-norfolk
The Red Cross https://grandguerre.icrc.org
Various Regimental Websites.