Furious Driving
James Wilkins of Great Ellingham appeared before the Magistrates at the Petty Sessions held at New Buckenham in early May 1864.
An account of the offence of furious driving on the road from Great Ellingham to Stow Bedon was given by Police Constable Bugg.
James Wilkins was convicted and adjudged to pay 30s penalty and costs or 14 days' imprisonment in default.
Who was James Wilkins?
James Wilkins was born in Great Ellingham in 1840. His birth was registered between April and June of that year in the Wayland District. The registration details tells us that his mother's maiden name was Chaplin. James's parents, Thomas Wilkins and Harriet Chaplin married in the Parish Church at Great Ellingham on the 24th May, 1836.
The census undertaken in 1861 (three years prior to his court appearance) captures 20 year old James living with his 51 year old widowed father, Thomas (a butcher), and brother William aged 17, in Church Street, Great Ellingham.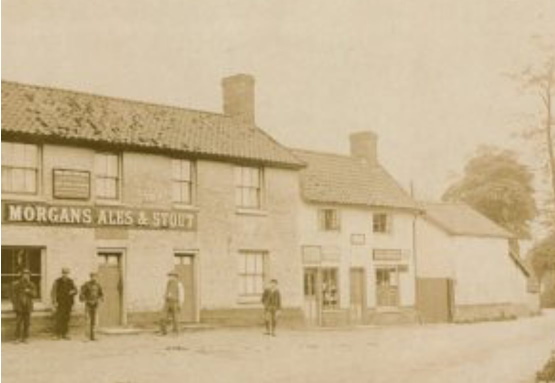 Crown Public House with adjoining shops. Postcard Carol Ewin
I believe their home was adjacent to the Crown Public House. With the Wilkins family is 37 year old widow Martha Carter (a servant) and her three year old son Robert. 61 year old widow, Mary Norton, described as a visitor is also listed with the household.
James's mother Harriet had died in April of 1857 and was buried in the churchyard of St James on 23rd April, aged 44 years.
Further Appearance before the Magistrates
In the June of 1866, labourer James Wilkins, was one of a group of Great Ellingham men appearing before the Magistrates at the East Harling Petty Sessions charged with being drunk and refusing to quit the Chequers Inn on the 29th May.
George Chaplin (a wheelwright), James Carter (drillman), John Carter (labourer) and Robert Houchen the younger, were all summoned along with James Wilkins, and all convicted and fined. Wilkins and Chaplin received 14 days imprisonment in default of their fine.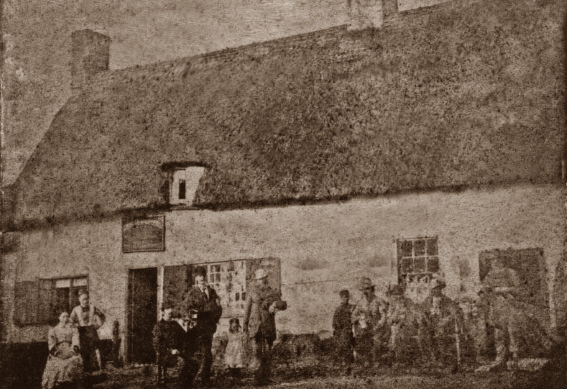 Chequers Public House during the slightly later tenure of Landlord Ellis Carter. Courtesy of Ray Beales
John Brown, the landlord of the Chequers Inn, was convicted of permitting disorderly conduct in his house for which he was fined £2 with costs of 14s.
James Wilkins & Emma Skipper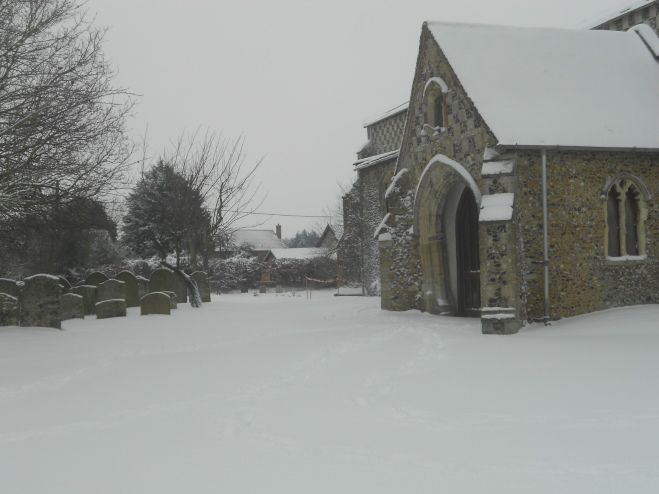 Porch of St James Church Great Ellingham
Marriage
28 year old James Wilkins married 23 year old Emma Skipper in the Parish Church in Great Ellingham on January 18th, 1868. There could well have been snow on the ground when the couple tied the knot.
Both single and of Great Ellingham, James was described as a labourer and Emma a servant. James's father was noted as Thomas Wilkins, a butcher and Emma's father, labourer John Skipper. The marriage was witnessed by William Kerrison and Emma Elizabeth Rix.
Skipper Family
Emma Skipper was born in Caston in 1845. The 1851 census reveals 5 year old Emma with her parents, John and Harriet Skipper and brothers Ellis 13, Jeremiah 8 and Abraham 2 living in Magpie Lane in nearby Rockland St Peter.
James & Emma Wilkins in Bow Street
The 1871 census finds James and Emma Wilkins living in Bow Street along with Emma's five year old son, James Skipper who was born in Rockland All Saints.
The family were still living in Bow Street in 1881. At this time, James Skipper appears on the census as 'James Wilkins'. James and Emma Wilkins are still in Bow Street in 1891.
Emma Wilkins was buried in the churchyard at St James on the 7th February, 1900. She was 55.
The 1901 census undertaken just a year later shows 61 year old widower James Wilkins living in a three -roomed property in Bow Street. His niece, 17 year old Cissie Palmer is his housekeeper.
James Wilkins died at the age of 65 and was also buried in the churchyard at St James. The burial took place on the 4th November 1903. I do not believe the couple had any children together.
James Skipper
Emma's son James Skipper married Sarah Jane Wright in 1896. Their marriage was registered between October and December 1896 in the Wayland District.
The 1901 census finds 34 year old James Skipper, described as a yardman on a farm, living at Goose Green, Little Ellingham with his 25 year old wife Sarah and daughters Beatrice 4 and one year old Alice.
Ten years later, the 1911 census finds James and Sarah living at Stalland Common, Great Ellingham with six of their seven children: Alice 11, Elsie 9, Edith 7, Frederick 5, Ivy 2 and one year old Herbert.
Sources:
GRO Index. https://www.gro.gov.uk/gro/content/certificates/Login.asp
Norfolk News 7th May 1864
Norfolk Chronicle 16th June 1866
Great Ellingham Parish Registers. Norfolk Record Office.PD/609. Also available at FamilySearch.org https://www.familysearch.org/search/image/index?owc=4J8C-CB7%3A29627201%3Fcc%3D1416598
GRO Index. Free BMD website. https://www.freebmd.org.uk/cgi/information.pl?cite=m4NLJVYoeLFtv8kDcpuGSA&scan=1 Accessed 27.01.2020
1851 census HO107/1823/129
1861 census RG9/1237/91
1871 census RG10/1841/79
1881 census RG11/1974/83
1891 census RG12/1549/72
1901 census RG13/1867/71, RG13/1867/86
1911 census RG14/11473/12