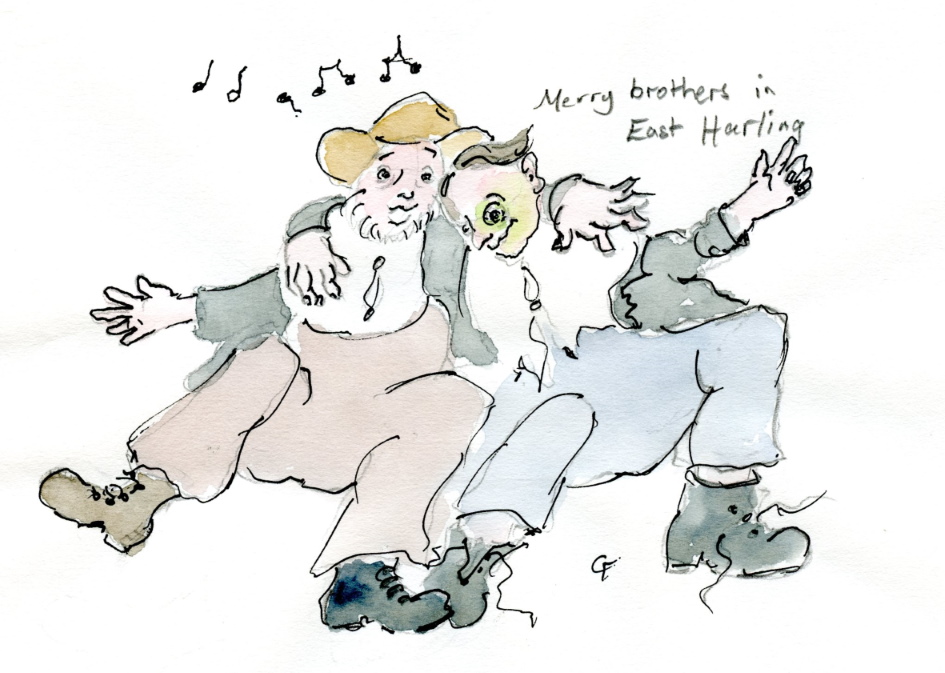 Illustration by Christine Fuller
Appearance before the Magistrates in 1881
The Norwich Mercury of 25th June 1881, published a report of recent cases heard at the East Harling Petty Sessions. The defendants included brothers Abraham and Jeremiah Skipper from Great Ellingham.
The men were "charged upon the information of Superintendent Starke with being drunk on the public road at East Harling on the 19th April". They were each fined with costs £1 3s 6d
But who were the Skipper brothers?
Abraham and Jeremiah were both born in Caston and the sons of John and Harriet Skipper. Jeremiah was born c.1842 and his brother, Abraham, in 1848.
1851
The 1851 census captures two year old Abraham and 8 year old Jeremiah with their parents and siblings living in Magpie Lane, Rockland St Peter.
1861-1871
Ten years later, the Skipper family had moved to Goose Common, Little Ellingham. The family remained at Goose Common until at least 1871.
1881
The 1881 census reveals the Skipper family at Low Common, Great Ellingham. 34 year old Jeremiah Skipper is described as the Head of the Household.
Accordingly, Jeremiah took over as the head of the household on the death of his father, John Skipper, in 1874.
Living with Jeremiah is his widowed mother, 70 year old Harriet, his 30 year old brother Abraham and sister Sarah.
The census describes Harriet Skipper as a housekeeper, and Sarah Skipper as a 'servant out of employ'. Completing the household, is infant Alice Skipper described as a niece to Jeremiah. Was Alice the daughter of Sarah?
Likely Jeremiah and Abraham were already living in Great Ellingham prior to 1881.
Previous Appearance before the Court
The brothers were no strangers to the Magistrates.
Abraham appeared before the East Harling Magistrates in July 1870, on a charge of being drunk and riotous at Great Ellingham on the 2nd July. He pleaded guilty and was committed to Norwich Castle for 7 days and ordered to pay costs 14s 6d.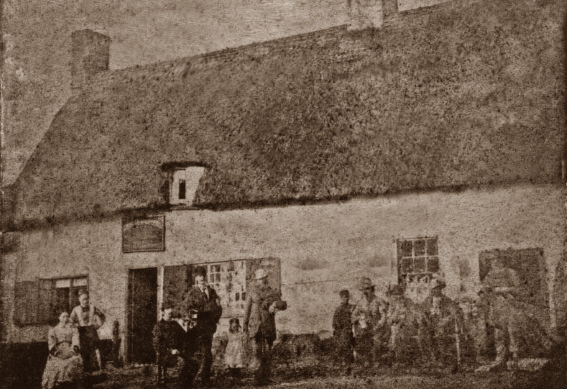 Chequers Public House during the tenure of Landlord Ellis Carter. Courtesy of Ray Beales
Jeremiah stood before the East Harling Magistrates in September 1871. Then of Great Ellingham, Jeremiah was charged with being drunk and disorderly and refusing to quit the Chequers Inn at Great Ellingham on the 5th August. He was fined with costs £1 13s. Ellis Carter may well have been the landlord of the Chequers at that time.
Once again, Abraham came before the Magistrates in May 1876, charged with being drunk and disorderly at Great Ellingham. On this occasion, Abraham was living in Little Ellingham. He was sentenced to one month, and ordered to pay costs (or, in default, a further one month's imprisonment).
What Happened to the Brothers?
Abraham
Abraham Skipper died aged 36 in the January of 1885. He was buried in Great Ellingham churchyard on January 24th.
Death of Mother
Nearly four years later, Abraham and Jeremiah's mother Harriet Skipper died. She was also buried in the churchyard of St James on 17th December, 1888 aged 74 years.
Jeremiah
Jeremiah married Emma Trollop during the latter part of 1889.
The 1891 census finds Jeremiah Skipper and his wife Emma living at Anchor Corner, Little Ellingham.
Jeremiah Skipper died aged 47 in 1891.
Sources:
FreeBMD website
https://www.freebmd.org.uk/cgi/information.pl?cite=gEBX5BT6TQOqFdgMwnnjwg&scan=1 accessed 08.07.2019
https://www.freebmd.org.uk/cgi/information.pl?cite=kM47D7qGUslD7nPMxcKCPA&scan=1 accessed 08.07.2019
https://www.freebmd.org.uk/cgi/information.pl?cite=%2FLPBMmEvpoSit99p5KpUbg&scan=1 accessed 08.07.2019
https://www.freebmd.org.uk/cgi/information.pl?cite=iFHP110YEJn3TAwzrqjaaQ&scan=1 accessed 08.07.2019
Norwich Mercury 25th June, 1881
Norfolk Chronicle & Norwich Gazette 6th May, 1876
Norfolk News 30th July, 1870
Norfolk News 9th September, 1871
1841 census HO107/785/17
1851 census HO1071823/256
1861 census RG9/1237/106
1871 census RG10/1841/103
1881 census RG11/1974/93
1891 census RG12/1549/89