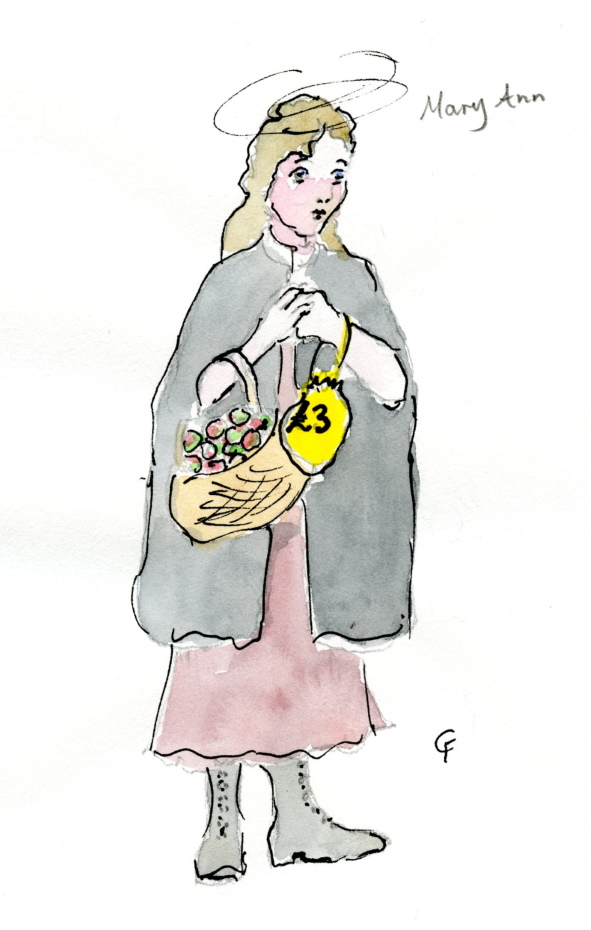 Illustration by Christine Fuller
The Offence
The Norwich Mercury of 20th December, 1873, reported on a court case concerning Mary Ann Catling. Mary Ann was the wife of drillman, Henry Catling, of Great Ellingham.
The magistrates were told that on the 10th December, the dwellinghouse of James Chaplin, a farmer and dealer of Great Ellingham, had been broken into. The sum of £3 in gold had been stolen from a work box in a bedroom, and about a quarter of a peck of apples taken from an adjoining room.
Details of the incident were given to Police Constable Everett of Rockland. Mary Ann Catling was arrested. When searched, Mary Ann was found to have £2 12s 6d. She was committed for trial.
Hearing at the Norfolk Quarter Sessions
The case was heard at the Norfolk Quarter Sessions held at the Shirehall in Norwich. A report appeared in the Norfolk News of 10th January, 1874.
Mary Ann Catlin, aged 19 years, pleaded guilty to the offence.
The fact that Mary Ann was in her youth and pregnant, gained her some sympathy from the Bench.
Mary Ann told the court that she had been married for three years. The matron of the Bridewell (prison) at Wymondham said that Catling had been in her custody for a fortnight two years ago. The Police Officer in Ellingham told the court that the prisoner's husband "was a very respectable man."
Mary Ann Catling was sentenced to two months' imprisonment. The sentence came with "such labour as she was could perform".
The chairman of the court told Mary that "the offence of which she had been convicted was a serious one". Mary was also told that the court had shown leniency, having taken into account the fact that her husband was of good character, and that she was about to become a mother.
Who were Henry and Mary Ann Catling?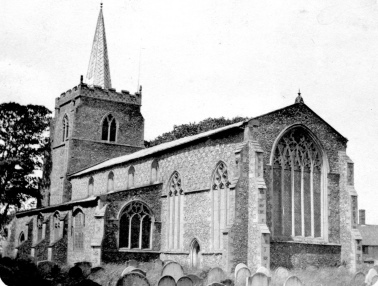 Church of St James, Great Ellingham
20 year old bachelor Henry Catling married 18 year old spinster Mary Ann Lincoln at the Church of St James, Great Ellingham on April 7th, 1871. Henry's father was also a Henry Catling, and a drillman. Mary Ann's father was labourer, John Lincoln.
There does, however, seem to be a small discrepancy in Mary Ann's age given at the time of her marriage and her stated age at the time of her trial.
I also wonder whether Mary Ann was known to the family as 'Polly', which is a common nickname for Mary or Mary Ann. Indeed, my own great aunt Mary Ann Catling (née Stebbings) was known as Polly.
Mary Ann Lincoln
1871
The 1871 census (taken on the night of the 2nd April just days prior to the marriage), captures 18 year old Mary Ann Lincoln as a boarder in the household of her soon to be parents-in-law and husband – 58 year old Henry Catling, his wife Sarah aged 56 and their 20 year old son Henry, in Great Ellingham.
1861
10 years earlier, the 1861 census finds 8 year old Mary Ann Lincoln boarding with William and Pleasance Mann at Low Common, Great Ellingham.
Baptism
The census states that Mary Ann was born in Great Ellingham. However, I have not found a baptism in Great Ellingham for Mary Ann Lincoln, daughter of John Lincoln.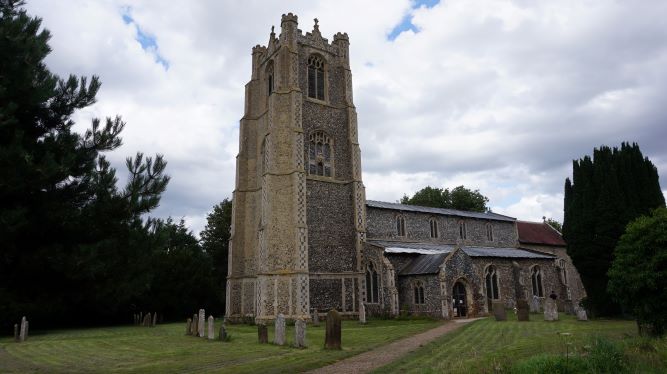 Church of St Andrew Deopham
Nevertheless, there is a baptism in the Deopham Parish Registers on 12 September, 1858 for a Mary Ann Lincoln, daughter of John and Sarah Ann Lincoln aged 5 years old. Accordingly, I think it likely that this is the Mary Ann who married Henry Catling, and later appeared in court.
The Catling Family
Between 1851 and 1861, the Catling family moved to Long Street, Great Ellingham from their home at Attleborough Hills.
According to the various census returns, Henry Catling senior was born in Old Buckenham, his wife Sarah in Carleton Rode, and their son Henry in Attleborough c.1851.
Henry Catling senior died in 1880 aged 74.
The 1881 census shows 69 year old widow Sarah Catling, described as a drill proprietor, in Long Street, Great Ellingham. Henry and Mary Ann together with their children, four year old Sarah Jane and George W aged one, are living with Henry's mother, Sarah.
Henry and Mary Ann's First Child
I wondered whether Sarah Jane was the child Mary Ann was expecting at the time of her trial.
Given that she was pregnant in January 1874, Mary Ann would have given birth during the year. Accordingly, that child would be aged 7 in 1881.
The census of 1881 gives daughter Sarah Jane's age as 4. Therefore, Sarah Jane was unlikely to be the child Mary Ann was expecting in 1874 (unless there was a discrepancy in Sarah's age on the census).
However, I found a registration for the birth of a Herbert James Henry Catlin with a mother's maiden name Lincoln, registered between April and June 1874 in the Wayland District.
I also found a corresponding death for Herbert James Henry Catlin. The death was also registered in the Wayland District of 1874, but between October and December.
Accordingly, I believe Herbert was the child that Mary Ann was expecting when she was convicted.
Death of Mother, Sarah Catling
Henry and Mary Ann Catling, together with their two children continued to live with Henry's mother in Long Street, Great Ellingham. Henry's mother, Sarah Catling, died in 1899 at the age of 88.
Death of Mary Ann Catling
Just a year after the death of her mother in law, Mary Ann Catling died. The death of a Mary Ann Catling aged 46 was registered in the Wayland District between April and June in 1900.
1901 census
Following the deaths of his mother and his wife, Henry Catling continued to live in the Long Street area.
The 1901 census finds 49 year old widower Henry Catling with his six year old son James lodging with elderly couple William and Sarah Warren at Town Green.
1911 census
10 years later, Henry is with his son James in a three-roomed dwelling in Long Street.
Death of Henry Catling
The death of a Henry Catling aged 83 was registered in the Wayland District between January and March 1936.
Updated April 2021
Sources:
Norwich Mercury 20th December, 1873, Norfolk News 10th January, 1874
1851 census HO107/1823/78
1861 census RG9/1237/78, RG9/1237/96
1871 census RG10/1841/83
1881 census RG11/1974/90
1891 census RG12/1549/79
1901 census RG13/1867/69
1911 census RG14/11373/93
GRO Index – Births and Deaths. https://www.gro.gov.uk/gro/content/certificates/login.asp
Great Ellingham Parish Registers. Norfolk Record Office.PD/609. Also available at FamilySearch.org https://www.familysearch.org/search/image/index?owc=4J8C-CB7%3A29627201%3Fcc%3D1416598
Deopham Parish Registers. Norfolk Record Office PD/485.Norfolk Family History Society. Transcript of Deopham Baptisms 1813 to 1872. https://www.norfolkonlinerecordsearch.co.uk/ Accessed 19.01.2020