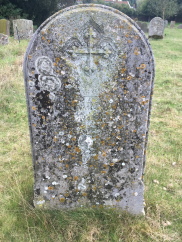 William Mann was buried in the churchyard at Great Ellingham on 31st August, 1869 aged 73 years
Will & Codicil
On reaching his mid-fifties, William Mann may well have thought it time to put his affairs in order. Accordingly he drew up his last Will and Testament (amounting to four pages) and executed this in front of two witnesses on the 14th October, 1850.
Seven years later in 1857, William added a Codicil to his Will. His brother James Mann, a beneficiary of his Will, had died.
However this Will and Codicil was not William Mann's 'Last Will & Testament'. There is an annotation on William Mann's Will of 1850 to the effect that another Will was executed on the 5th December 1865.
A Will (even if it was later superceded) can provide family and local historians with useful information.
Cottages in Great Ellingham
In his will of 1850, William Mann describes himself a farmer of Great Ellingham. He appointed his wife Pleasance and his brother Richard Mann (a bricklayer of Wicklewood) as his executrix and executor.
It is clear from the will that William Mann owned more than one property in Great Ellingham. Indeed, the 1851 census which captures William and Pleasance Mann living in Great Ellingham, describes William's occupation as a 'Landed Proprietor'.
William mentions a cottage with a yard and garden together with about one and a half acres of land occupied by himself (and presumably his wife Pleasance) in Great Ellingham. The will does not say exactly where his house was. However both the 1851 and 1861 census returns show William and Pleasance Mann to be living in Low Common.
The will also mentions two cottages with outhouses, yard, garden and land which he had purchased from Roger Yeoman (Yeomans). These cottages were (in 1850) occupied by Robert Matthews and a person or persons with the name Fox. It is not stated where these cottages were or whether the two cottages adjoined.
The 1851 census shows 35 year old shoemaker, Robert Matthews with his wife Mary and children James 10 and Lydia Maria aged 7 living in Church Street, Great Ellingham. 82 year old Sarah Brown is a visitor at the household.
Also in Church Street is 44 year old tailor Edmund Fox with his wife Sarah and daughter Martha Ann aged 14 with widower 77 year old Edward Fox as a lodger.
I do not believe Robert Matthews and the Fox family were living next door to each other. In any event, these two families may not be the families who occupied the cottages owned by William Mann. There were several Fox households in Great Ellingham in 1851.
William Mann left all the cottages to his wife Pleasance for her 'natural' life. He also left Pleasance all his household furniture, household stores and any ready money left in his house.
Further Property in Great Ellingham and Deopham
William owned further property. His executor Richard Mann together with Robert Semmence (William's son in law) were appointed trustees of William's will and they were directed to sell the remainder of his land and real estate in Great Ellingham and in Deopham as soon as possible after his death.
From this money all his debts (including mortgages), funeral expenses and any expenses in relation to proving his Will were to be paid out together with the sum of ten pounds to Pleasance. Pleasance was also to benefit from the income from the investment of the surplus money.
On the death of Pleasance, William instructed his trustees to sell the cottages (which he had allowed Pleasance to use during her lifetime) and the money from the sale together with the money from the investments would be divided equally between his siblings.
With no mention of any legacy to children, I can only assume that William (and Pleasance) did not have any children or, at least, any children still living when William made his Will in 1850.
Marriage of William Mann and Pleasance Spence
Pleasance's marriage to William Mann was not her first marriage. The couple married in Great Ellingham Parish Church on 28th September, 1830. The marriage register describes William Mann as a bachelor but Pleasance Spence was a widow.
The various census returns tells us that William Mann was born in Wicklewood around 1798 and Pleasance in Hethel around 1797.
William's Siblings
The will mentions seven siblings of William who, on the death of Pleasance, would each inherit an equal share of William's estate. Brothers James, Richard, John, Thomas and Robert and his sisters referred to as 'Sarah the wife of James Flint' and 'Elizabeth the wife of Robert Semmence' (one of the trustees of the will).
The subsequent codicil which William made in October 1857, states that James Mann had died since William had made his will and that James's children should take equally his share of William's estate.
William also declared in his will that that shares of his estate paid to his sisters Sarah and Elizabeth are to be paid to them for "their sole and separate use free from their respective husbands".
It is possible that a further one or more of those persons mentioned in William's will of 1850 died during his lifetime and this may be the reason why William made a fresh Will in 1865. A look at his fresh will would reveal whether or not this was the case.
Sources:
Will of William Mann of Great Ellingham dated 14 October 1850 & Codicil dated 12th October 1857. Wymondham Archive Office. Box 79/103
1851 census HO107/1823/126, HO107/1823/131, HO107/1823/132
1861 census RG9/1237/96
Great Ellingham Parish Registers. Norfolk Record Office. PD/609