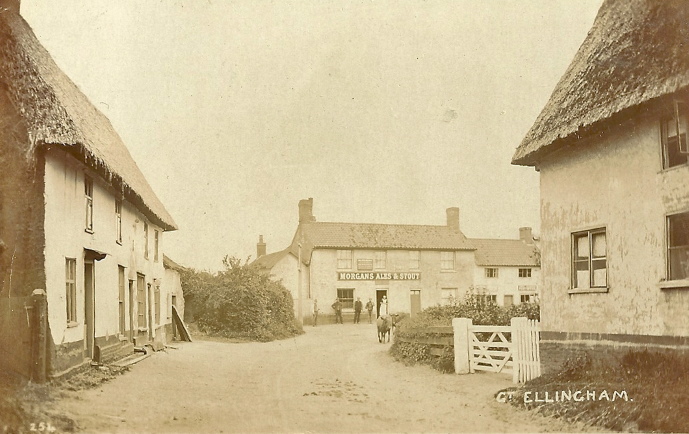 Church Street including the Old Thatche Shoppe to the left, Islay House to the right and the Crown Public House with adjoining shops in the centre. Attleborough Heritage Group
Between 1891 and 1896, Charles William Barnard was the landlord of the Crown Public House in Great Ellingham.
On the 4th July, 1896, the following notice was published in the Thetford & Watton Times:
Monday next
CROWN INN, GREAT ELLINGHAM
Sale of the HOUSEHOLD FURNITURE and Effects,
comprising 3 dozen elm chairs, 6 arm chairs, easy chair, 3 cane-seated chairs, 2 elm tables, 5 round tables, small mahogany table, mahogany top table, 2 American clocks, timepiece, 2 mirror, pictures, bookshelves, sundry books carpets, 1 doz. stair rods, fender and fire irons, &c; bagatelle board, 4 capital feather beds, 4 iron bedsteads, 2 mattresses, counterpanes, dressing table, footpath, invalid's chair, 1 dozen brass candlesticks, several lamps, brass lamp and shade, 3 hanging lamps, camp stove, 1 dozen spittoons, cupboard, 6 meat covers, dinner service (about 80 pieces), 6 bread trays, 6 waiters, copper boiler, &c., china, glass and earthenware, about 6 dozen knives and forks, cruets, 2½dozen salts, metal teapot, &c.; an excellent churn by Richardson, and Sundry dairy utensils; also a capital booth (33ft. X 15 ft.) with floor boards, trestles, band stand, tables, &c., five Pigs, Norwich car (fitted with extra seats) buggy, square cart, and pony cart, which

ALEXANDER BANHAM is favoured with instructions from Mr C BARNARD, who is leaving the above Inn, and from Mr D WOODROW who has no further use for the same,
to SELL BY AUCTION, on Monday
July 6th 1896, commencing at Half-past One o'clock.
Charles & Harriet Barnard
Charles Barnard married Harriet Leeder in 1865. Before her marriage, Harriet was a grocery dealer. Her father, William Leeder was a local cow leech.
Following their marriage, Charles and Harriet Leeder lived in Long Street. The couple had two known children – Elizabeth and Fanny.
By 1891, Charles and Harriet were at the Crown. The 1891 census describes Charles Barnard as an innkeeper and bricklayer. 15 year old Fanny Barnard is a monitress at Great Ellingham Board School.
Back in Long Street
On leaving the Crown after the auction in 1896, Charles and Harriet together with their daughter Fanny, moved back to Long Street. Charles continued to work as a bricklayer.
Although the 1911 census finds the couple in Town Green, I suspect they were living in the same house as they were in 1901. It is just that the areas classed as being in Long Street and Town Green appear to change over the years.
Deaths of Charles and Harriet Barnard
Charles Barnard died at the age of 77 in 1918. Harriet died in 1921 aged 84.
Sources:
Norfolk Pubs website
4th July 1896 Thetford & Watton Times viewed via The British Newspaper Archive
GRO Index https://www.gro.gov.uk/gro/content/certificates/login.asp. Also FreeBMD website
1891 census RG12/1549/79A
1901 census RG13/1867/79
1911 census RG14/11473/105