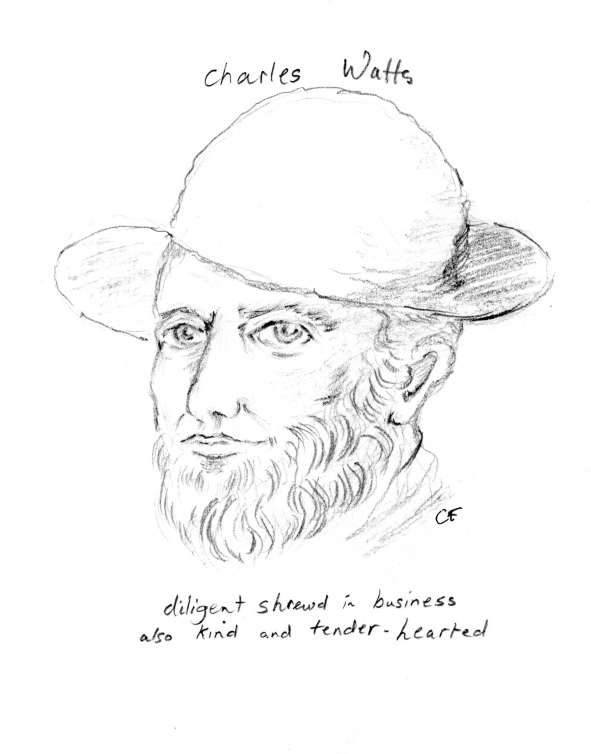 Artist's impression of an image of Charles Watts – by Christine Fuller
Not only did the Norfolk News of 1st July 1876, announce the death at Great Ellingham of 69 year old Charles Watts, the edition also included an obituary.
Interment in the Baptist's Burying Ground
Charles Watts died on the 20th June 1876 at the age of 69. His remains were interred at the Baptist burying ground in the village which was across fields some way from the Baptist Chapel. The obituary mentions that a funeral service was conducted by the Reverend J Toll with many in attendance.
Who was Charles Watts?
Formerly a resident of Hackford, Charles Watts was for many years successfully engaged in the corn trade. Indeed, the census returns of 1861 and 1871 finds Wymondham born Charles Watts with his wife Catherine living in Hackford. The earlier census describes Charles Watts as a corn merchant and farmer. Charles had retired by 1871.
Charles Watts was 'diligent and shrewd in business and as a man he was kind and tender-hearted' according to the account of his life in the newspaper. The obituary also stated that Charles had retired from business about 8 to 9 years prior to his death passing the business to his nephew, James Watts.
About 7 years before he died, Charles Watts had been struck down with paralysis. He lost his speech and the use of one side. Despite never recovering his speech or movement, his mind 'remained clear and strong even to the last."
Although the obituary mentions that Charles Watts left 'an aged widow', no name for Mrs Watts is given. However, from the census returns we know that his widow was Catherine Watts.
Widow Catherine Watts
Widow Catherine Watts continued to live in Long Street. A death for Catherine Watts aged 81 years was registered in the Wayland District between January and March 1883.
A notice appeared in the Norfolk Chronicle & Norwich Gazette on August 4th, 1883, a few months after Catherine Watts's death, announcing an auction being held in Wymondham by the executors of the late Charles Watts.
Amongst the properties in Great Ellingham being sold by auction was the "pleasantly situated dwellinghouse with gardens and enclosures of land, late in the occupation of Mrs Watts deceased". I think it likely that Charles provided for Catherine in his Will allowing her to remain living in the property for the remainder of her life.
Sources:
GRO Index. Free BMD. https://www.freebmd.org.uk/cgi/information.pl?cite=4lCpI%2BvGeZgxqeuCjSJlgg&scan=1 Accessed 21.01.2019
1861 census RG9/1222/36
1871 census RG10/1824/52
1881 census RG11/1974/91
Norfolk News July 1st, 1876
Norfolk Chronicle & Norwich Gazette August 4th, 1883