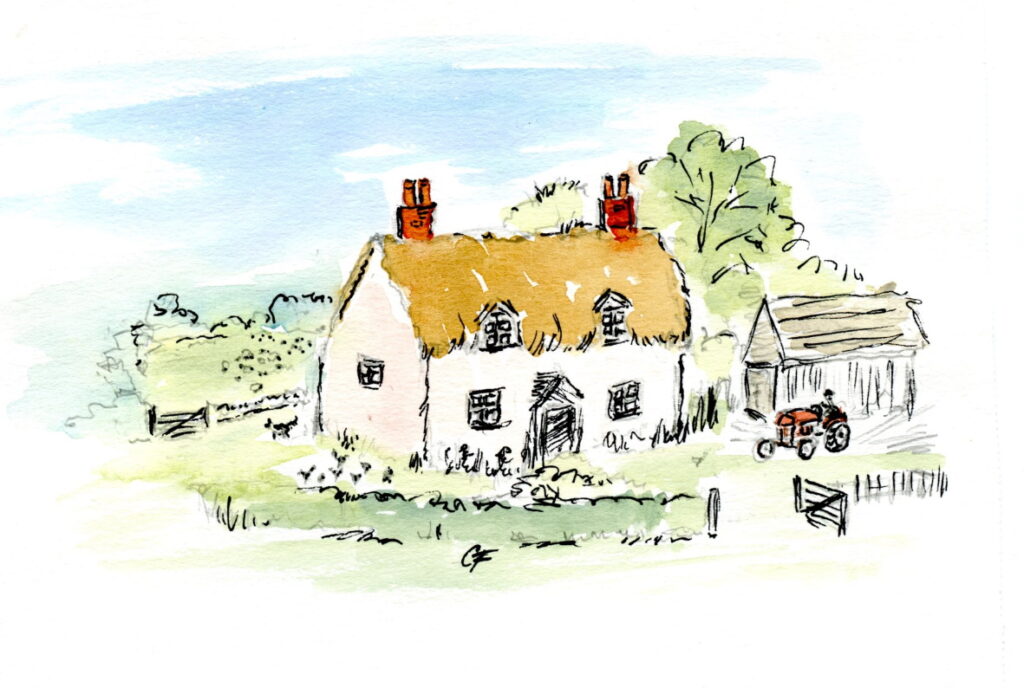 Illustration by Christine Fuller
An Auction held at the King's Head Hotel, Wymondham on August 21st, 1883, by the Executors of the late Charles Watts, included property and land at Great Ellingham.
Farmhouse Occupied by Thomas Caddy
The property described as a "Comfortable Farmhouse, Outbuildings, Small Farm, containing about 35 acres" was in the occupation of Thomas Caddy.
The 1881 census finds 58 year old bachelor Thomas Caddy (born Attleborough) living at a farm in Long Street, Great Ellingham. Thomas is described as a farmer of 30 acres employing two men. His sister, 60 year old Mary, is his housekeeper.
Dwellinghouse Occupied by Catherine Watts
Also included in the auction was "the pleasantly situated dwellinghouse with gardens and enclosures of land" said to be late in the occupation of Mrs Watts deceased.
The 1881 census shows widow Catherine Watts aged 76, described as a retired farmer, living in Long Street.
A death was registered between January and March 1883 in the Wayland District for a Catherine Watts. The age for Catherine Watts in the registration is 81 years.
Despite the discrepancy in the age between the census and the death registration (which is not uncommon), I think Catherine Watts, the retired farmer in Long Street, is the late Mrs Watts referred to in the auction notice.
The Auction also included the sale of five enclosures of arable and pasture land in Great Ellingham.
Sources:
1881 census RG11/1974/90; RG11/1974/91
Norfolk Chronicle & Norwich Gazette August 4th, 1883
https://www.freebmd.org.uk/cgi/information.pl?r=70506406:7702&d=bmd_1557134722 – accessed 11/05/2019