Whilst we can usually find the names of our ancestors in parish registers and, sometimes, reference to the place where they lived, the registers rarely tell us whereabouts in a town or village our ancestors actually lived.
If our ancestors were sufficiently wealthy to own property, we may be fortunate to find surviving deeds and/or reference to our ancestors in manorial records, which may also provide a detailed description of where they may have lived.
Even if our forebears were not wealthy enough to own land, deeds (and sometimes manorial records), may provide the name or names of the occupiers of a property or a piece of land, as not all property and land was occupied by the owner.
House along the Great Ellingham to Shropham Road
Deeds relating to a property in what we today know as Church Street, tell us that at the end of the eighteenth century, John Wilkins lived in one of the properties in this street.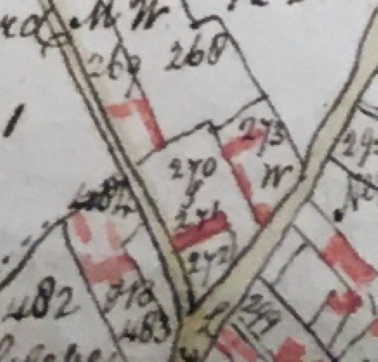 Extract from 1802 Map of Great Ellingham. Original held at Norfolk Record Office. Russell James Colman Plans. Cat. Ref. C/Ca 1/84. With kind permission of NRO
He occupied part of the property shown numbered 273 on the above map. Another part of the property was occupied by Sarah Coe.
In 1800, the whole property (and it was at some point divided into three tenements) was owned by widow Mary Barnard, who became Mary Warren in the same year on her marriage to William Warren.
Mary had inherited the property (along with others) on the death of her husband Charles Barnard in 1796. Charles had owned the property since the death of his father, John Barnard, in 1782.
John Wilkins' Wife & Family
A son of John and Sarah Wilkins, John Wilkins was baptised in the church of St James on the 3rd April, 1739. John Wilkins may well have spent his entire life in Great Ellingham.
Around the age of 24, John married local girl Ann Large on the 29th November, 1763 in the same church.
Just over a month after the wedding, on the 1st January, 1764, John and Ann Wilkins took their son, John, to St James's church for baptism. Son John was followed by Anne, baptised in 1766, Edward who was baptised in 1768, Elizabeth in 1772, Mary 1774. Children John and Mary died in infancy.
Ann Wilkins gave birth to another daughter, Mary, who was baptised in 1775. A further daughter, Lucy, was baptised in 1796. The parish register specifically confirms that Lucy was the daughter of John and Ann Wilkins late Large spinster. However, given that Ann Wilkins would have been around the age of 60 in 1796, I wonder whether Lucy was indeed their daughter, or, perhaps, Lucy was not an infant or young child when she was baptised?
I do not know the exact period that John Wilkins lived in the house in Church Street. However, extracts of deeds relating to the property and the will of John Barnard tell us that in 1777, John Wilkins was not one of the occupiers of property. However, when Charles Barnard died in 1796, John Wilkins was in occupation. Accordingly, John Wilkins with his wife and children, moved into the house in Church Street after 1777 but before 1796.
The name of John Wilkins of Great Ellingham appears in a Poll Book for the year 1768 as being a person eligible to vote either by owning freehold land or by meeting property requirements. However, I cannot be certain that this is the same John Wilkins.
John Wilkins was buried in the churchyard of St James on the 1st August, 1808. He would have been around the age of 69. His widow, Ann, survived him by some 20 years. Ann Wilkins was buried in the same churchyard on the 13th June, 1828. She was 93.
Sources:
Great Ellingham Parish Registers. Norfolk Record Office PD 609. Also available at www.familysearch.org
1799 Statement of Claims. Great Ellingham Inclosure. Norfolk Record Office. Catalogue Ref: MC 2213/118
1802 Russell James Colman Plans. Great Ellingham. Catalogue Ref. C/Ca 1/84
Abstract of Title. Wymondham Town Archive. Reference 11773. John Gall Jnr. Lands in Great Ellingham sold to Wm Rose on 1/11/1842
Poll for Shropham Hundred 1768. Genuki Norfolk website. http://www.origins.org.uk/genuki/NFK/norfolk/voting/poll1768cr/shropham.shtml#ellingham_great Accessed 31 December 2020