Court Appearances
Drover, John Chaplin of Great Ellingham appeared before the Magistrates at East Harling in June 1873 charged with refusing to obey an order made by the Justices on a previous occasion, for the maintenance of his mother. The Magistrates imposed a penalty and costs of £1 9s.
John Chaplin had been before the Magistrates a year earlier in July 1872, when he was summoned by William Shepherd, the Relieiving Officer of the Attleborough District of the Wayland Union, "to show cause why an order should not be made upon him to maintain his mother, who was chargeable to that Union." John Chaplin was ordered to pay 1s per week and costs of £1 11s 6d.
Just over a month later, John Chaplin was summoned again before the Magistrates. On this occasion, the charge was refusing to comply with the order made on 2nd July to contribute towards his mother's maintenance. He was ordered to pay a penalty and costs amounting to £2 7s.
1871 census
The 1871 census finds 39 year old drover and widower, John Chaplin living in Great Ellingham with his 76 year old mother, widow Sarah Chaplin. Unfortunately, the census does not tell us exactly where John and Sarah were living.
1861 census
Ten years earlier, widow Sarah Chaplin was boarding with 60 year old widow Sarah Clarke, her daughter and her grandsons in Chequers Lane.
Sarah Chaplin's son, John Chaplin, described as a 30 year old cattle dealer born Rockland All Saints, is with his 34 year old wife, Elizabeth, and her son 16 year old William Kerrison in Long Street.
1857 Marriage of John Chaplin and Elizabeth Kerrison
28 year old bachelor and dealer, John Chaplin married 31 year old spinster and dressmaker, Elizabeth Kerrison in the Church of St James on December 18th, 1857. Both John and Elizabeth were said to be of Great Ellingham and they both put their mark 'X' in the register as they were unable to sign their name. Their witnesses, Benjamin Dennis and Harriet Wenns both signed the marriage register.
John Chaplin's father was stated to be Samuel Chaplin, a carpenter and Elizabeth's father Edmund Kerrison, a bricklayer.
Elizabeth Chaplin (neé Kerrison) died before the census of 1871. A burial for an Elizabeth Chaplin aged 40 appears in the parish registers for June 14th, 1864.
1841 Chaplin and Kerrison Families living in Great Ellingham
John and Elizabeth may well have known each other from an early age. The census of 1841 finds both families living in Great Ellingham.
10 year old John is with his parents, wheelwright Samuel Chaplin aged 50 and his wife Sarah aged 43, and (presumably) his sisters Rebecca 8 and Lydia 6. However it is not clear exactly where the Chaplin family were living.
Living in Church Street, is 55 year old widow Elizabeth Kerrison (described as a bricklayer!), with Richard 25, Edmund 20, Rebecca 20, Elizabeth 15 and William 20.
Burials: Sarah Chaplin aged 81 and John Chaplin aged 48
John's mother Sarah Chaplin was buried in Great Ellingham churchyard on October 15th, 1877 aged 81 years. Less than a year later, John Chaplin was buried on 21 July 1878 aged 48 years.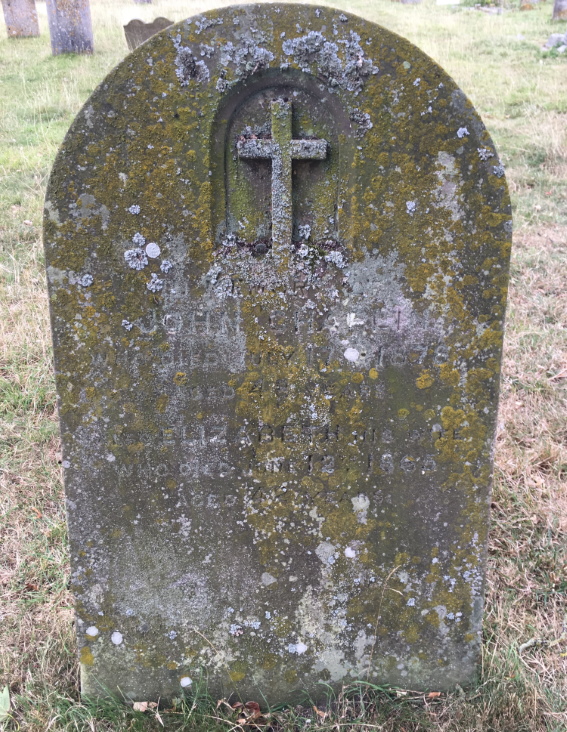 Headstone for John Chaplin and his wife Elizabeth née Kerrison in the churchyard at Great Ellingham Parish Church
Sources:
Great Ellingham Parish Registers NRO PD/609. Also available at FamilySearch.org https://www.familysearch.org/search/image/index?owc=4J8C-CB7%3A29627201%3Fcc%3D1416598
Norwich Mercury June 21st, 1873
Norwich Mercury July 6th, 1872
Norwich Mercury 17th August, 1872
1871 census RG10/1841/77
1861 census RG9/1237/95, RG9/1237/81
1841 census HO107/781/8, HO107/781/8