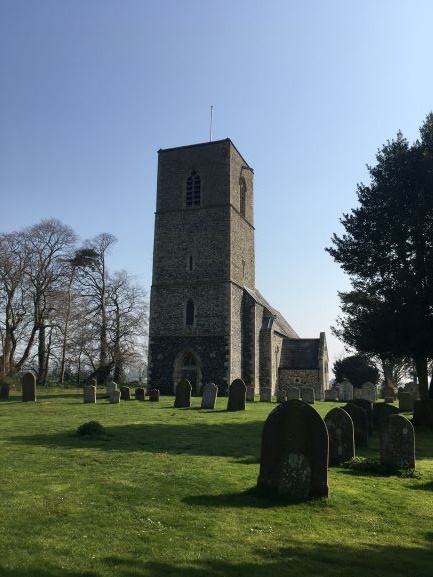 Rockland All Saints Church lies on a country lane less than a mile from the boundary with Great Ellingham.
In the churchyard, I found a headstone for William Shepherd and his wife Abigail Warren Shepherd.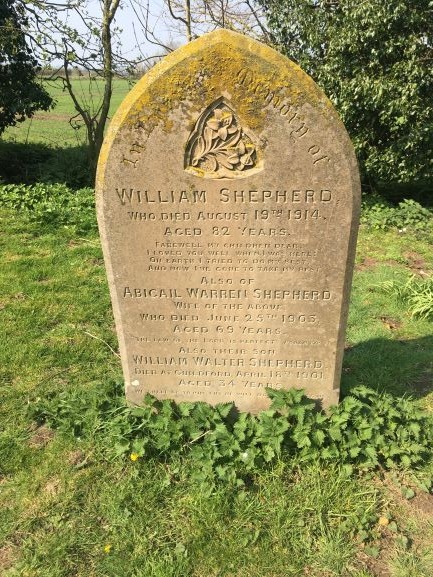 The inscription on the headstone is clear:
William Shepherd died August 19th, 1914 aged 82 years. His wife Abigail Warren Shepherd died June 25th, 1903 aged 69 years.
Their son, William Walter Shepherd, is also remembered. William died at Guildford on April 18th, 1901 aged 34
Who were William and Abigail Shepherd and what is their connection to Great Ellingham?
William Shepherd – Enumerator
William Shepherd was one of two Enumerators for the 1871 census of the village of Great Ellingham.
Robert Barnard Lebbell was the Enumerator for District 6 and William Shepherd District 5. An Enumerator would visit each household and gather the relevant household information for the census. This person would have to have the appropriate skills. For example, to be able to read and write, be trustworthy and reliable.
1871 Census – Shepherd Family
The 1871 census finds 39 year old William Shepherd with his family living in Church Street, Great Ellingham.
William was born in Leicestershire (later census returns gives his place of birth as Barrow on Soar), and is described as a Relieving Officer. This would be a person appointed by the parish or poor law union to administer relief to the poor.
William's wife, Abigail Warren Shepherd, is aged 38 and stated to have been born in Great Ellingham.
The couple have four children: Sarah 8 (born Derbyshire), George aged 6, William Walter 4 and two year old Charles Nurse all born in Norfolk.
Marriage in 1862
A marriage between William Shepherd and Abigail Warren Nurse was registered in the Barrow District of Leicestershire (also known as Barrow upon Soar), in the first quarter of 1862.
Abigail Warren Nurse
A year before her marriage to William Shepherd, 1861 census shows Abigail Warren Nurse aged 27 with her parents William and Elizabeth Nurse, her siblings and her maternal grandparents Jeffrey and Elizabeth Warren in North Street, (Great) Hockham.
Whilst Abigail's father was born in Hockham, her mother Elizabeth was born in Great Ellingham (as was her grandfather Jeffrey Warren).
John and James Nurse both aged 57 and born in Hockham are also part of the extended Warren/Nurse household in 1861. 16 year old local girl Jane Steggles is the House Servant.
The Great Ellingham Parish Registers reveal a baptism for Abigaill Warren Nurse daughter of William Nurse, a carpenter, and his wife Elizabeth on 17th November 1833.
Abigail's parents, William Nurse and Elizabeth Warren, were marred in the Church of St James on 28th June 1831.
Elizabeth Warren was the daughter of Jeoffrey Warren, a Tanner, and his wife (also Elizabeth). She was baptised in Great Ellingham Church on 10th January 1813.
The Shepherd Family after 1881
By 1881, William and Abigail Shepherd and their three sons are living in White Hart Street, Rockland St Andrew.
The family is still in White Hart Street in 1891 but instead of their sons living with them, their daughter Sarah is back with her parents along with a grandson to William and Abigail, two year old George who was born at Wells-next-the-Sea.
William's occupation is described as a Relieving Officer and the Registrar for Births, Deaths and Marriages.
Some time before the next census of 1901, William Shepherd retired and the family moved to Pound Farm Villas in Rockland All Saints. William was then aged 68, his wife Abigail 67 and their 38 year old daughter Sarah is still living with her parents. William and Abigail also have two grandsons living with them – 12 year old George and 7 year old Reginald.
From the headstone found in the churchyard at Rockland All Saints, William and Abigail's son William Walter died in April 1901. Abigail died just over two years later in June 1903.
Widower William Shepherd
The 1911 census finds widowed 78 year old William Shepherd still living in Rockland All Saints along with his daughter Sarah (now aged 48) and grandsons 22 year old George (described as a Bricklayer's labourer) and three year old Charles Shepherd.
William Shepherd died on August 14th, 1914, just over two weeks after the start of the First World War.
Sources:
Great Ellingham Parish Registers Norfolk Record Office PD/609. Also available at FamilySearch.org https://www.familysearch.org/search/image/index?owc=4J8C-CB7%3A29627201%3Fcc%3D1416598
GRO Index FreeBMD website http://www.freebmd.org.uk/cgi/information.pl?cite=kUDh95o3pAxb0WXvw%2FEPMw&scan=1 accessed 26.05.2019
1861 census RG9/1238/83
1871 census RG10/1841; RG10/1841/87
1881 census RG11/1974/128
1891 census RG12/1549/109
1901 census RG13/1867/106
1911 census RG14/11483/75