I am always thrilled to hear from descendants of people who once lived in Great Ellingham. I am also grateful for additional information – particularly photographs of past villagers who once walked along the very same streets as we do today.
This is the story of James and Ann Clarke who began their life together with their nuptials in the Parish Church of Great Ellingham. Whilst in Great Ellingham, the couple produced two children before moving 'down the road' to Rockland All Saints, where three further children were born. Much later, three of their four surviving children would emigrate to Australia.
Thought to be photographs of James Clarke 1786-1864 and his wife Anne Clarke née Houchin 1783-1846. Courtesy of Kim O'Brien, a descendant of James and Ann Clarke
These wonderful photographs are believed to be of James Clarke and his wife Ann née Houchin. However, given that many old photographs handed down through the generations do not have the name of the 'sitter' on the back, it is difficult to be absolutely certain. In addition, many photographs are undated.
Marriage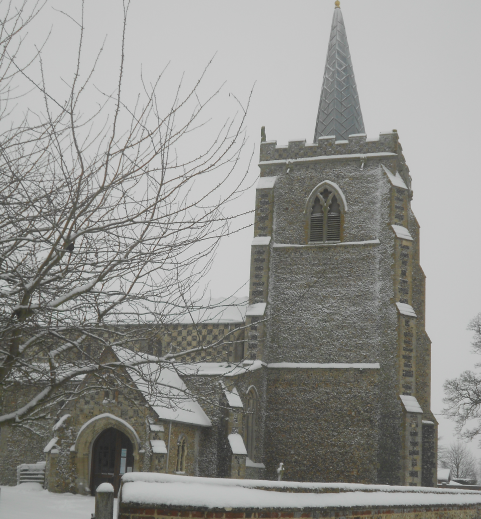 Church of St James Great Ellingham
On the 23rd December, 1811, James Clarke married Ann Houchin in the Church of St James, Great Ellingham. This was the year that George IV became Regent. His father, King George III, was suffering ill-health. However, it was not until 1820 that George III died and George IV became King.
Baptism of James Clarke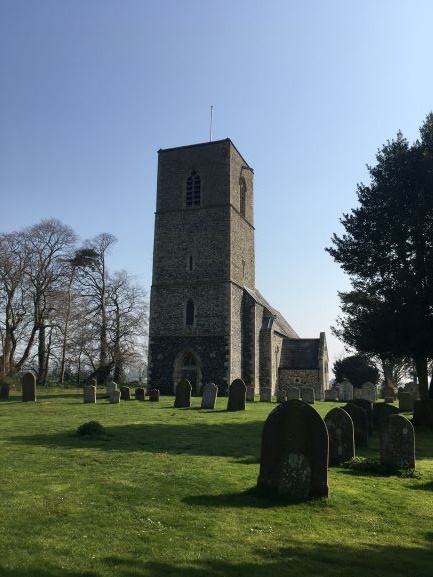 The Parish Church of Rockland All Saints
At the time of the marriage, bachelor James Clarke was 25 years old and lived in nearby Rockland All Saints. His parents were John Clarke (Clark) and Susanna (Susan) née Warren. James was baptised in the Parish Church of Rockland All Saints on the 12th November, 1786. Likely, he spent his early life in Rocklands.
Baptism of Ann Houchin
Ann Houchin was a Great Ellingham girl. She was a daughter of Stephen Houchin and his wife Sarah (late Ashby). Ann was baptised in St James's Church, Great Ellingham on February 10th, 1783. Accordingly, she was around three years older than James.
Married Life in Great Ellingham
James and Ann began their married life in Great Ellingham. However, I do not know exactly where they lived. Nevertheless, the couple would have been familiar with several of the properties which still remain in the village today. For example, in Church Street, the Crown Public House, Ye Olde Thatche Shoppe, Orchard House, Church Farmhouse (albeit known by different names), and the cottage adjoining the southern boundary of the churchyard.
Birth of Children in Great Ellingham
James and Ann Clarke's first child was born around nine months after their wedding. The child, named Robert, was baptised in St James's Church on the 27th September, 1812.
Around two years later, James and Ann welcomed their second son, Stephen. He was baptised in the same church on the 27th February, 1814.
Birth of Children in Rockland All Saints
By 1816, James and Ann had moved to James's home village of Rockland All Saints.
On the 22nd February, 1816, Ann gave birth to a third son John. He was baptised in All Saints Church, Rocklands on the 31st March.
The couple had two more children – both sons. Charles born on the 10th April, 1819 and Ellis born on the 1st June, 1822. Both children were also baptised in the Parish Church of Rockland All Saints.
We know from some of the baptism entries that James Clarke was a weaver. He likely carried out his work from in his home in Rocklands.
Death of son Stephen
Sadly, on the 14th January, 1827, James and Ann buried their 13 years old son Stephen in the churchyard of the Parish Church of Rockland All Saints.
1841
The census of 1841 captures James and Ann Clarke in Town Street, Rockland All Saints together with their son, Charles. Both James and Ann are said to be aged 55 and Charles 20. However, we should remember that the enumerators were instructed to 'round down' the ages of adults to the nearest multiple of 5. Accordingly, Ann's true age was 58, whereas James was indeed 55.
The same census finds their eldest son, Robert, living with his wife and family in the same village but in Union Lane.
John Clarke is also married and is with his wife in Back Street, Watton.
Ellis Clarke is unmarried, and working for a local farmer, Robert Denew, at his farm in nearby Shropham Road, Rockland St Andrew.
Death of Ann Clarke
James Clarke buried his 64 year old wife Ann in the churchyard of Rockland All Saints on the 19th April, 1846. The couple had been married for some 35 years.
1851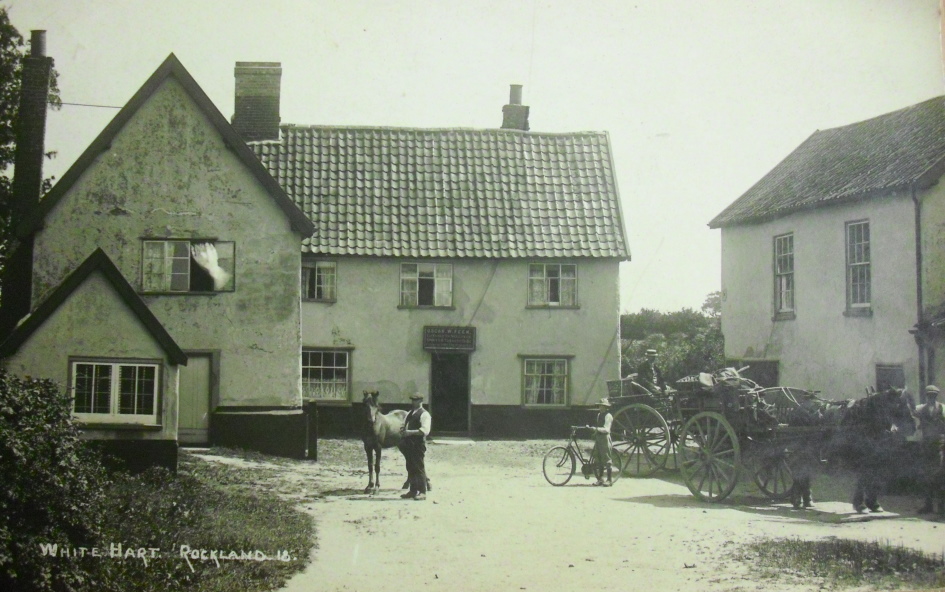 The White Hart, Rocklands. Courtesy of Sue Fay
The 1851 census captures 64 year old James Clarke with his son Charles (aged 31), his wife Jane and their children in White Hart Street, Rockland All Saints. It seems that James Clarke was no longer working as the census describes him as a pauper and a former agricultural labourer. Perhaps illness prevented James from working.
Robert Clarke (now 38) and his wife and family are still living nearby in Union Lane. His brother, Ellis, at 28, is now married and also living in Union Lane. It is possible that Robert and Ellis were next door neighbours.
Now 32, John Clarke with his wife Sarah and their four children are in Market Weighton, Yorkshire.
Emigration
During the next 10 years, widower James Clarke said farewell to two of his sons, Robert and Charles, when they emigrated to Australia with their families in 1854 and 1855 respectively. Did James Clarke ever see Robert and Charles again?
His son John had already moved some 150 miles away to Yorkshire with his family. However, it was relatively easy for James Clarke to keep in touch with his son in Yorkshire, and for John to visit his father. It may not have been so easy to keep in touch with his sons in Australia. This was a time before the telephone and social media. Even so, Robert and Charles may well have sent letters 'home'.
This left James and his youngest son, Ellis, living in Rockland All Saints. In later life, Ellis too would leave Rocklands bound for Australia. Was it much harder for Ellis to contemplate emigration whilst his father was still alive?
1861
The 1861 census captures 75 year old James Clarke with his 38 year son Ellis and his wife and 5 children in Union Lane, Rockland All Saints. James is clearly suffering from ill-health as the census mentions that he is bed-ridden.
Death of James Clarke
James Clarke was buried in the churchyard of the Parish Church of Rockland All Saints on the 1st March, 1864, aged 77 years. He had been a widower for some 18 years.
Sources:
1841 census HO107/781/14, HO107/781/15, HO107/785/29
1851 census HO107/1823/155, HO107/1823/149, HO107/2357/530
1861 census RG9/3561/32, RG9/1237/128
Great Ellingham Parish Registers. Norfolk Record Office. PD 609. Also available at https://www.familysearch.org/
Rockland All Saints with Saint Andrew Parish Registers. Norfolk Record Office. PD 335. Viewed via https://www.freereg.org.uk/ and https://www.ancestry.co.uk
Huge thanks to Kim O'Brien a descendant of James and Ann Clarke