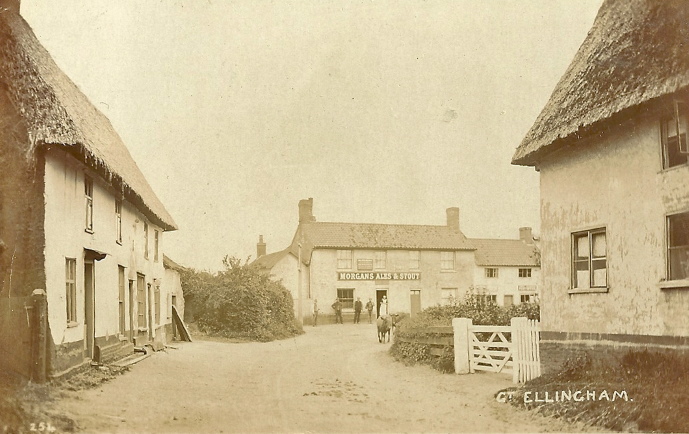 Church Street including the Old Thatche Shoppe to the left, Islay House to the right and the Crown Public House with adjoining properties in the centre. Attleborough Heritage Group
Commissioner's Particulars & Valuation of c.1800
The names of the owners and occupiers of the various lands and properties in Great Ellingham are provided by the Particulars and Valuation taken by the Commissioners for the Inclosing of the Commons, Common Fields and Waste Lands in Great Ellingham in 1800.
The name of Alice Jessup appears in the documents. Alice was the owner and occupier of "A Pightle" (a small field or enclosure of land) and an allotment upon Low Common.
In addition, Alice is stated to be the owner of the Rose and Crown Public House and two cottages and yard which were occupied by herself, Robert Tooke and Edward Steel.
Inclosure Statement of Claims of 1800
In the Statement of Claims (also associated with the Great Ellingham Inclosure which is of a similar date), Alice Jessup is said to own a dwelling with associated outbuildings and garden (including land) which she occupied, and three cottages with gardens occupied by Robert Tooke, Edward Steel and Stephen Howchen.
Unfortunately, the Statement of Claims does not specifically mention the Rose & Crown (which was also known as the Crown). Accordingly I cannot be certain that Alice occupied the Rose & Crown.
William Jessup, Licensee of the Crown
However, Norfolk Pubs Website shows William Jessup as the Licensee of the Crown Public House in Great Ellingham from 1789 to 1794, just a few years prior to the Valuation of 1800.
Marriage of William Jessup & Widow Alice Leath
William Jessup of Hingham married Alice Leath of Great Ellingham in the parish church Great Ellingham on August 12th, 1786. William was single and Alice a widow. The couple married by licence. Accordingly, no banns was read in either the parish of Hingham or Great Ellingham.
Richard Leath & Alice Clarke
Alice was the widow of Richard Leath.
Banns for the marriage between Richard Leath and Alice Clarke were read in the parish church at Great Ellingham on 24th and 31st December 1780 and again on 7th January 1781. Richard Leath was a bachelor of Great Ellingham and Alice Clarke a spinster of Forncett St Peter.
Children of Richard & Alice Leath
Baptisms appear in the Great Ellingham Parish Registers for three daughters of Richard and Alice Leath: Hannah baptised on January 20th, 1782; Frances on August 3, 1783 and Elizabeth baptised on November 2nd, 1784.
Richard Leath Buried
Richard Leath was buried in the churchyard on March 22nd, 1785, just four years after the marriage. Alice may have inherited property from her husband Richard Leath.
In any event, Alice married William Jessup in the August of the following year.
Children of William & Alice Jessup
The Great Ellingham Parish Registers reveal baptisms for two daughters of Alice with her new husband, William Jessup: Sarah baptised June 3rd, 1787 and Anne baptised September 21st, 1788.
It is possible that William and Alice Jessup with their children were at the Rose & Crown Public House. William may well have had a trade as well as being the Licensee of the public house which Alice may have managed.
Death of Alice Jessup
Alice Jessup died in the February of 1812 and was buried in the churchyard at Great Ellingham a short distance from the Crown Public House.
What happened to the Daughters of Richard & Alice Leath?
Alice Jessup's three daughters by her marriage to Richard Leath all married in the parish church at Great Ellingham:
Frances Leath married Benjamin Dennis on December 8th, 1803. The couple had at least 10 children. The 1841 census finds Benjamin and Frances Dennis with children Mary, William, Robert and Benjamin living in the village. Frances was buried in the parish churchyard on November 22nd, 1850 aged 67 yrs.
Hannah Leath married Henry Balls on June 17th, 1806 and Elizabeth Leath married Edmund Kerrison on September 26th, 1808.
What became of William Jessup after Alice's Death?
I do not know whether William Jessup continued to be the Licensee of The Crown (Rose & Crown) following Alice's death or what became of him. Norfolk Pubs website confirm that John Barnard was the Licensee of the Crown in 1830.
Further, I have not yet been able to trace what happened to Alice's two daughters (Sarah and Anne) from her marriage to William Jessup.
Sources:
Great Ellingham Parish Registers Norfolk Record Office PD/609. Also available at FamilySearch.org https://www.familysearch.org/search/image/index?owc=4J8C-CB7%3A29627201%3Fcc%3D14
Norfolk Pubs Website http://www.norfolkpubs.co.uk/norfolkg/gtellingham/gtelcr.htm accessed 11.06.2019
1841 census HO107/781/8
1800 Inclosure Commissioner's Particulars and Valuation held at the Norfolk Record Office catalogue reference MC 2213/119, 941X7