Death of John Warren
Great Ellingham born John Warren died within a month of his 83rd birthday on the 7th April, 1897. He was buried in the churchyard at Little Ellingham.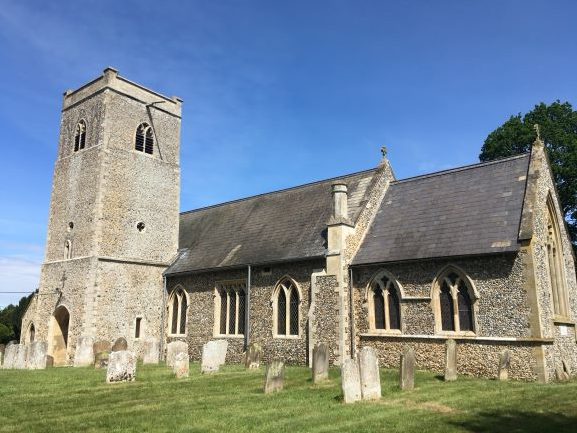 Little Ellingham Parish Church. Photograph taken May 2020
According to a report in the Eastern Daily Press published on the following Saturday, the 10th April, 1897, John Warren had been a highly respected inhabitant of Little Ellingham. Until 1895, John Warren had continually occupied Church Farm, Little Ellingham, since moving there 'as a young man'.
For a great number of years, John Warren had been a churchwarden and a guardian of the Wayland Hundred. He had also been involved in parish administration, as well as a Charity Trustee.
John Warren's Early Life
A child of John and Mary Warren (née Towler), John Warren was baptised in the Church of St James, Great Ellingham on 22nd May, 1814.
At the age of 29, John Warren married Elizabeth Chaplin in the bride's home parish of Little Ellingham on the 16th February, 1843. The daughter of Charles and Mary Chaplin, the marriage register describes Elizabeth as a housekeeper. The register also records that the bridegroom, John Warren, was a farmer of Great Ellingham, and his father, was also a farmer with the name John Warren.
Given that the later report of John Warren's death mentions that John came to occupy Church Farm, Little Ellingham 'as a young man', I think it reasonable to assume that John and Elizabeth Warren began their married life at Church Farm.
Married Life in Little Ellingham
Within a few months of the marriage, John and Elizabeth welcomed their son, Daniel William Cocking Warren. He was baptised at the Parish Church of Little Ellingham on 21st May, 1843. Daniel's birth was registered between April and June of that year.
At least six children followed Daniel. I have found baptisms for some of the children in St Peter's Church, Little Ellingham: Mary baptised 5th January, 1845; John on 21st March, 1847; Henry on 22nd April 1849; Lydia baptised on 11th July, 1851 and Elizabeth on 31st July, 1853.
Prior to Henry's birth in 1849, John and Elizabeth likely had another child whom they had also named Henry. The birth of Henry Warren with a mother's maiden name of Chaplin was registered in the Wayland District between October to December, 1848. Youngest son, Charles, was born in 1855.
The census returns between 1851 and 1891 captures John and Elizabeth Warren in Church Street, Little Ellingham. The earlier censuses also capture their children. By 1891, the couple were living alone, apart from their 13 year old grandson, John Warren, and a 13 year old servant, Hannah Rivett.
John Warren's Last Will & Testament
John Warren's last will and testament is interesting. Not only does it tell us what property and personal estate he owned, it also provides details of John Warren's children, and the legacies they inherited – or didn't!
Around seven years before he died, John Warren, a farmer of Little Ellingham, signed his will on the 27th May, 1890. Henry Feltham, a solicitor of Hingham, and Henry Page (also of Hingham) witnessed John's signature.
John appointed his youngest son, Charles Warren of Morley St Peter, and his son-in-law, Walter Bowles of Carleton Rode, (the widower of his late daughter Elizabeth) as his executors as trustees.
He directed his trustees to carry on his farming and grazing business during his wife Elizabeth's widowhood, providing she agreed. John Warren allowed his trustees to continue the tenancy of the farm (or hire a replacement farm). He also allowed Elizabeth to occupy the messuage (or farmhouse) which they occupied at the time of John's death. Elizabeth was also permitted to use the household furniture and utensils, the plate, linen, china and the consumable stores.
Whilst Elizabeth remained a widow, she would receive an income from John Warren's personal estate. She would also receive the sum of £20 within three month's of her husband's death.
Property in Great Ellingham
John Warren bequeathed his freehold messuage (or farmhouse) with outbuildings, and about twenty eight and a half acres of land adjoining, which were then in the respective occupations of Robert Lebbell, William Warren and Frederick Childerhouse, and any other real estate, to his wife Elizabeth for her lifetime or remarriage.
I am unclear as to where the messuage was in Great Ellingham. However, the Norfolk Register of Electors for 1885-1886, reveal that John Warren of Little Ellingham owned a freehold house and land at Town Green.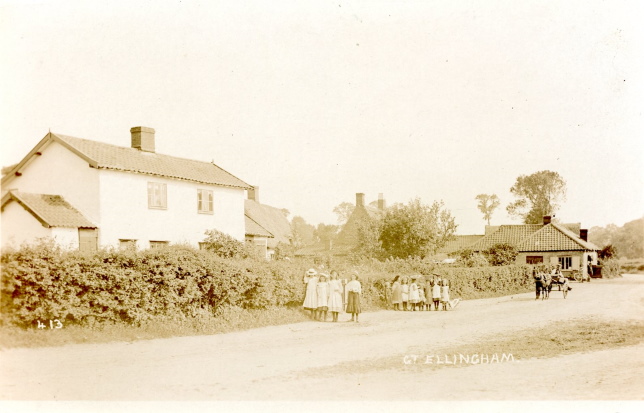 Long Street with 'the Smithy' to the right
The 1891 census captures 53 year old farmer and blacksmith Robert Lebbell in Long Street. I am wondering whether John Warren owned premises near 'the Smithy' or the Smithy itself? That part of Long Street is very close to the area what we know today as Town Green.
Beneficiaries
After the death of John Warren's widow Elizabeth (or her re-marriage), John Warren directed his trustees to sell the property in Great Ellingham, and share the proceeds of the sale (and the proceeds of his personal estate) among the following members of his family:
his daughter Mary, the wife of John Gladden
son Henry Warren
daughter Lydia, the wife of Jesse Rivett
son Charles Warren
son-in-law Walter Bowles (or in the event that Walter Bowles died during John Warren's lifetime, then his share would pass to the children of Walter and John Warren's late daughter Elizabeth
Eldest son Daniel William Cocking Warren
I was puzzled as to why John Warren's eldest son, Daniel William Cocking Warren, was not included in his father's will. At the time of his father's death, Daniel was aged 54, and living with his wife Hannah and two unmarried adult children in Little Ellingham. The 1891 census captures the family at Hall Farm.
John Warren's own father (also John Warren), specifically excluded his grandson Daniel William Cocking Warren from benefiting from his will dated 6th October, 1852. Given that Daniel was only around the age of 9 when his grandfather, John Warren, made his will in 1852, I thought it unlikely that grandfather and grandson had had a falling out. Nearly 50 years later, Daniel is excluded from his father's will. What was the reason?
The answer may lie in the last will and testament of Daniel's namesake, his mother's uncle, Daniel William Cocking.
Little Ellingham farmer, Daniel William Cocking died in 1845, just weeks after putting his mark 'X' on his last will and testament dated 16th July, 1845.
Daniel Cocking left various legacies to his nieces and nephews. However, the main two beneficiaries were his niece, 'Elizabeth the wife of John Warren' who was the sole residuary legatee, and his great nephew, Elizabeth's son Daniel William Cocking Warren who, at that time, was only two years old.
He directed his trustees to accumulate the rents and profits from his real estate, and to pay these to Daniel Warren on Daniel reaching the age of 21 years. Consequently, Daniel received his inheritance from his Great Uncle on reaching his majority in 1864.
As Daniel likely received (or was due to receive) an inheritance (perhaps substantial) from his great uncle Daniel Cocking, this may well be the reason why he was excluded from both his grandfather John Warren's will of 1852, and his father, John Warren's will of 1890.
Sources:
Little Ellingham. St Peter's Churchyard. Monumental Inscriptions 1755-1981. Recorded by W.I. Norfolk Family History Society. Viewed online www.norfolkfhs.org.uk
Eastern Daily Press 10th April, 1897. Viewed online via localrecall.co.uk 4th August, 2020
Great Ellingham Parish Registers. Norfolk Record Office. PD/609. Also available at wwww.familysearch.org
Little Ellingham Parish Registers & Archdeacon's Transcripts. Norfolk Record Office PD/568. Also available at https://www.freereg.org.uk/search_queries/5f6dc6374325a6e5371ee846?locale=en
1851 census HO107/1823/138
1861 census RG9/1237/102
1871 census RG10/1841/99
1881 census RG11/1974/105
1891 census RG12/1549/89, RG12/1549/87, RG12/1549/78
1901 census RG13/1867/88
1885-1886
England, Norfolk Register of Electors, 1832-1915, database with images, FamilySearch (https://familysearch.org/ark:/61903/3:1:S3HY-D1SW-NZX?cc=1824705&wc=MX69-G68%3A161034801%2C161186101%2C161062801 : 21 May 2014), Norfolk > Mid division > 1885-1886 > image 11 of 221; Record Office, Central Library, Norwich.
Warren, John. Farmer. of Little Ellingham. Will 27th May, 1890. Proved 21st January 1898. Copy obtained from https://probatesearch.service.gov.uk/#wills
Cocking, Daniel William, of Little Ellingham. 1845. Will. Archdeaconry of Norwich Probate Records. Norfolk Record Office. Catalogue Ref: ANW, will register, 1844-1847, (1845) fo.80, no.34. Viewed via http://www.norfolksources.norfolk.gov.uk/
Warren, John. of Great Ellingham. 1854. Will. Archdeaconry of Norfolk Probate Records. Catalogue Ref: ANF will register 1854-1858 (1854) no.46 Viewed via http://www.norfolksources.norfolk.gov.uk/