Following the departure of the Barnard family from The Hall at Great Ellingham, the next occupiers were Henry and Mary Cobon.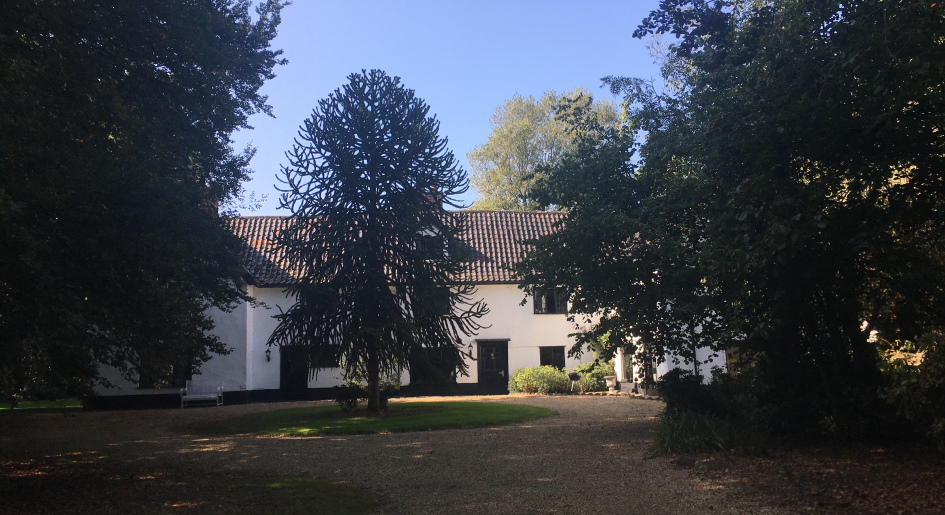 Great Ellingham Hall. Photograph taken September 2020
Old Hall Farmhouse in Great Ellingham is a Grade II listed building. British Listed Buildings website describes the c.1570 building as timber framed with wattle and daub. White's Directory of 1883 refers to The Hall, Great Ellingham as 'an ancient moated farmhouse'.
It is possibly one the oldest (if not, the oldest) surviving properties in the village. The house must have witnessed the lives of many custodians over the last 450 years, sharing their moments of joy and sadness.
Henry Cobon & Mary Temple
Born in Gayton, Norfolk in 1837 to James and Martha Cobon, farmer Henry Cobon married Mary Temple in Mary's home village of Blakeney on the North Norfolk coast, on the 25th September, 1877. Henry had likely had his 40th birthday, and Mary was only slightly younger.
It is reasonable to think that the couple began married life at The Hall in Great Ellingham. Reference is made to Henry Coben, a farmer, of Great Ellingham in the report of a case heard at the East Harling Petty Sessions which appeared in the Norfolk News of December 22nd, 1877 (just three months after the marriage). Local men, Alfred Clarke, James Fox, James Lee and William Bales (Beales?), were all charged with being in pursuit of conies on Henry Cobon's land at Great Ellingham during the previous month. The defendants were found guilty, and each ordered to pay a fine with costs amounting to 22s.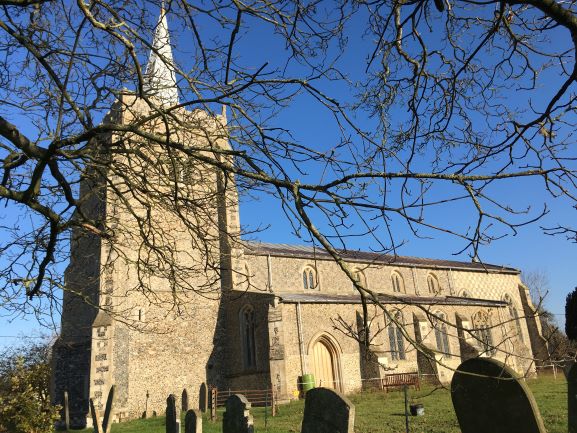 Church of St James, Great Ellingham
Daughters Mary and Alice
Henry and Mary's first daughter was born on the 14th August, 1878, most likely at The Hall. Mary Louisa (Temple) Cobon was baptised in the Church of St James on the 1st September, 1878. The couple welcomed another daughter, Alice Maud, on the 5th December, 1879. On the 1st day of the new year of 1880, Henry and Mary took Alice Maud for baptism, again at the local Parish Church.
The 1881 census captures the family at 'White Hall', Town Green, Great Ellingham. 44 year old Henry Cobon is described as a farmer of 329 acres, and an employer of 7 men and 6 boys. His wife, Mary, aged 42 was born in Brisley, Norfolk. Their two daughters, Mary and Alice, are now aged 2 and 1 respectively. The household has two servants – 20 year old general domestic servant, Emma Saunders and 14 year old nursemaid Emma Sizeland. The servant girls likely slept in an attic room at The Hall.
Death of Mary Cobon
The Cobon family are still living at The Hall (again described as 'White Hall') in 1891. The census finds Henry and his two daughters away from home on census night. They are found listed as 'visitors' at a lodging house in St Margaret's Terrace, Cromer. Also staying at the lodging house is Henry's unmarried sister, 58 year old Alice E Cobon. Mary Cobon remained at White Hall, Great Ellingham with servants, 16 year old housemaid Alice Clark and dairy maid Amelia Drake.
A few weeks before Christmas 1894, and just as her youngest daughter, Alice, had celebrated her 15th birthday, Mary Cobon died at the age of 56. She was buried in the Churchyard at St James on the 15th December.
Marriage to Mary Elizabeth Legge
Just over a year later, banns for the marriage between widower Henry Cobon and spinster Mary Elizabeth Legge were read in the Church of St James on the 5th, 12th and 19th January, 1896. Their marriage was registered in the Ely district between January and March of that year.
Death of Daughter Alice
Around 18 months after the marriage, Henry buried his youngest daughter, 17 year old Alice Maud, in the churchyard at St James.
The 1901 census reveals 63 year old farmer, Henry Cobon with his 50 year old (second) wife Mary E living in Great Ellingham. I have no doubt that Henry was still living at The Hall in Great Ellingham. Kelly's of 1896 and 1904 lists Henry Cobon at The Hall. Again, the Cobon household have two servants – 19 year old Annie Kerrison and 16 year old Edith Griffin.
1901 census
At 22, Henry's surviving daughter, Mary Louisa Temple Cobon, is a governess with the household of Richard and Emily Wilson at Kirby Cane Hall.
Death of Henry Cobon
Sadly, Henry Cobon did not live long enough to see his only surviving daughter Mary marry her first cousin William H Cobon (the son of Henry's brother James), towards the end of 1910.
Henry Cobon died on the 30th March, 1910 in Great Ellingham – likely at his home (The Hall). Henry was buried in the churchyard at St James.
In his last will and testament, Henry Cobon left various legacies, including gifts to his widow and his daughter. He also left instructions concerning the farm.
Notice of forthcoming auctions to be held at The Hall, Great Ellingham on the 4th and 6th October, 1910 by the Executors of the late Mr Henry Cobon, appeared in the Eastern Daily Press on the 10th September.
Various agricultural carriages, implements and harnesses would be sold on Tuesday, 4th October. Livestock would also be auctioned, which included 17 horses, 150 half-bred lambs, 48 pigs and 54 'head of neat stock' (possibly cattle).
Two days later, household furniture, plate and linen together with 'miscellaneous effects', would be sold.
Over the years, Henry Cobon's farm provided employment for several men and boys. I believe Henry himself was a tenant farmer (i.e. he did not own the farm). White's of 1883, when referring to 'The Hall' at Great Ellingham, mentions that the Hall 'is the property of George Barnard but now occupied by Henry Cobon, Esq.' Further, in his will, Henry gives his executor and trustee powers to deal with any necessary arrangements to determine any tenancy in relation to any farm he occupied at the time of his death.
For several years, Henry was a churchwarden at St James, and also a supporter of village events.
Sources:
1883 White's Directory. www.genuki.org.uk/big/eng/NFK/Ellingham_Great/White1883 Accessed 14 January 2019
1896 Kelly's Directory
1904 Kelly's Directory. Attleborough Heritage Group.Attleborough Community & Enterprise Centre, Church Street, Attleborough NR17 2AH
Gayton Parish Registers. Norfolk Record Office.PD/117.Transcriptions of Baptism entries. FreeReg website. https://www.freereg.org.uk/search_records/5df5175ff493fd04e74e619f/james-cobon-baptism-norfolk-gayton-1828-09-02?locale=en Accessed 20th August, 2020
Blakeney Parish Registers. Norfolk Record Office. PD/619.Transcription of Marriage entry viewed via FreeReg website. https://www.freereg.org.uk/search_records/58182ba9e93790eb7f4ca825/mary-temple-henry-cobon-marriage-norfolk-blakeney-1877-09-25?locale=en Accessed 20th August, 2020
Great Ellingham Parish Registers. Norfolk Record Office. PD/609. Also available at FamilySearch.org https://www.familysearch.org/search/image/index?owc=4J8C-CB7%3A29627201%3Fcc%3D1416598
Norfolk Baptism Project website. Great Ellingham St James. http://tinstaafl.co.uk/nbp/Church_Pages/ellingham_gt.htm Accessed 20th August, 2020
GRO Index via FreeBMD website. https://www.freebmd.org.uk/cgi/information.pl?cite=prOAfXsDrRbGBgSqp6xDkg&scan=1 Accessed 20th August, 2020
Norfolk News 22nd December 1877
Eastern Daily Press 19th August 1903
Norfolk Chronicle & Norwich Gazette 23rd July 1904
Eastern Daily Press 6th April 1907
Eastern Daily Press 10th September 1910
Cobon, Henry. Probate 27th May, 1910. Will dated 5th June, 1909. Obtained via https://www.gov.uk/search-will-probate August, 2020
1861 census RG10/1858/77
1871 census RG10/1860/100
1881 census RG11/1974/82
1891 census RG12/1549/71; RG12/1511/89
1901 census RG13/1867/78; RG13/1857/15
1911 census RG14/6824/322