Odd Hands
In January 1916, farmer John Dixon employed two local labourers, Walter Lister and Charles Hall, to help with the threshing of a stack of oats. Lister and Hall worked at Dixon's farm at Town Green, Great Ellingham, as 'odd hands'.
Magistrates' Court
Lister and Hall subsequently found themselves before the Magistrates at East Harling. They were charged with stealing a sack and oats weighing 24 stone from John Dixon.
Circumstances of the Case
Although there is a good account of the case reported in the Diss Express at the beginning February 1916, it is not reported whether Dixon was aware that some of the sacks of corn were missing from his barn.
The report tells us that Police Constable James Woods was on duty in Great Ellingham on the night of the 17th January. He came across Hall and Lister. Hall was carrying a sack on his back, with Lister walking in front. Before P.C. Woods was able to stop them, Lister's dog attacked him. Subsequently, Hall and Lister ran off dropping the sack, which contained a quantity of oats. Hall and Lister were later arrested by Police Sergeant Webb of Attleborough.
Initially, Lister denied knowing anything about the sacks of corn. However, in a later written statement, he said that whilst he was out, Hall had brought the oats to his house. He also said that he "became frightened", and persuaded Hall to take the oats from his house to a ditch in a nearby field, which he helped him to do.
Sergeant Webb later retrieved three sacks from the ditch. John Dixon was identified as the owner as a label was still attached to one of the sacks.
Not Guilty Plea
Hall was arrested the following day. Sergeant Webb told Hall of the content of Lister's statement which Hall refuted. Both men maintained their innocence and pleaded not guilty. Each of them provided different versions of the event.
Sentence
However, the Magistrates found both Lister and Hall guilty. They each received a sentence of 28 day's hard labour.
John Dixon
1901 census
The 1901 census finds 36 year old farmer John Dixon living in Town Green with his 33 year old wife, Elizabeth, and grandmother, 80 year old Rebecca Kerrison.
Marriage
Attleborough born John Dixon married Elizabeth Barnard of Great Ellingham in 1900. I believe Elizabeth was the daughter of Charles and Harriet Barnard.
Attleborough Born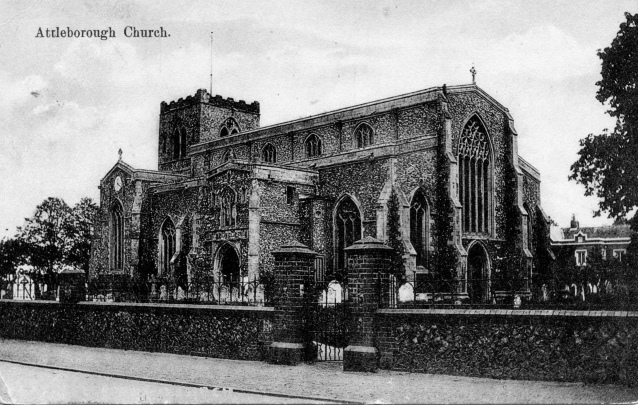 St Mary's Church, Attleborough. Postcard courtesy of BCV
John Dixon was born in Attleborough on the 29th October, 1862, and baptised in St Mary's Church on the 23rd November. His parents were Samuel and Sarah Ann Dixon.
1891 census
The 1891 census undertaken some 9 years before his marriage, captures 28 year old John Dixon with his family at an area of Attleborough referred to as 'Attleborough Hills'. This area abuts the boundary with the village of Great Ellingham.
1911 census
By 1911, John and Elizabeth Dixon had two children – John (Reginald John) born in 1901 and Thomas born two years' later. The census finds the family occupying a six-roomed property in Town Green.
Town Green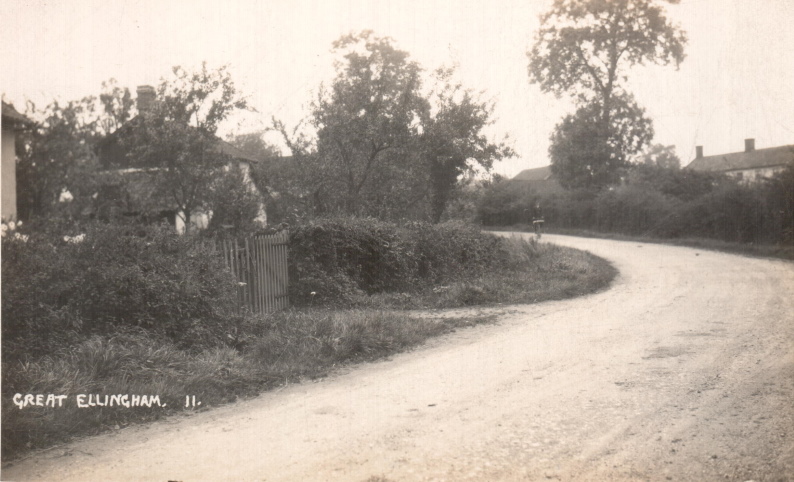 Postcard of what is now known as Long Street. Town Green to the right. Courtesy of Carol Ewin
The extent of the area of the village known as 'Town Green' differs in the various census returns between at least 1841 and 1911. Accordingly, the Dixon family's home may well have been in what we today know as part of Long Street, and not actually Town Green as we know it today.
1916 – 1937
Kelly's Directories of 1916 and 1929 lists John Dixon as a farmer in Great Ellingham, although the directory does not state the name of the farm.
It seems that by 1937, John and Elizabeth's son, Thomas, may have taken over the farm. Kelly's of 1937 lists Thomas Dixon as a farmer in the village. There is no mention of John Dixon.
Sources:
Diss Express and Norfolk and Suffolk Journal February 4th, 1916. Viewed via www.britishnewspaperarchive.co.uk 28th June 2021
1911 census RG14/11473/104
1901 census RG13/1867/69
1891 census RG12/1549/33
GRO Index via https://www.freebmd.org.uk/cgi/information.pl?cite=zc4GWyBIp%2BxtN5AqWFrm3w&scan=1
Attleborough Parish Registers. Norfolk Record Office. PD 438. Transcript of Attleborough, Baptisms – 1552 to 1948. Norfolk Family History Society. www.norfolkfhs.org.uk
Kelly's Directories 1916, 1929 and 1937