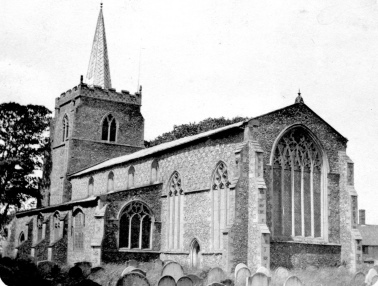 Church of St James, Great Ellingham
Baptism at St James
On the 28th August 1892, Great Ellingham schoolmaster John Field and his wife Annis took their infant son, Alfred Harold, to the Parish Church for baptism.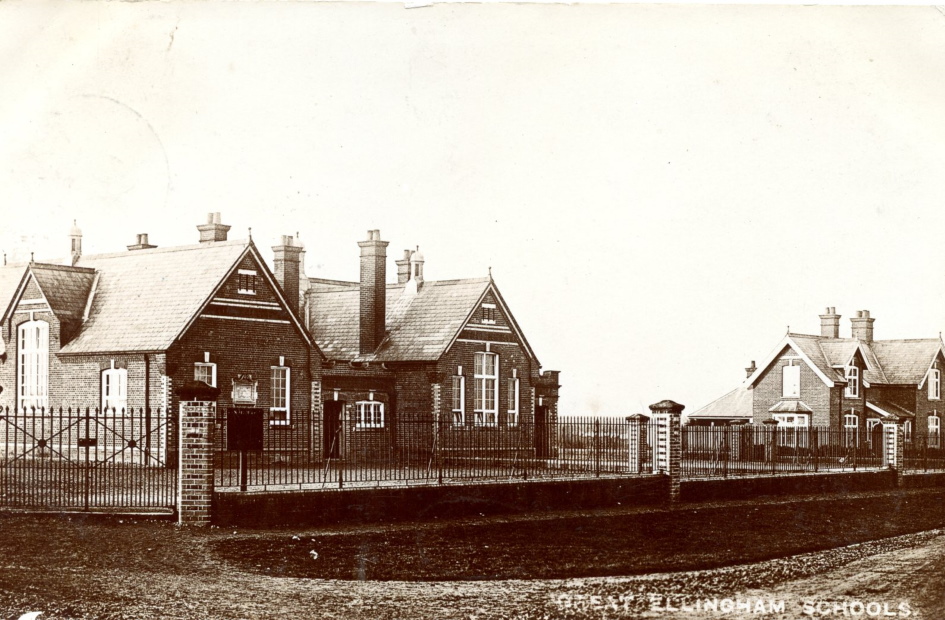 Great Ellingham Board Schools and School House. Author's Collection
Early Life at The School House
Alfred Harold Field was born a couple of months earlier on the 26th June – probably at The School House (shown on the right of the above postcard).
His early life was spent at The School House with his parents and siblings. Both John and Annis Field taught at the village school. John Field was the very first School Master of the 'new' Board School which was built in 1896. Later, Alfred's sisters would also become teachers at the school.
1901 census
The 1901 census finds 8 year old Alfred H Field with his parents, John and Annis Field, and seven siblings at the Board School House in Hingham Road.
Alfred was one of twelve known children of John and Annis Field. However, sadly, four of these children died in childhood.
1911 census
At the time of the 1911 census, 18 year old Alfred Harold Field is a student at St Peter's College, Peterborough. His parents and six of his siblings were still at the School House in Great Ellingham.
1923 Emigration to San Francisco
In 1923, aged 31 and single, Alfred Harold (known then or later as 'Harry'), emigrated to San Francisco.
Leaving Southampton onboard the SS Leviathan, Alfred Harold (Harry) arrived in New York – passing through Ellis Island Immigration Centre, at the beginning of November 1923.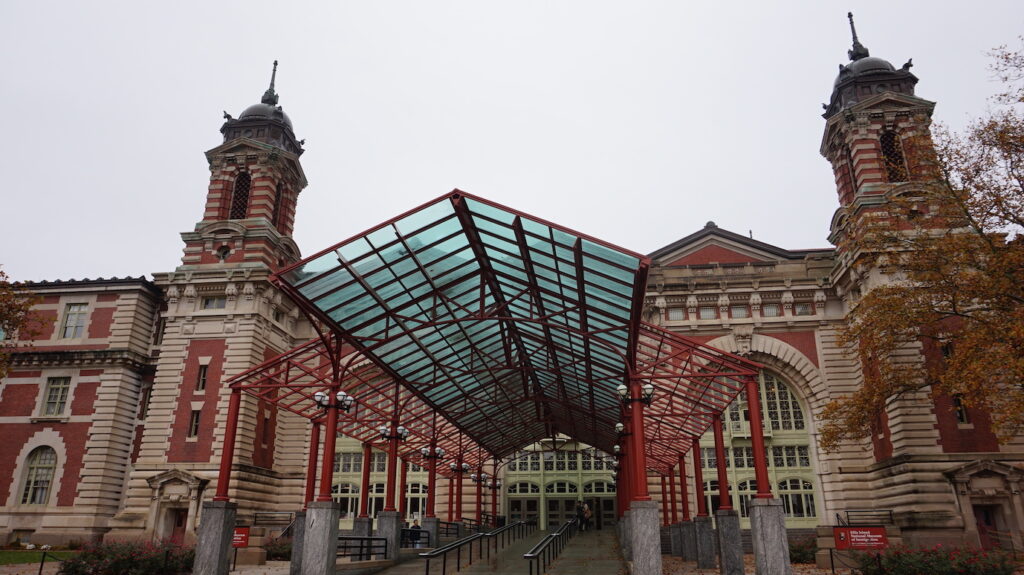 Ellis Island Immigration Centre. Photograph taken November 2018
The Ship's Manifest shows that Harry Field had the sum of $300 and intended to meet up with a friend at Mills Buildings in San Francisco. He is described as being just over six feet tall with a fresh complexion, brown hair and brown eyes.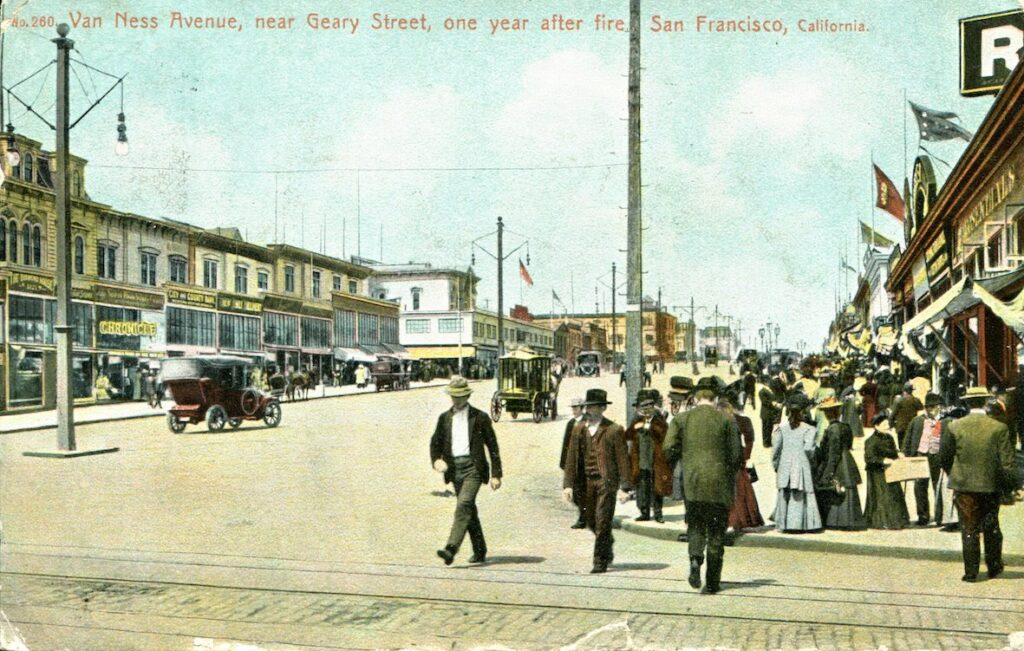 1908 Postcard. Van Ness Avenue, San Francisco. Author's collection
The image of Van Ness Avenue in San Francisco was captured one year after the earthquake in 1906. Accordingly when Harry Field arrived in San Francisco in 1923, he may well have seen a similar view.
1930 census
The U.S. census of 1930 finds insurance broker Harry A Field with his wife Margaret and two step-sons living in Assembly District 31 of San Francisco. The family have a servant.
Remarriage
However by 1940, Harry Field is divorced. The census finds him living alone in San Francisco.
Nevertheless, Harry marries Dorothy on the 23 November, 1940.
Naturalization
Harry Field's Petition for Naturalization of 1941 shows that Harry and Dorothy are living in Clay Street, San Francisco. The record also shows that Harry has a son, born in 1930.
Death of Harry Field
Great Ellingham born Alfred Harold Field (Harry) died in 1964 in San Francisco – a place over 5000 miles from his birthplace.
Sources:
1930 United States Federal Census. Year: 1930; Census Place: San Francisco, San Francisco, California; Page: 16A; Enumeration District: 0322; FHL microfilm: 2339941. Ancestry.com. 1930 United States Federal Census [database on-line]. Provo, UT, USA: Ancestry.com Operations Inc, 2002.
California U.S. Death Index 1940-1997. Place: San Francisco; Date: 13 Mar 1964; Social Security: 552324730. Ancestry.com. California, U.S., Death Index, 1940-1997 [database on-line]. Provo, UT, USA: Ancestry.com Operations Inc, 2000. State of California. California Death Index, 1940-1997. Sacramento, CA, USA: State of California Department of Health Services, Center for Health Statistics.
1940 United States Federal Census. Year: 1940; Census Place: San Francisco, San Francisco, California; Roll: m-t0627-00303; Page: 66A; Enumeration District: 38-135. Ancestry.com. 1940 United States Federal Census [database on-line]. Provo, UT, USA: Ancestry.com Operations, Inc., 2012. Original data: United States of America, Bureau of the Census. Sixteenth Census of the United States, 1940. Washington, D.C.: National Archives and Records Administration, 1940. T627, 4,643 rolls.
New York, U.S. Arriving Passenger & Crew Lists (inc. Castle Garden & Ellis Island). The National Archives and Records Administration; Washington, D.C.; Passenger and Crew Lists of Vessels Arriving at and Departing from Ogdensburg, New York, 5/27/1948 – 11/28/1972; Microfilm Serial or NAID: T715, 1897-1957. Ancestry.com. New York, U.S., Arriving Passenger and Crew Lists (including Castle Garden and Ellis Island), 1820-1957 [database on-line]. Lehi, UT, USA: Ancestry.com Operations, Inc., 2010.
California, U.S., Federal Naturalisations Records 1843-1999. The National Archives at San Francisco; San Bruno, California; Petitions For Naturalization, 8/6/1903 – 12/29/1911; NAI Number: 605504; Record Group Title: Records of District Courts of the United States, 1685-2009; Record Group Number: 21. Ancestry.com. California, U.S., Federal Naturalization Records, 1843-1999 [database on-line]. Lehi, UT, USA: Ancestry.com Operations, Inc., 2014.
1901 census RG13/1867/73
1911 census RG14/8676/32, RG14/11473/24
Great Ellingham Parish Registers. Norfolk Record Office. PD 609. Also available to view via www.ancestry.co.uk and www.familysearch.org