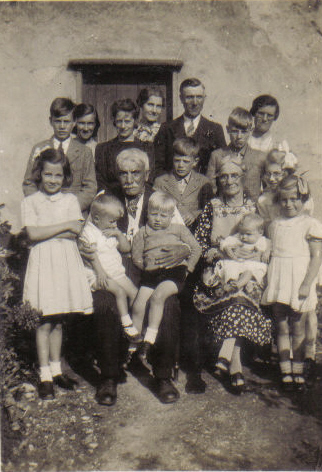 Joseph & Susanna Dye with their family c.1941. Photograph courtesy of Bryan Dye
The above photograph is a fabulous snapshot of a couple celebrating their Golden Wedding Anniversary, surrounded by generations of their family.
Marriage
Joseph Alfred Dye married Susanna Lincoln in 1891. They were both aged 21, and from long-established Great Ellingham families.
Both families were also fervent Methodists – a possible reason for their union. Accordingly, the marriage likely took place at one of the churches in the local Methodist Circuit. Even though Great Ellingham had a Methodist Church, it was not until October 1900 that the first marriage took place in the church.
Early Life
The 1871 census captures Joseph as a 7 month old infant with his parents, John and Susannah Dye (née Fielding) living in Great Ellingham. The same census finds 11 month old Susanna with her parents, John and Elizabeth Lincoln (neé Gant) also living in the village.
Both Joseph and Susanna remained living with their respective families in Great Ellingham until their marriage. Although it seems that the families did not live in the same street, I have no doubt that Joseph and Susanna would have known each other from an early age.
They may even have attended the same school in the village. At this time, there were two schools in Great Ellingham – the 'British School' in Long Street and the 'National School' on the Attleborough Road.
The Elementary Education Act of 1880 included compulsory school attendance from 5-10 years. The 1881 census shows both Susanna and Joseph (both aged 10) with their respective families, and attending school. Susanna's 12 year old brother James was already working as a labourer, whereas Joseph's 12 year old sister, Elizabeth, was still at school.
I suspect that it would not have been long before Joseph was also working. Susanna was 12 years old when her mother, Elizabeth, died in September 1882. Susanna was tasked with bringing up her younger siblings and keeping house for her father.
Married Life
1901
The census of 1901, undertaken just under 10 years after their marriage, finds Joseph and Susanna Dye with their two young daughters (Beatrice 5 and Elsie 3) living in Low Common, Great Ellingham. Joseph and Susanna were both aged 30. Joseph was working as a horseman on a farm. It is quite possible that the family were living in 'tied' accommodation provided by Joseph's employer.
1911
Ten years later, the Dye family were living in a three-roomed dwelling in Bow Street. Four of their children are listed with their parents on the 1911 census: Alfred aged 7, Wilfred 5, Ellen 4 and one year old Ruby.
Daughters Living away from Home?
Their daughters, 15 year old (Beatrice) Lily and 9 year old Olive are with their maternal uncle and aunt, Frederick and Harriet Lincoln in Downham, Wymondham. 13 year old Elsie is with her paternal uncle and aunt, Jesse and Ann Dye in Huddersfield. Elsie is working as a cloth mender in a 'fancy worsted' mill.
Joseph and Susanna's home in Bow Street would have been very crowded if all seven children were living at home!
However, I am not clear whether Lily and Olive were just visiting overnight or staying with their uncle and aunt in Wymondham on a more permanent basis.
Elsie had been sent to Huddersfield to be a domestic help to her uncle's household. Jesse Dye's wife Ann was seriously ill, and having had only boys, Elsie went to help with the domestic chores.
At 13, Elsie was working as well as carrying out household duties! Sadly, Ann Dye died in October 1911. Elsie remained living with her uncle's household until she married Norman Stansfield in Great Ellingham on Christmas Eve 1918.
Children
The census tells us that Joseph and Susanna Dye had completed 20 years of marriage. It also tells us that Susanna had given birth to 11 children, seven of whom were still living. Sadly, four children had died.
Tragically in 1893 their first child, a daughter, died within a short time of her birth. Beatrice Lilian was born in 1895, followed by Elsie Kate in 1897.
Olive Gertrude was born in 1899, but sadly died in February, 1901 aged 18 months. Olive Annie arrived in 1901, with Alfred Fielding born two years later in 1903.
Two years later, Lawrence Wilfred (known to the family as Wilfred) was born in 1905. He was baptised in the Parish Church at Great Ellingham on the 2nd March, 1906. For some reason, Joseph and Susanna chose to have their son baptised in the Church of St James and not a Methodist Church.
According to the baptism entry, Joseph and Susanna were living at 'The Brick Kiln', Great Ellingham. I wonder if this was the brick kiln in Hingham Road, or was there also a brick kiln in Bow Street?
Ellen Gertrude (known to the family as Nelly) was born in 1906 with John born two years later in 1908. Sadly, John also died in 1908. Florence Ruby arrived in 1909.
Perhaps a concern about Florence's health prompted Joseph and Susanna to have Florence Ruby baptised privately (as opposed to publicly in church). Her baptism is also recorded in the registers for the Church of St James for June 13th, 1910. Sadly, Florence Ruby died at just 18 years of age, and was buried in the Church of St James on the 31st March, 1928. A Primitive Baptist minister officiated at Florence's funeral service.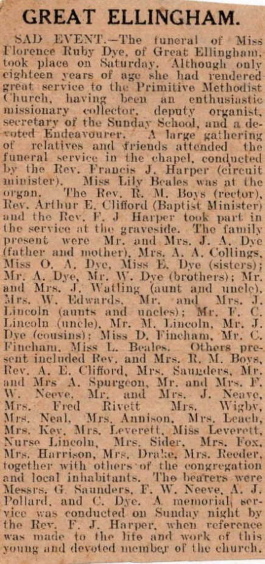 1928 Local Newspaper Report of the Funeral of Florence Ruby Dye. Courtesy Bryan Dye
Two years after Florence Ruby was born, in 1911 Susanna gave birth to her youngest child, a son named Raymond Idris John. Sadly ten years later, in December 1921, Joseph and Susanna buried Raymond in the churchyard at St James.
Bow Street to Hingham Road
Joseph and Susanna were still living in Bow Street in 1915. At some point, the Dye family moved to a cottage in Hingham Road (shown in the photographs below).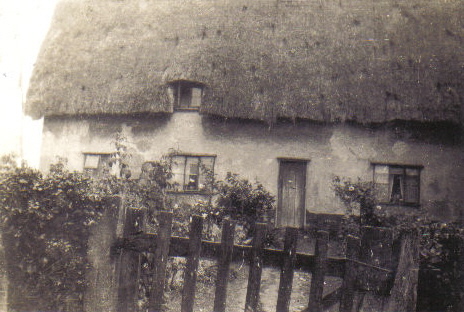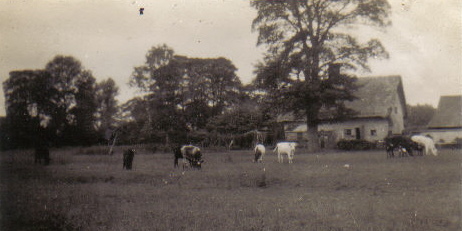 Joseph & Susanna Dye's home in Hingham Road, Great Ellingham. Photograph taken before 1942. Courtesy of Bryan Dye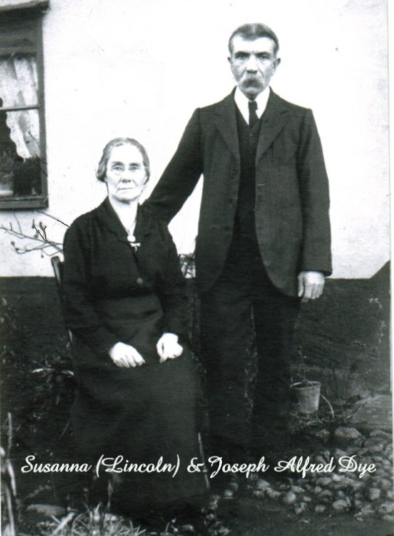 Susanna & Joseph Dye taken outside their home in Hingham Road, Great Ellingham c.1930. Photograph courtesy of Bryan Dye
Deaths of Joseph and Susanna
At the age of 72, Joseph Alfred Dye died in November, 1942. He was buried in the churchyard at St James on December 2nd.
Susannah outlived her husband by some 18 years. Susanna died in Gaywood, Norfolk on the 7th February, 1961 aged 90.
Sources:
GRO Index. General Register Office website. https://www.gro.gov.uk/gro/content/certificates/contact_us.asp
1871 census RG10/1841/76, RG10/1841/83
1881 census RG11/1974/95, RG11/1974/80
1891 census RG12/1549/78, RG12/1549/81
1901 census RG13/1867/82
1911 census RG14/11473, RG14/26314, RG14/11342
Great Ellingham Parish Registers. Norfolk Record Office PD609. Also available at www.familysearch.org
"England, Norfolk Register of Electors, 1832-1915," database with images, FamilySearch (https://familysearch.org/ark:/61903/3:1:S3HT-DRPS-5R4?cc=1824705&wc=MX69-R29%3A161034801%2C161186101%2C161182001 : 21 May 2014), Norfolk > Mid division > 1915 > image 160 of 636; Record Office, Central Library, Norwich. Accessed 21 March 2021
'Raising of school leaving age in England and Wales'. Wikipedia. Accessed 21 March 2021
Huge thanks to Bryan Dye for photographs and family information