Entries relating to Jonathan Lock caught my eye whilst looking through some Manor Court Books.
Jonathan Lock was a copyhold tenant of each of the Manors of Buckenham Lathes Outsoken, Buckenham Castle Outsoken and Buckenham Close Outsoken. The copyhold land was in Great Ellingham.
The entries tell us that following a conviction for felony, Lock's copyhold land and tenements escheated (reverted) to the respective Lord of the Manors. Consequently, on the 26th September, 1836, each of the courts awarded a 'warrant of seizure' to the bailiff to take back the land.
Who was Jonathan Lock? What was his crime? Where was the copyhold land?
In my quest to find the answers, I discovered more interesting facts about Jonathan Lock. Not only was he transported to Australia for the felony, but so was his son Robert. Further three years after Jonathan's transportation, another son, John, was also transported to the same country. Jonathan Lock also spent time in a debtor's prison in Surrey.
Land & Property Owner in Great Ellingham
Around 1800, Jonathan Lock owned a messuage and land in Great Ellingham.
However, Lock did not occupy the property. It was tenanted to John Wenn, Robert Elmer and M Alderton (I believe it was Mary Alderton). One rood of the land was copyhold of the Manor of Buckenham Close Outsoken. I believe the messuage to be the building which later became known as the Queen's Head Public House.
According to the Manor Court Books, Jonathan Lock lived in nearby Attleburgh. The Court Books also describe Lock as a yeoman (i.e. a farmer on a small scale).
By 1817, Jonathan Lock owned and occupied a cottage with barn, yard and frontage in Great Ellingham. Lock also owned some 14 acres of land known as Pennell Pightle. I am unclear as to where Lock's cottage was. However, I am certain that it was a different property to the messuage he owned c.1800. Pennell Pightle lies to the west of the village.
Later, Lock owned and farmed around 25 acres in Great Ellingham. Some parcels of this land were copyhold of the three Manors I mention above.
Insolvent Debtor
Around 1817, Jonathan Lock was in financial difficulties. On the 25th October, 1817, the London Gazette published a notice for the creditors of Jonathan Lock, a farmer, of Great Ellingham. Lock was an insolvent debtor prisoner in the King's Bench Prison in Southwark, Surrey.
Lock's petition was listed for hearing at the Guildhall, Westminster at 9 o'clock on the 15th November. His creditors were also notified of Lock's intended release from gaol. I wonder if John Lock was subsequently released?
Jonathan Lock
Jonathan's parents were John and Mary Lock. He began his life in Larling, a village some 8 miles from Great Ellingham. On the 25th December, 1768, Jonathan was baptised in St Ethelbert's Church in Larling.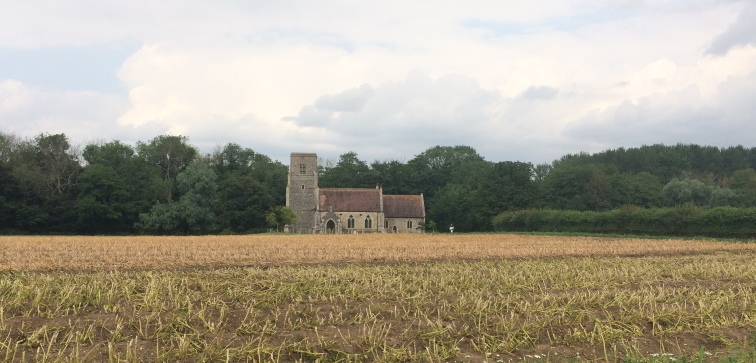 St Ethelbert's Larling. Photograph taken July 2021
Around 23 years later, on the 6th March, 1791, Jonathan married Sarah Elmer of Attleburgh in the same church. I wonder whether the Robert Elmer who, in 1800, occupied part of Lock's messuage in Great Ellingham, was related to Sarah Elmer?
Just four months after their marriage, Jonathan and Sarah took their son, John, for baptism in the same church at Larling on the 26th July, 1791.
Jonathan and Sarah may have had other children in addition to Robert, John and Caroline. However, I have had difficulty in finding evidence of further offspring.
Caroline Lock was an adult 'of riper years' when she was baptised in Wymondham on the 30th August, 1820. The baptism entry confirms that her parents were indeed Jonathan and Sarah Lock (née Elmer) of Great Ellingham.
1821 Norfolk Assizes
In January 1821, 53 year old Jonathan Lock appeared at the Norfolk Assizes. He was charged and convicted of stealing three geese belonging to John Smith of Larling on the 16th December, 1820.
With his son, Robert, Jonathan Lock was also convicted of stealing a pig belonging to Mary Ann Towler of Rockland All Saints on the 31st December.
Robert Lock was also charged and convicted of stealing three planes from carpenter William Cocking of Great Ellingham. This offence took place on 1st March, 1820. Interestingly, William Cocking's wife was formerly a 'Sarah Lock'. I wonder whether there is a family connection here?
During the trial, the jury recommended that mercy be shown to Robert Lock. Robert was then around the age of 20. Nevertheless, both Robert and his father, Jonathan Lock, were sentenced to seven years' transportation. Other offences against the two men were abandoned. It was clear that Robert Lock and his father, were known offenders.
Jonathan and Robert were two of 152 convicts transported to Australia on the ship Grenada on the 3rd May, 1821. Neither of them would ever return to the land of their birth.
Transportation for son John
As it happens, Jonathan and Sarah's son, John Lock, was also transported to Australia. This followed a conviction for horse stealing in 1824. I wonder whether John's father Jonathan and his brother Robert knew of this? Did they ever meet in Australia?
New Owner of Jonathan Lock's Land
It was some sixteen years after Lock's transportation, that Jonathan Lock's copyhold land was seized by the courts' bailiff. I wonder why there was such a delay?
On the 16th January, 1837, John Steel, the bailiff for the Manors of Buckenham Lathes, Buckenham Close and Buckenham Castle Outsoken, confirmed to the courts that he had seized Jonathan Lock's copyhold land.
At the same court, Daniel Alexander, a gentleman of nearby Hingham, was 'admitted' as a copyhold tenant in respect of the lands formerly in the tenure of Jonathan Lock.
Alexander also purchased Lock's freehold cottage with barn, yard and frontage, as well as the freehold parts of the land (including allotments). I do not know when a 'sale and bargain' took place. However, I suspect it was before the 16th January, 1837, when the Manor Courts admitted Alexander as a copyhold tenant of Lock's copyhold land.
Burial of Sarah Lock
Sarah Lock née Elmer likely remained living in Great Ellingham following the transportation of her husband and sons. We can only wonder if she knew how her husband and sons fared 'on the other side of the world'.
She died at the age of 71 and was buried on the 25th November, 1838, in the churchyard of St James.
Sources:
1802 Russell James Colman Plans. Great Ellingham. Norfolk Record Office. Catalogue Ref. C/Ca 1/84.
1799-1842 F W Horner, Records of the Surveyors to Commissioners for Inclosure in Parishes in Norfolk and Suffolk. Great Ellingham (Act 1799). Norfolk Record Office. Catalogue Ref: NRO, BR 90/2
1800 Inclosure Commissioner's Particulars and Valuation, Great Ellingham. Norfolk Record Office. Catalogue Ref: NRO, MC 2213/119
1753-1847 Manor of Buckenham Castle, Lathes, Close and Priory. Court Book. Norfolk Record Office. Catalogue Ref: MC 1833/8 -MC 1833/16. 1595-1847 also available at https://www.familysearch.org/
1799 Statement of Claims. Great Ellingham Inclosure. Norfolk Record Office. Catalogue Ref: MC 2213/118
Great Ellingham Parish Registers. Norfolk Record Office. PD 609. Also available at https://www.familysearch.org
Larling Parish Registers. Norfolk Record Office.PD 19. Also available at https://www.familysearch.org
Wymondham Parish Registers. Norfolk Record Office. PD 184. Also available at https://www.familysearch.org
The London Gazette. 25th October, 1817. Issue 17297. Pg 2188. Viewed via https://www.thegazette.co.uk/ 19 July 2021
Norfolk Chronicle 20th January, 1821. Viewed via https://www.britishnewspaperarchive.co.uk 16th July 2021.
Australian Royalty website. https://australianroyalty.net.au/tree/purnellmccord.ged/individual/I80230/Jonathan-Lock Accessed 20 July 2021.
https://australianroyalty.net.au/tree/purnellmccord.ged/individual/I80204/Robert-Lock Accessed 20 July 2021.
Convict Records of Australia. https://convictrecords.com.au/convicts/lock/john/77468 Accessed 20 July 2021