Daniel Cocking was just 14 years of age when his maternal grandfather, Daniel Lister, died in 1799.
He inherited all his grandfather's property and land in Great Ellingham which included a thatched house in Church Street, which in more recent times, was known as 'Ye Olde Thatche Shoppe'.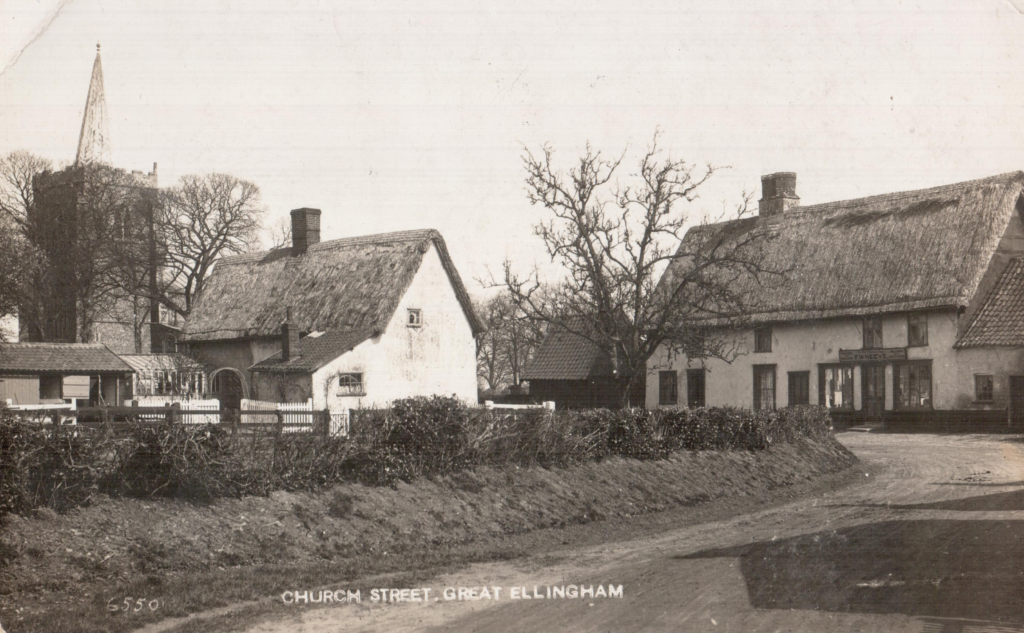 Although pictured over 100 years later, on the right is the thatched building which Daniel Cocking inherited from his grandfather Daniel Lister in 1799. Postcard courtesy of Carol Ewin
1784 Baptism
The third child, and only son of William Cocking with his wife Mary (née Lister), Daniel William Cocking was baptised in the Church of St James on December 5th, 1784. Likely, William was named after his grandfather and father.
1780 Marriage of William Cocking & Mary Lister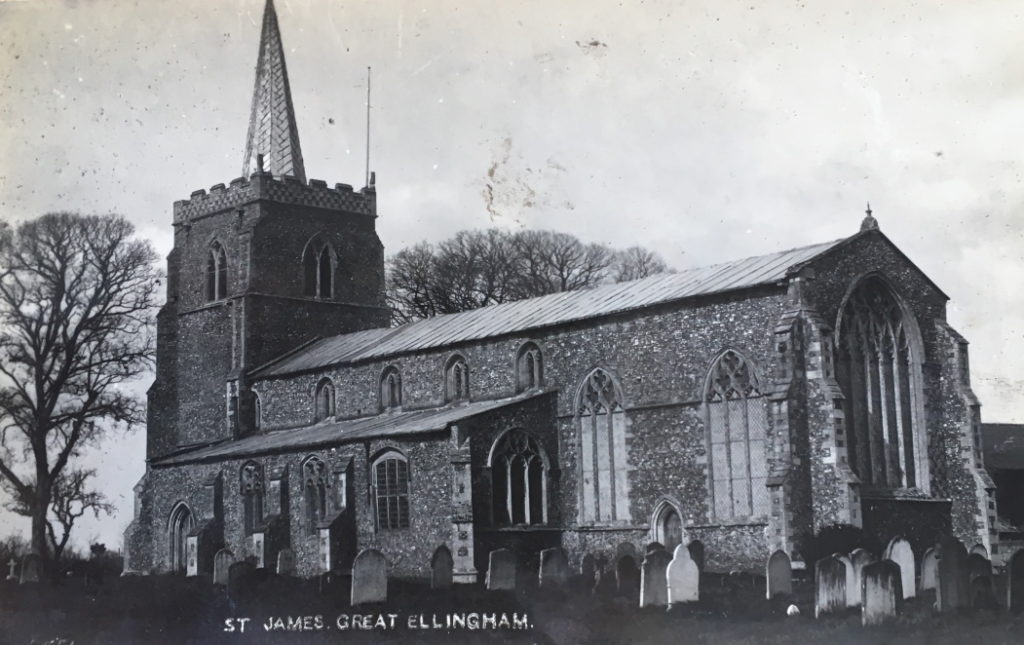 Church of St James Great Ellingham. Postcard courtesy of Attleborough Heritage Group
Just four years earlier, on the 8th November, 1780, William Cocking and Mary Lister had married in the same church, just yards away from Mary's home in Church Street. Neither William nor Mary had been married before. The couple along with their witnesses, John Barnard and William Middleton, signed the marriage register.
The Lister family had been in Great Ellingham since at least 1765. However, I do not know when William Cocking arrived in Great Ellingham.
1781-1784 Children
William and Mary Cocking likely remained living in Great Ellingham following their marriage.
Just under a year after 'tying the knot', William and Mary took their daughter Mary for baptism at the parish church on the 28th October, 1781. Just under two years later, daughter Tabitha was baptised on November 16th, 1783. Sadly, the couple buried Tabitha on February 25th, 1784 just ten months before the baptism of their son, Daniel William Cocking, in the December of that year.
1786 Death of Mother Mary Cocking neé Lister
Tragically, Daniel's mother Mary Cocking née Lister died in June 1786, and was buried in the churchyard at Great Ellingham on the last day of June. William Cocking was left a widower with two young children, Mary and Daniel.
1787 William Cocking Re-marries
Just over a year after his mother's death, Daniel's father remarried. William Cocking married spinster Sarah Locke on the 25th September, 1787. Once again, the marriage took place in the parish church at Great Ellingham.
At least nine children were born to William and Sarah Cocking. The children were all baptised in the Church of St James: Elizabeth in 1787, Lydia 1789, Anne 1790, Charles 1791, Charlotte 1792, Sarah 1793, Rebecca 1794, Maria 1795 and William 1800.
Sadly, burials for all the children (with the exception of Elizabeth and Lydia) appear in the Great Ellingham Parish Registers between 1790 and 1806, along with the burial of another child, Rebecca, in 1802.
1800 The Cocking Family's Home in Town Green
A Particulars & Valuation of 1800 undertaken by the Commissioners for the Great Ellingham Inclosures, reveal that William Cocking was in occupation of the following property and land, which he rented from Robert Barnard. Robert Barnard lived at Great Ellingham Hall, which was (and still is) on the other side of the road to where the Cockings lived:
457. House, Barn, Carpenter's Shop, Yard and Garden 0a 0r 24p
458. Pightle Behind the House, Barn, Carpenter's Shop, Yard & Garden 0a 1r 34p
459. Another Pightle Behind 1a 0r 19p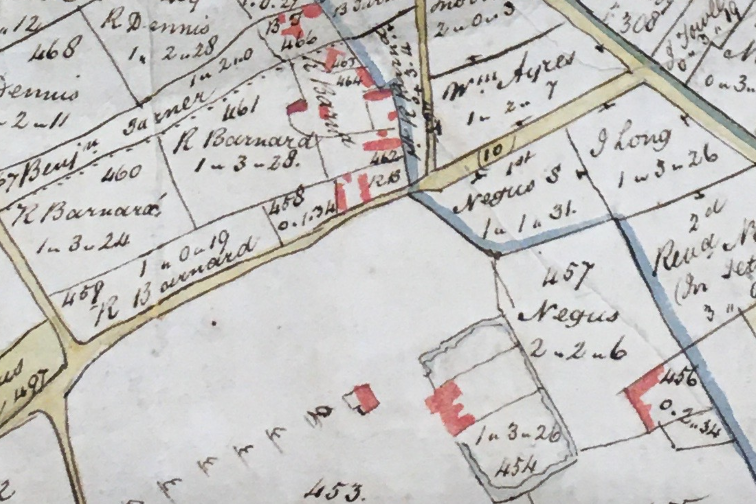 Extract from 1802 Map of Great Ellingham. Original held at Norfolk Record Office. Russell James Colman Plans. Cat. Ref. C/Ca 1/84. With kind permission of NRO
On the whole, the numbering used on an 1802 Map of Great Ellingham (which also relates to the Inclosures), concurs with the schedules to the Particulars & Valuation of 1800.
You will see clearly the parcels of land numbered 458 and 459 which abut Penhill Road.
However, there appears to be a discrepancy between the map and the schedule with regard to the parcel of land numbered '457'. The actual number is not shown on the map.
However, given that the schedule states that the two pightles (numbered 458 and 459) are behind the 'House, Barn, Carpenter's Shop, Yard & Garden' it follows that William Cocking's House and Carpenter's Shop is within the parcel of land which abuts 458 and 462, and lies on the corner of Town Green and Penhill Road. This piece of land is not numbered on the map but has the initials 'RB'. The buildings are indicated in red.
1812 Death of Daniel Cocking's Step-mother
In 1812, Daniel's father William Cocking (then in his mid-fifties) was once again widowed. Sarah Cocking née Locke, the second wife of William Cocking, was buried in the churchyard at Great Ellingham on July 15th, 1812.
Daniel Cocking, a surviving child of William Cocking's marriage to Mary Lister, was 28 when his step-mother died. It is likely that Daniel had already moved from Great Ellingham to a farm in Church Street, Little Ellingham.
1813 Possible Third Marriage for Daniel's Father
It is possible that Daniel's father, William Cocking, married for a third time. The Great Ellingham Parish Registers reveal a marriage between widower William Cocking and widow Mary Clarke on the 24th December, 1813.
However, I cannot be certain that this is Daniel William Cocking's father for the following reason.
William Cocking signed his name in the marriage register at the time of his marriage to Mary Lister, and when he married Sarah Locke.
However, when William Cocking married Mary Clarke, William Cocking did not sign the register but put his mark 'X', which usually indicates that a person could not write (or able to read).
However, there may, of course, be a reason why William could not (or did not want to) sign his name.
1829 Death of Daniel's Father, William Cocking
William Cocking, the father of Daniel William Cocking, died in 1829 at the age of 73 years, and was buried in the churchyard at Great Ellingham.
It is likely that William Cocking had remained living in Town Green. A Survey of Great Ellingham 1817-1819 shows William Cocking and George Midson (Mitson?) occupying two cottages and green yard which were owned by Robert Barnard. However, I have not been able to establish with any certainty that these were the same properties which William Cocking had occupied in 1800.
Daniel Cocking, Farmer of Little Ellingham
William's son Daniel William Cocking (one of the two surviving children of William's first marriage to Mary Lister) remained living in Little Ellingham for the rest of his life.
He retained the ownership of property and land in Great Ellingham (including 'Ye Olde Thatche Shoppe').
The Register of Electors for Norfolk 1835 finds Daniel occupying a farm near the Church in Little Ellingham.
White's Directory of 1836 lists Daniel 'Cockin' as a farmer in Little Ellingham.
The 1841 census captures 55 year old farmer Daniel Cocking living alone in Church Street, Little Ellingham, save for four servants – 45 year old Maria Leben, 20 year old Elizabeth Chaplin, Isaac Skitmore aged 20 and 13 year old Robert Spurgeon.
The Register of Electors for 1842-1843 lists Daniel William Cocking of Little Ellingham as the owner of a freehold house and land at the Street, Great Ellingham.
1845 Death of Daniel William Cocking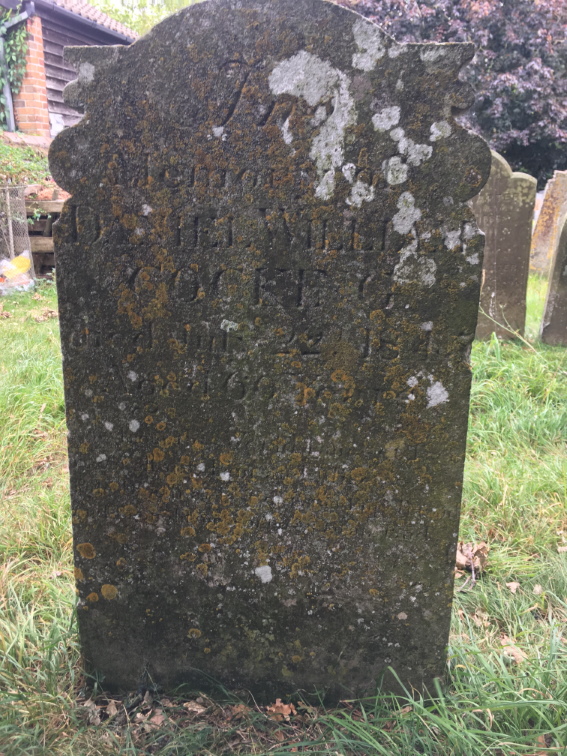 Headstone of Daniel William Cocking in the churchyard at Great Ellingham
60 year old Daniel William Cocking of Little Ellingham was buried in the churchyard at St James's Church, Great Ellingham on the 26th July, 1845.
Charles & Mary Chaplin (née Cocking)
I have not found any evidence that Daniel married and/or had any children. When he died, his closest family member was his sister Mary (Cocking) who had married Charles Chaplin in 1801.
The 1841 census captures Charles and Mary Chaplin living at Anchor Corner, Little Ellingham. The couple were both in their fifties. Three of their children – Charles aged 30 (a wheelwright), Daniel 20 (like his father, described as a farmer) and 15 year old Lydia, were living with them.
Charles Chaplin died in 1844, the year before Daniel Cocking's death. Widow Mary Chaplin (neé Cocking) died in 1846, the year after her brother's death.
Daniel Cocking's Will
Daniel Cocking signed his last will and testament on the 16th July, 1845. He confirmed that he was a farmer, and living in Little Ellingham.
Charles Cockell of Attleburgh (described as a 'gentleman') and Matthew Green, a farmer of Hackford, were appointed as executors of the will.
Unmarried with no children, it is not surprising to find that the children of Daniel's sister Mary were the beneficiaries of the will. Daniel's half-sisters, Elizabeth and Lydia (children of his father and Sarah née Lock), survived childhood, but they did not benefit from Daniel's will.
Legacies
Daniel Cocking bequeathed the sum of £100 to his nephew Daniel Chaplin, a farmer, of Little Ellingham.
Daniel Chaplin's siblings, William Chaplin, Charles Chaplin, Mary Spurgin and Lydia Chaplin, each received legacies of £10.
Elizabeth the wife of John Warren (and another daughter of Daniel Cocking's sister Mary), inherited all her uncle's personal estate and effects.
Finally, Daniel Cocking left all the 'real estate' (including 'Ye Olde Thatche Shoppe'), to his great nephew, Daniel William Cocking Warren, the son of John and Elizabeth Warren (neé Chaplin).
At the time of his great uncle's death, Daniel Warren was a minor (aged around 2-3 years). He would take his inheritance (including 'Ye Olde Thatche Shoppe') on reaching the age of 21 – which, in the event, he did!
Sources:
1802 Russell James Colman Plans. Great Ellingham. Catalogue Ref. C/Ca 1/84.
1799-1842 F W Horner, Records of the Surveyors to Commissioners for Inclosure in Parishes in Norfolk and Suffolk. Great Ellingham (Act 1799). Norfolk Record Office. Catalogue Ref: NRO, BR 90/2
1800 Inclosure Commissioner's Particulars and Valuation, Great Ellingham. Norfolk Record Office. Catalogue Ref: NRO, MC 2213/119
1753-1847 Manor of Buckenham Castle, Lathes, Close and Priory. Court Book. Norfolk Record Office. Catalogue Ref: MC 1833/8 -MC 1833/16. 1595-1847 also available at https://www.familysearch.org/
1799 Statement of Claims. Great Ellingham Inclosure. Norfolk Record Office. Catalogue Ref: MC 2213/118
Great Ellingham Parish Registers. Norfolk Record Office. PD609. Also available at www.familysearch.org
Little Ellingham, Monumental Inscriptions 1755-1981. Norfolk Family History Society. www.norfolkfhs.org.uk
Will. Cocking, Daniel William of Little Ellingham. 1845. Norfok Record Office. Ref: ANW, will register, 1844-1845, (1845), fo.80, no.34. Also available Norfolk Sources. http://www.norfolksources.norfolk.gov.uk/DserveNS/
Norfolk Heritage Explorer Website. http://www.heritage.norfolk.gov.uk/record-details?MNF44024 Accessed 12.02.2021
England, Norfolk Register of Electors, 1832-1915," database with images, FamilySearch (https://familysearch.org/ark:/61903/1:1:2HBX-9ZF : 18 July 2017), Daniel Cocking, 1835; citing Little Ellingham, Western division, Norfolk, England, Record Office, Central Library, Norwich; FHL microfilm 2,149,022.
1836 White's Directory. Norfolk Record Office.
1841 census HO107/785/18
England, Norfolk Register of Electors, 1832-1915," database with images, FamilySearch (https://familysearch.org/ark:/61903/1:1:2HBX-TFR : 18 July 2017), Daniel William Cocking, 1842-1843; citing Great Ellingham, Western division, Norfolk, England, Record Office, Central Library, Norwich; FHL microfilm 2,149,022