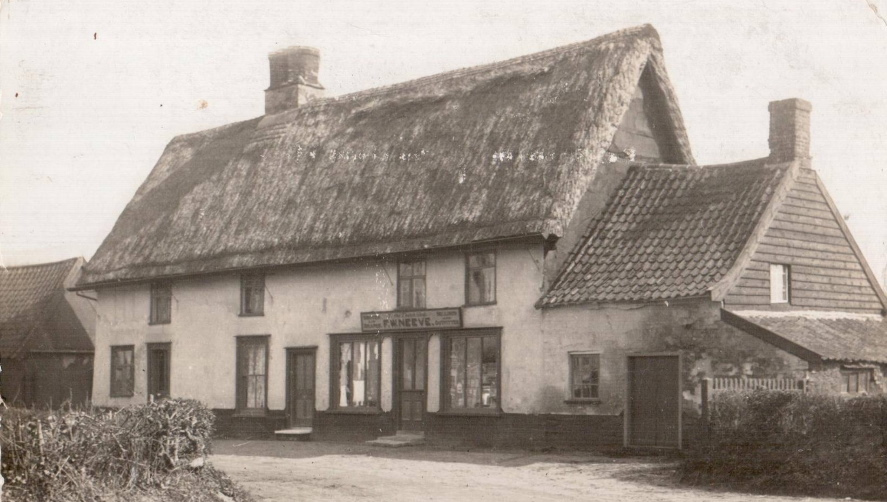 F W Neeve's Shop in Church Street. Postcard courtesy of Carol Ewin
Frederick Neeve put his shop sign above the door to his premises in Church Street, Great Ellingham, at some point after the census of 1911, but before Kelly's Directory was published in 1912.
The name of Frederick William Neave also appears in Kelly's Trade Directory of 1912, as a grocer, draper, milliner, outfitter and dressmaker, and the shop also a general supply stores.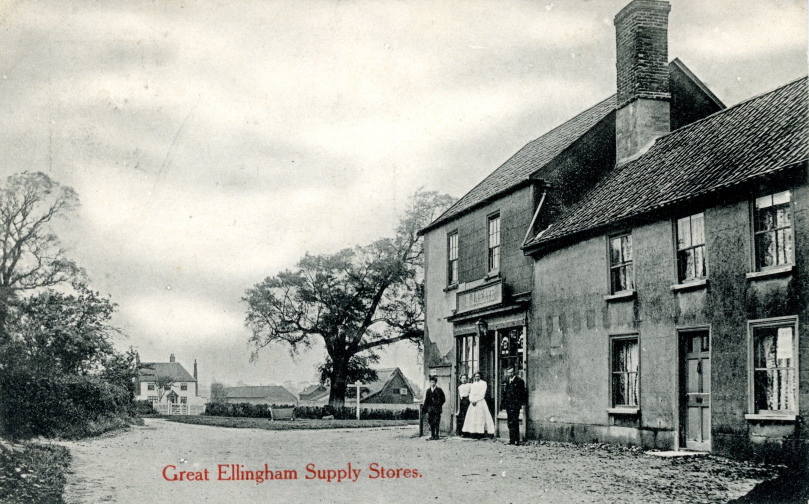 Mr Herbert J Neave's Shop in Church Street near to the junction with the Attleborough Road
Further along Church Street (and not far from the junction with the Attleborough Road), was the supply stores of Herbert Joseph Neave, also listed in the same directory as a grocer and draper.
I wonder whether there was confusion in the village with the owners of the two shops in the same street having the same sounding name (albeit spelt differently)!
Frederick William Neeve
Before coming to Great Ellingham, Frederick Neeve was a sub-postmaster, grocer & draper in Honing, Norfolk (a village between Worstead and East Ruston).
Living in Honing
The 1911 census captures 46 year old sub-postmaster Frederick William Neeve with his 49 year old wife, Alice Jane, at the Post Office (a seven-roomed property) in Honing. Although the couple had been married for 19 years, they had had no children. Lowestoft born Alice was said to be an assistant to her husband.
With the couple was 30 year old single man George William Jackson, described as a nephew to Frederick (although I suspect that George was Alice's nephew). Along with Alice, George is also an assistant to Frederick. 15 year old domestic servant Eliza Blanche Ward completes the household.
Ten years earlier, the 1901 census finds grocer & draper Frederick (listed as 'Fred') and Alice living in the Street, Honing. Then aged 20, nephew George Jackson is aleady living with the couple along with Alice's widowed mother, 80 year old Ipswich born Mary A Flowerdew. The household also has a 12 year old domestic servant, Alice Hubbard.
In 1901, Frederick is said to be aged 35 and Alice 45 – some 10 years older than Frederick. Ten years later (1911), the age gap on the census return has been reduced to just three years! Further, at the time of their marriage, the age difference between the couple was just four years. However, it is not unusual to find discrepancies in the ages of people on census returns and other documentation. Sometimes, and for various reasons, people were not always truthful when it came to their age.
Marriage at St Nicholas, Great Yarmouth
27 year old grocer Frederick William Neeve of Erpingham married 31 year old spinster, Alice Jane Flowerday, in the Parish Church of St Nicholas, Great Yarmouth on February 23rd, 1892. Alice, of 10 Arundel Road, Great Yarmouth, was the daughter of coal dealer, Joseph Flowerday. The couple, along with their witnesses, William and Jane Kerrison, signed the marriage register.
The space in the register for the name of Frederick's father was left blank.
The census return of 1911 mentions that Frederick was born in Great Yarmouth. However, the census of 1901 indicates that Frederick was uncertain of his place of birth, but that it may have been Suffolk.
Given that no father's name for Frederick is given in the marriage register, Frederick may have had little (or no) recollection of his father, or his early life.
I have not yet been able to find Frederick on any of the earlier census returns. His early life is also a mystery to me at the moment!
Sale to Arthur J Pollard
Turning back to Frederick's time in Great Ellingham, Kelly's Directory of 1925 lists both Herbert Joseph Neave and Frederick William Neeve as grocers in Great Ellingham.
Frederick and Alice Neeve were at their shop in Church Street until Frederick sold the shop to Arthur J Pollard in May, 1926.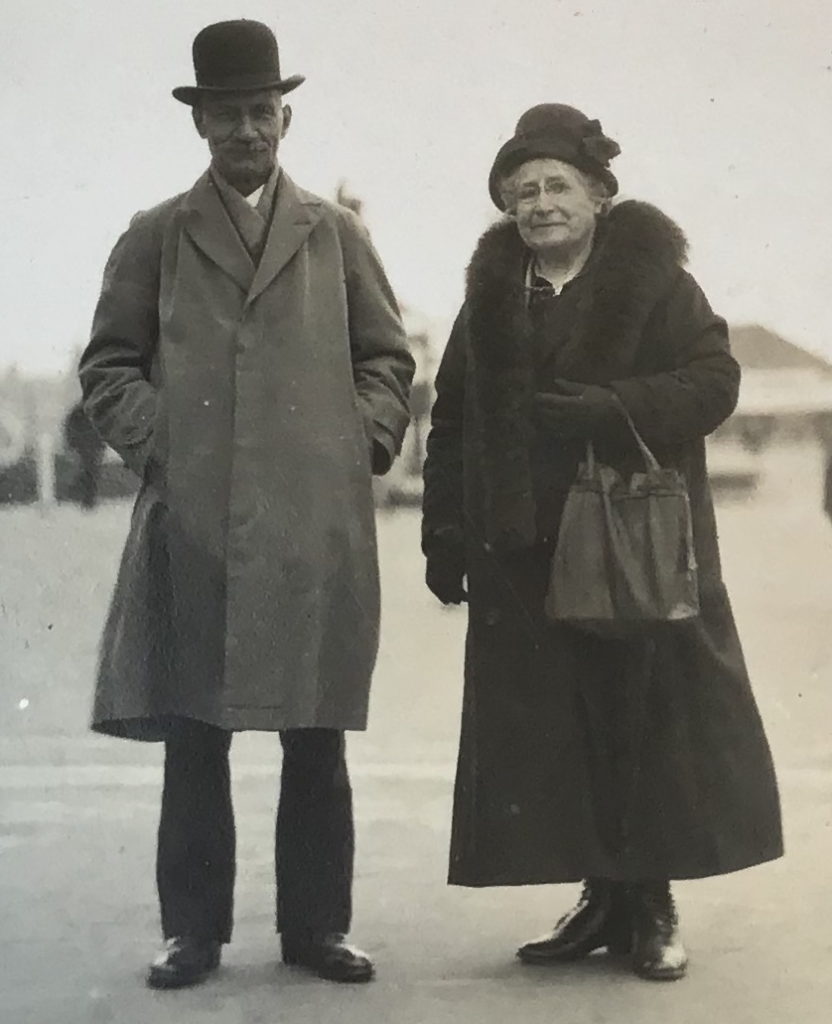 Frederick William Neeve and his wife Alice Jane (neé Flowerday). Photograph courtesy of Carol Ewin
Methodists Frederick Neeve & Herbert Neave
Both Frederick Neeve and Herbert Neave had assocations with the Great Ellingham Methodist Chapel. The Eastern Daily Press of the 29th August, 1936, reported on the 'Gift to Great Ellingham Methodist Chapel'.
Frederick Neeve had generously gifted the installation of electric light in the chapel (and school). A service at the chapel took place on the previous Tuesday, at which the electric light had been switched on for the first time. Herbert Neave had presided over the event.
Sources:
Kelly's Directory 1912. Norfolk Family History Society, Kirby Hall, 70 St Giles St, Norwich NR2 1LS
Kelly's Directory 1925. Attleborough Heritage Group, Attleborough Community & Enterprise Centre, Church Street, Attleborough, NR17 2AH
1901 census RG13/1820/36
1911 census RG14/11135/124
Great Yarmouth, St Nicholas Parish Registers. Norfolk Record Office PD/28. Also available at FamilySearch.org
Eastern Daily Press Saturday 29th August, 1936. Viewed via localrecall.co.uk 10th August, 2020
Thanks for Carol Ewin