Headed Notepaper for A J Pollard
Arthur John Pollard and his wife Bessie (Ann Elizabeth) came to Great Ellingham with their 7 year old daughter Mary and son Cyril in 1926 and moved into Ye Olde Thatche Shoppe. Arthur purchased the shop from Frederick Neeve – not to be confused with Raymond F Neave who, with his wife Evelyn, ran the other shop in Church Street.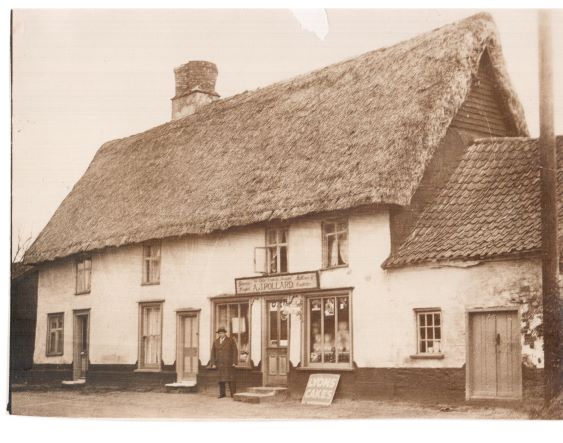 Arthur John Pollard outside Ye Olde Thatche Shoppe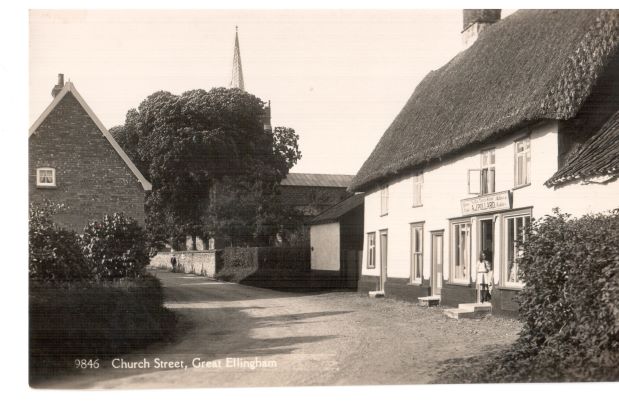 Mary Pollard outside her parent's shop in Church Street
Arthur, the son of Arthur George and Mary Ann Pollard, was born in Catfield, Norfolk. The 1891 census finds the Pollard family living in Common Road, Brunstead (or Brumstead). The family were still in Brunstead at the time of the 1911 census.
Arthur and Bessie married in 1913. Around 13 years later, after living in St Faiths, they moved into Ye Olde Thatche Shoppe in Great Ellingham. Their daughter and son attended the local school. Arthur and Bessie and family were part of the Methodist Church in the village.
Arthur J Pollard's parents were buried in the churchyard at Great Ellingham: Arthur George Pollard was buried on June 6th, 1934 aged 78 years and Mary Ann Pollard on June 6th, 1953 aged 89 yrs. Arthur and Bessie are also in the churchyard.
Arthur J Pollard retired from Ye Olde Thatche Shoppe in the mid-1950s. Descendants of Arthur and Bessie Pollard still live in the village today.
A G Cracknell ran the shop at sometime after the Pollards.
Sources:
1911 census RG14/11140/17
1901 census RG13/1821/69
1891 census RG12/1508/73
Postcards and Family Information: Carol Ewin
Great Ellingham Parish Registers Norfolk Record Office PD/609
FreeBMD website accessed 09/07/2019