As a result of the reformation of the Poor Law in 1834, the administration of parishes transferred from the parish to a local district Poor Law Union. Consequently, Great Ellingham came under the Wayland Poor Law Union with an elected Board of Guardians.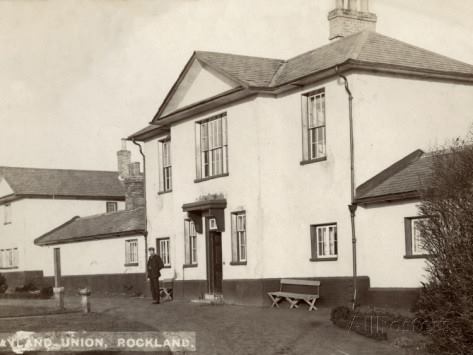 Wayland Union Workhouse. Courtesy of Liz Barrett
The Minutes of a meeting of the Guardians of the Wayland Union at Rockland All Saints on the 21st March, 1842, reveal:
"The Parish Officers of Great Ellingham were authorised by the Board to take the necessary steps to assist Elizabeth Terrington and five children to go to her husband she having received a grant from government towards that object"
Who was Elizabeth Terrington's husband and where was he?
1841 census
We begin with the 1841 census which finds 45 year old Elizabeth Terrington and five children Sarah 15, Samuel 13, Mary 9, John 8 and Julia 5, living in Great Ellingham.
Baptisms in the Church of St James
I found baptisms for four of the five children in the parish registers for St James, Great Ellingham.
Samuel on December 16th, 1827, Mary Ann on July 3rd, 1831, John on April 11th 1833 and Julia on July 20th, 1834. They were all children of labourer Samuel Terrington and his wife Elizabeth.
However, it seems that the couple had six children. Daughter Caroline was born c.1825.
Marriage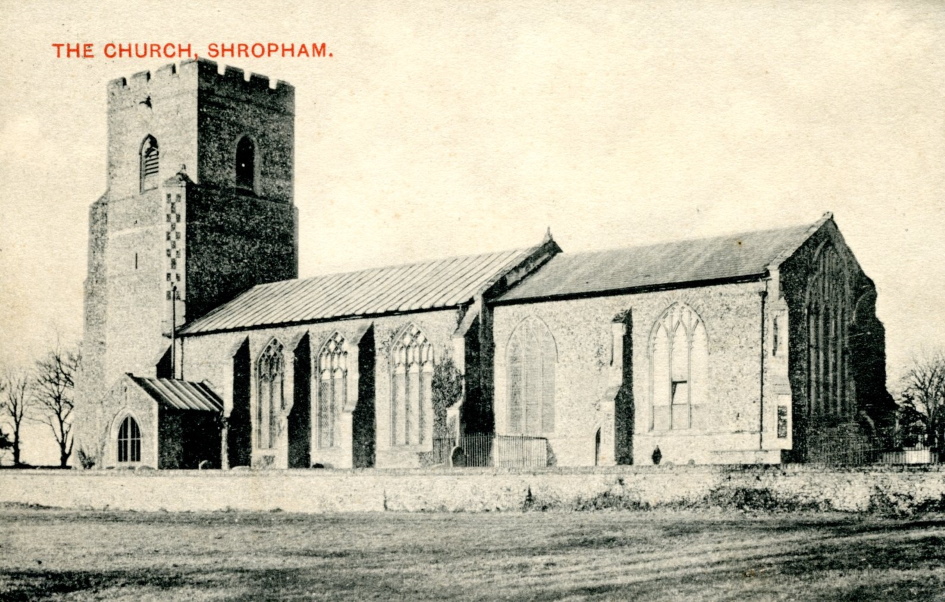 Shropham Parish Church. Postcard from author's own collection
On the 7th March, 1825, Samuel Terrington and Elizabeth James married in the Parish Church of Shropham. At the time of the marriage, Samuel and Elizabeth were both single and living in Shropham.
Samuel may well have been the Samuel Terrington, the son of Francis and Sarah Torrington, who was baptised in Great Cressingham on the 1st April, 1798. A Francis Terrenton aged 63 was buried in the churchyard at St James in the June of 1822. This person may well have been Samuel's father.
By 1827, the Torrington family were in Great Ellingham. But where was Samuel Terrington in 1841?
Norfolk Quarter Sessions
The answer lies in a newspaper report of a case heard on the 6th January, 1836, at the Norfolk Quarter Sessions in Norwich.
36 year old Samuel Terrington pleaded guilty to stealing a gun from Robert Love of Deopham. As this was not Terrington's first offence, he received a sentence of 14 years' transportation. Other reports refer to Terrington stealing fowls as well as the gun.
Gang of Housebreakers
Several other men appeared at the same Quarter Sessions charged with stealing, including Denmark and Pitts who also received sentences of transportation.
The Stamford Mercury of the 8th January, 1836, reported that "A most formidable gang of house-breakers were apprehended a short time since at Great Ellingham, Norfolk and no less than nine men have been committed to Norwich Castle for trial. 59 burglaries, besides petty thefts, are said to have been committed by these men within three years."
Was Samuel Terrington part of this 'gang'? I feel sure that Denmark and Pitts were, as the report of their case in the Norfolk Chronicle refers to the pair (with others) having "long been the terror of the surrounding neighbourhood of Great Ellingham."
Prison Ship
Following his conviction, Terrington transferred to the prison hulk ship the Leviathan where he was held until he left Plymouth on the convict ship 'Eden' on the 7th September, 1836. Three months' later on the 22nd December, he arrived in Van Diemen's Land (later known as Tasmania).
Records reveal that Samuel Terrington was a short man – just 5′ 2¼" tall. He had blue eyes and a dark complexion.
Elizabeth & Children remain in Great Ellingham
Following Samuel's transportation, Elizabeth Terrington and her children remained living in Great Ellingham. However within six years, Elizabeth and the children also left Great Ellingham for Van Diemen's Land.
Samuel 's Application for Free Passage for Elizabeth & their Children
Samuel Terrington took advantage of a British Government scheme which, at that time, allowed wives and children of convicted men to join their husbands in New South Wales and Van Diemen's Land.
Samuel Terrington made his application at the Colonial Secretary's Office, Van Diemen's Land on August 24th, 1840. 

The application confirmed that Samuel Terrington was tried at Norwich and sentenced for 14 years and transported on the ship Eden which arrived in Hobart in 1836. 

The application also confirmed that his wife's name was Elizabeth and his children's names and ages are: Caroline 15 years, Sarah 12 years, Samuel 10 years, Mary Ann 7 years, John 6 years and Julia 4 years. Their place of residence is Great Ellingham near Attleborough, Norfolk.

They are known to Mr James Barnard and Mr William Coleman, Farmers, of Great Ellingham, Norfolk.

John Bayles gave an undertaking "to support the Wife and Family of Samuel Terrington upon their arrival at this Island, until the said Samuel Terrington shall have obtained Indulgence under the existing Regulations, without reference to the aerial here of his Family"
Despite the convoluted procedure, we know from the Guardians' Minutes of the Wayland Union that his application was successful.
Aboard the Royal Admiral bound for Hobart
I believe that Elizabeth Terrington and her children boarded the women's prison ship the Royal Admiral, which departed from Woolwich Dockyard at the beginning of May, 1842.
This must have been a difficult journey for Elizabeth and the children. 204 women convicts with seventeen of their children were onboard the Royal Admiral when it left Woolwich. In addition, Elizabeth was one of only two 'free women' (with nine children between them) onboard. There are reports of drunkeness and mutinous behaviour amongst the crew, as well as the drowning of the Master.
The ship's surgeon reported that there were many cases of disease, including diarrhoea, bronchitis, gastritis pleurisy, catarrh, epilepsy and syphilis. There were seven births. Two convicts and five infants died on the voyage.
On the 10th July, 16 year old Sarah Torrington was put on the sick list suffering from muco gastritis. Fortunately, Sarah recovered and was taken off the sick list on the 27th July.
After a voyage of some four months, the Royal Admiral arrived in Hobart on the 24th September, 1842.
Burials in Warrnambool, Victoria
I do not know how long it was before Elizabeth and the children met up with Samuel.
However, around four years after Elizabeth and the children arrived in Van Diemen's Land, Samuel was granted a 'conditional pardon'. 49 year old Samuel was allowed to travel and work anywhere within the colonies. However, he could not return to England.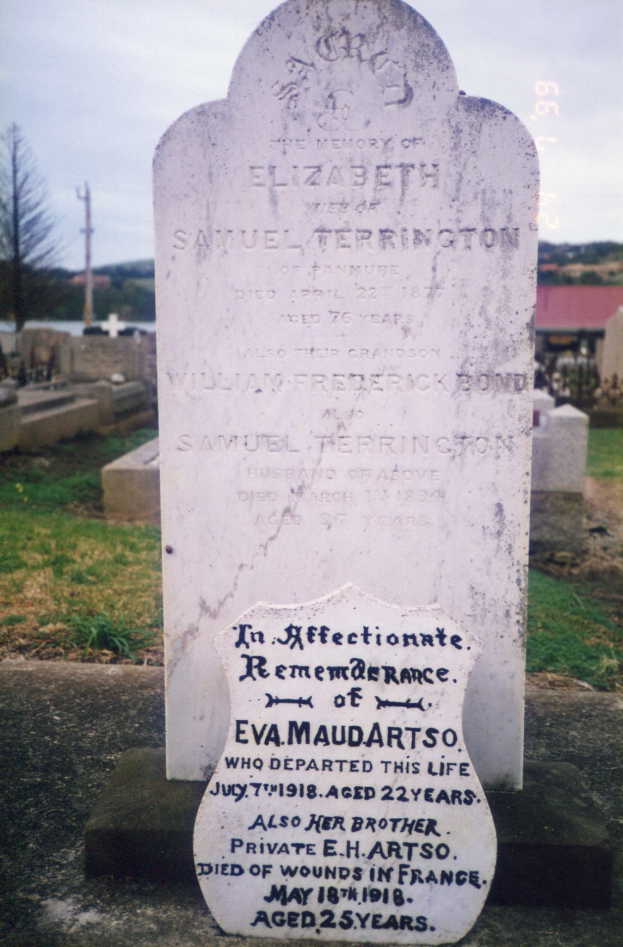 Headstone for Samuel & Elizabeth Terrington in Warrnambool Cemetery. Courtesy Karen, a descendant of Samuel & Elizabeth
Both Samuel and Elizabeth are buried in the cemetery at Warrnambool in the state of Victoria, Australia. Elizabeth died on the 22nd April, 1877 and Samuel on the 1st March 1894.
Sources:
Norfolk Chronicle 9th January, 1836. Viewed via https://www.britishnewspaperarchive.co.uk 11th October, 2021
Stamford Mercury 8th January, 1836. Viewed via https://www.britishnewspaperarchive.co.uk 11th October, 2021
Great Ellingham Parish Registers. Norfolk Record Office. PD 609. Also available via https://www.familysearch.org
Great Cressingham Parish Registers. Norfolk Record Office. PD 131/1. Viewed via https://www.ancestry.co.uk
Shropham Parish Registers. Norfolk Record Office. PD 20/5. Viewed via https://www.ancestry.co.uk
Libraries Tasmania website https://librariestas.ent.sirsidynix.net.au/client/en_AU/names/search/results?qu=Terrington# accessed 11 October 2021
The National Archives. ADM 101/65/3. Medical and surgical journal of Her Majesty's hired convict ship Royal Admiral for 23 February to 14 October 1842 by J R RobertsFemale Transcript of Surgeon's Journal, during which time the said ship was employed in the voyage to Hobart Town. 1842. Arthur, Rhoda. Transcript of Surgeon's Journal. Convicts Research Centre Inc. website https://www.femaleconvicts.org.au/convict-ships/convict-ship-records accessed 12 October 2021.
1836 Home Office: Convict Prison Hulks: Registers and Letter Books; Class: HO9; Piece: 8. Viewed via https://www.ancestry.co.uk
England, Norfolk Poor Law Union Records 1796-1900. Wayland Poor Law Union. Guardian's Minute Books 1841-1852. Norfolk Record Office. C/GP 20/1-12
1840 August 24. Samuel Terrington's Application, Colonial Secretary's Office, Van Diemen's Land. Thanks to Karen
Thanks to Rosemary Jones