County Sessions, Norwich, 6th January 1836
On the 6th January, 1836, James Denmark and Goodson Pitts stood before the Chairman of the County Sessions held in Norwich, on a charge of larceny.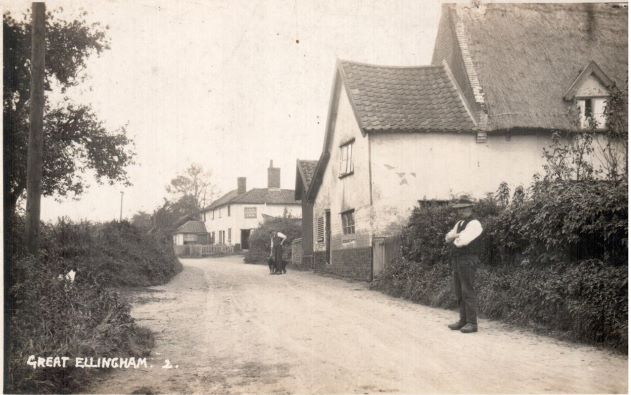 Shoemaker John Hooke lived near to the Chequers Public House in what we today know as Chequers Lane. Postcard courtesy of Carol Ewin
They stole a bundle of leather belonging to Great Ellingham shoemaker, John Hooke.
The Court was told that "these Prisoners have for some time past been the terror of the neighbourhood of Ellingham".
During the trial, 20 year old Denmark confessed. Pitts, aged 21, entered a guilty plea.
In taking into consideration Denmark's former conviction, the court imposed a sentence of 14 years' transportation. Pitts was given a lesser term of 7 years' transportation.
The Chairman commented that "there were no less than five charges against them."
Denmark and Pitts likely never returned to Great Ellingham or, indeed, England. Their sentence did not, of course, come with a return ticket!
James Denmark
He was born c.1815. Although I cannot find a baptism for a James Denmark in Great Ellingham parish church registers, a Denmark family lived in the village from at least the 1820s.
Issac Denmark with his wife (Anna) Maria took their daughter Elizabeth for baptism in St James's Church in January, 1827. I am wondering whether James was also a son of this couple?
Isaac died at the age of 44, and subsequently buried in the churchyard of St James on the 15th August, 1834. This was some 18 months before James Denmark's appearance at the County Sessions.
Maria Denmark with children Edward, Elizabeth and Henry (all aged under 20), still lived in Great Ellingham in 1841.
Van Diemen's Land
Following his conviction, James Denmark was taken to the prison hulk ship Leviathan, arriving there by February, 1836. He left the Leviathan on the 27th July, 1836 to begin his journey upon a transportation ship to Van Diemen's Land (later named Tasmania).
Goodson Pitts
Pitt was born c.1814. Similarly to James Denmark, I have not found a baptism for Goodson Pitts in Great Ellingham Parish Registers.
However, I am convinced that Goodson Pitts is a son of Samuel and Ann Pitts, who were captured living in Great Ellingham in 1841.
Samuel Pitts and Ann Goodson married in St James' Church, Great Ellingham on the 3rd October, 1811. Prior to the marriage, Samuel lived in Deopham and Ann in Great Ellingham. The couple, both single, signed the marriage register. Accordingly, they both had a level of literacy.
It was common practice to name a child after the mother's family i.e. to use the mother's maiden name (or another family surname) as a first-name.
Therefore, it follows that Goodson Pitts was given his mother's maiden name, and, it seems likely that he was the son of Samuel and Ann Pitts (née Goodson).
New South Wales
Goodson Pitts may have travelled with James Denmark to the prison hulk ship Leviathan. He also arrived at the prison ship by February 1836. However, it was not until the 21st October, 1836 that he left the Leviathan for transportation. His destination was New South Wales.
Sources:
UK, Prison Hulk Registers and Letter Books, 1802-1849. Home Office: Convict Prison Hulks: Registers and Letter Books; Class: HO9; Piece: 8. Viewed via Ancestry.com. UK, Prison Hulk Registers and Letter Books, 1802-1849 [database on-line]. Provo, UT, USA: Ancestry.com Operations, Inc., 2010.
Bury & Norwich Post 13th January 1836. Viewed via British Newspapers Archive https://www.britishnewspaperarchive.co.uk 8th April 2021
Great Ellingham Parish Registers. PD 609. Also available at www.familysearch.org
1841 census HO107/781/8