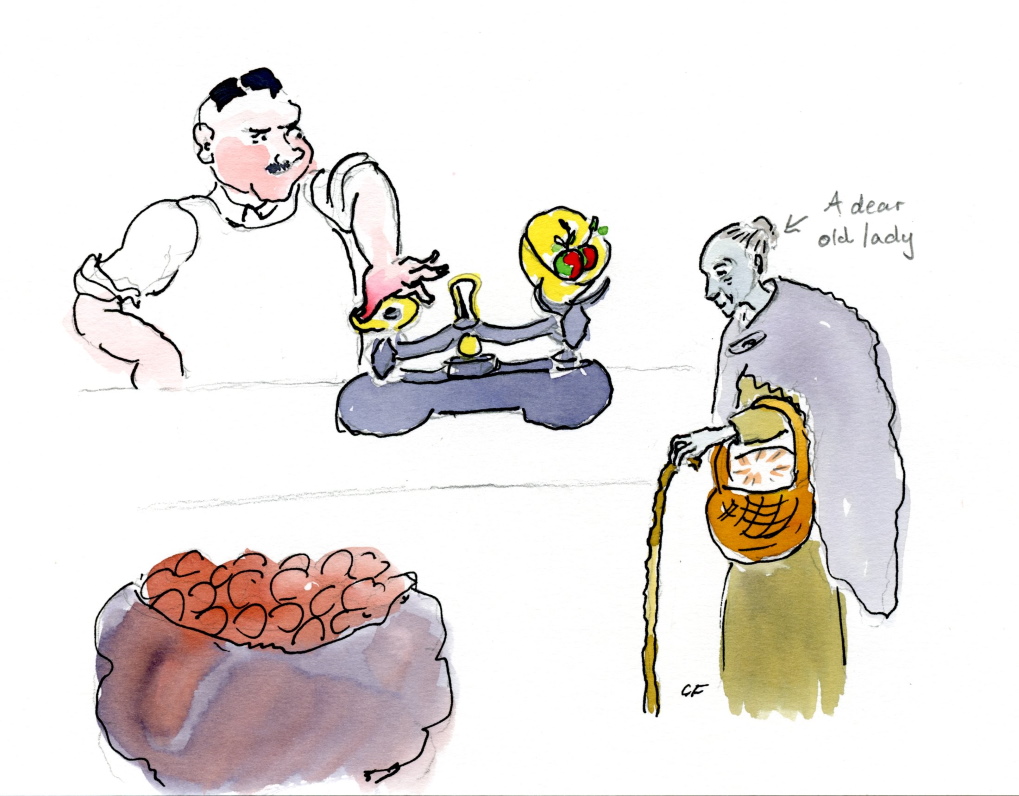 Illustration by Christine Fuller
On 11th November 1857, the Magistrates at East Harling Petty Sessions convicted Thomas Edwards, of Great Ellingham, of having in his shop a light weight. He was fined 5s with 11s costs.
Where was Thomas Edward's Shop?
The 1851 census captures 30 year old labourer and grocer, Thomas Edwards, with his 28 year old wife Hannah, living in Bow Street, Great Ellingham. Both Thomas and Hannah were born in Great Ellingham.
Ten years later, the 1861 census finds the couple living in Watton Road. Thomas, now aged 39, is described as a grocer. Living with the couple is Hannah's widowed mother, 81 year old Amelia Woods. A nine year old Catherine Doherty (Dogherty) described as the daughter of a hawker with a birth place unknown, is listed as a visitor in the household.
The Norwich Mercury of June 16th, 1860, published details of an auction taking place at the New Inn, Attleborough on June 28th. The Executors of the late William Warren were selling the Curriers Arms Public House, as well as a property used as a grocer's shop with small barn adjoining occupied by Thomas Edwards. It was also stated that the properties were well situated for trade, and abutted the high road leading from Attleborough to Watton.
It is likely that the properties were not sold in 1860 as in 1862, the Executor of the late William Warren (then mentioned as Robert Land) was again offering for sale at auction the same properties. A notice of the auction to take place on March 15th, 1862, appeared in the Norfolk Chronicle on the 8th March. The Curriers Arms Public House was then said to be occupied by John Green, but the property used as a grocer's shop was still occupied by Thomas Edwards.
By 1871, Thomas and Hannah Edwards had moved to The Green, Little Ellingham, from where they moved to Attleborough by 1881 and, most probably, remained in Attleborough for the rest of their lives.
Thomas Edwards & Hannah Woods
Thomas and Hannah married in Great Ellingham Parish Church on October 12th, 1847. Both Thomas and Hannah were single and of full age (i.e. they were at least 21 years of age). Their respective fathers were Thomas Edwards and William Woods. The marriage was witnessed by Jeremiah Edwards and Mary Ann Woods.
Thomas was one of at least five children of Thomas and Rose Mary Edwards. He was baptised with his sister Rebecca in the parish church on July 30th, 1820.
At the age of 14, Hannah Woods was baptised (also in the Church of St James) on 24 September, 1837. Her parents were stated to be labourer William Woods and his wife Amelia.
Sources:
1851 census HO107/1823/113
1861 census RG9/1237/85
1871 census RG10/1841/101
1881 census RG11/1974/57
1891 census RG12/1549/48
1901 census RG13/1867/49
Great Ellingham Parish Registers. Norfolk Record Office PD/609. Also available at FamilySearch.org https://www.familysearch.org/search/image/index?owc=4J8C-CB7%3A29627201%3Fcc%3D1416598
Norfolk Chronicle 8th March 1862
Norwich Mercury 16th June 1860
Norwich Mercury 11th November 1857