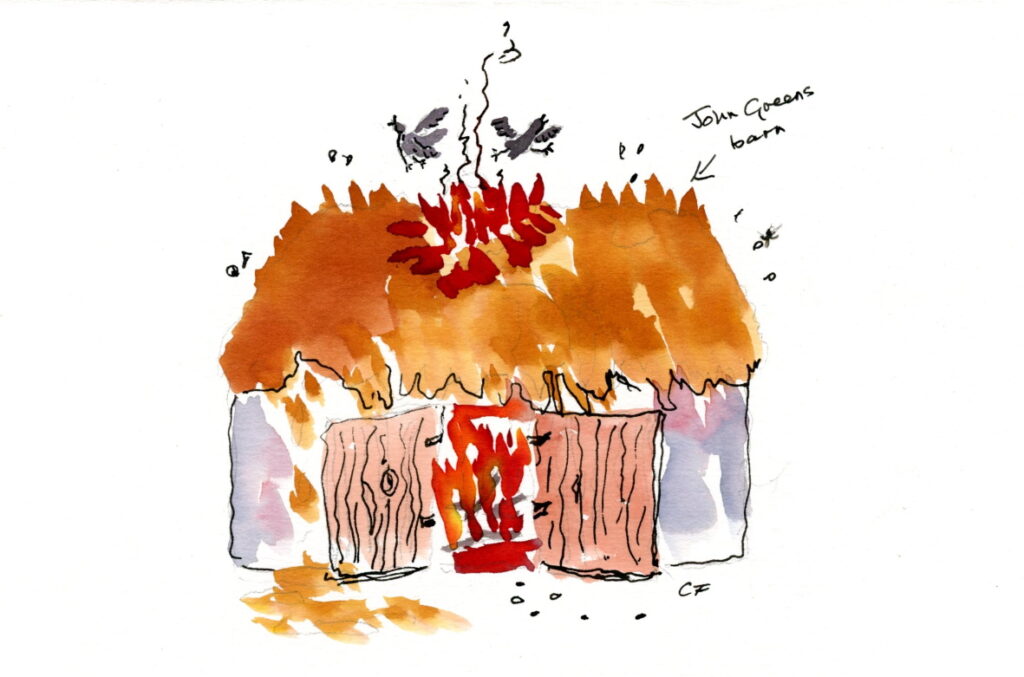 Illustration by Christine Fuller
Fire at the barn of the Curriers Arms
On a Tuesday evening in the October of 1866, a fire broke out in the barn at the Curriers Arms.
The landlord, Mr John Green, had left his home at the Curriers Arms to visit a friend shortly before Mr Green's daughter discovered the fire. The barn, which was apparently securely locked, and the contents of 25 sacks of undressed corn, were totally destroyed.
A report of the fire appeared in the Norfolk News of October 13th, 1866. It was thought that the fire was the work of an incendiary. The property was said to be fully insured.
Magistrates Court Appearances
In the November of the same year, John Green of Great Ellingham was summoned before the East Harling Petty Sessions.
It was alleged that John Green had on the 24th October (1866) sold beer by retail when he was disqualified from doing so, having been convicted of felony in March.
A Mr Linay appeared at the Petty Sessions for John Green, and stated that although Mr Green had been convicted under the Criminal Justice Act, Mr Green had obtained a Licence (to sell beer) on the 13th October. The case was adjourned.
The Norfolk News of 1st December 1866, reported that the case again came before the Magistrates at East Harling. The Chairman of Magistrates stated that because of the earlier conviction, John Green was disqualified from holding a beer licence, and he was convicted of the offence which took place on the 24th October. He was fined £5 and costs.
Who was John Green?
John Green was born about 1820 in Cranworth, Norfolk.
He became landlord of Curriers Arms some time after the 7th April 1861 (the date of the 1861 census). His time at the public house came to an end following the above court case.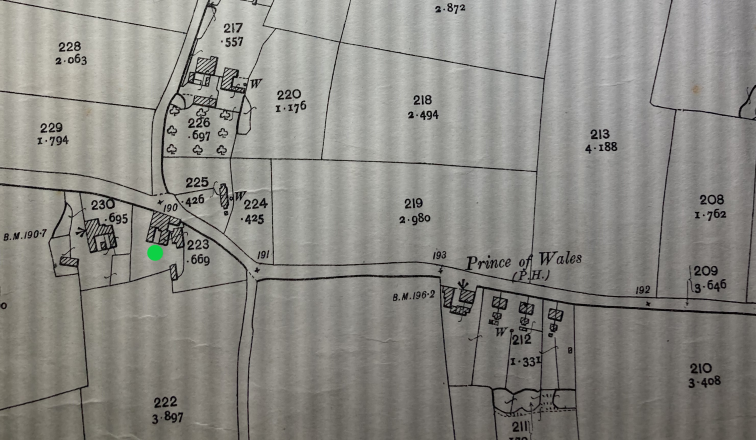 Extract from 1906 Ordnance Survey Map. Second Edition. Surveyed in 1881. Author's Collection
The green dot on the above extract from a 1906 Ordnance Survey Map shows the location of the Curriers Arms in Watton Road, near to the junction with Bow Street.
The 1871 census finds John Green described as a farmer of 18 acres with his wife Mary and 23 year old son William living in the Watton Road, Great Ellingham, not far from the Curriers Arms.
John Green died aged 58 years and was buried in the churchyard of the Church of St James on 19th June 1876.
Sources:
Norfolk News October 13th 1866
Norfolk News November 10th 1866
Norfolk News December 1 1866
1871 census RG10/1841/79
1861 census RG9/1237/86
www.norfolkpubs.co.uk
Great Ellingham Parish Registers Norfolk Record Office PD/609. Also available at FamilySearch.org https://www.familysearch.org/search/image/index?owc=4J8C-CB7%3A29627201%3Fcc%3D1416598
Updated September 2020