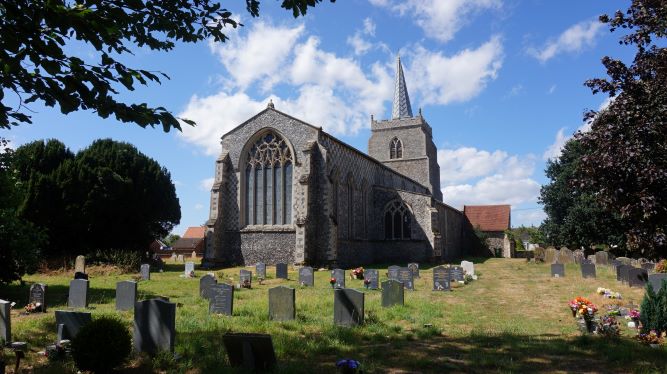 Church of St James Great Ellingham
Burial
The Burial Register for St James, Great Ellingham includes an entry for 83 year old Mary Green, from Deptford, buried on Easter Day the 7th April 1901.
Census Returns
Looking through various census returns, Mary Green was the widow of John Green, a former landlord of the Curriers Arms in Great Ellingham.
The 1861 census captures 47 year old Yaxham born Mary Green living in Caston with her husband, John Green, and children Elizabeth 18, William 15 and 10 year old twins Eliza and Mary. John Green was described as a master shoemaker.
Just a few years later, the Green family moved to the Curriers Arms in Watton Road, Great Ellingham. However, John Green's time of being the landlord of the Curriers Arms came to an end following a court case in 1866.
After leaving the Curriers Arms, John and Mary Green continued to live in Great Ellingham. The 1871 census finds the couple with their 23 year old son William in Watton Road.
By the time the next census was undertaken, John Green had died leaving Mary a widow. The 1881 census reveals 68 year old widow Mary Green, described as a nurse and a visitor, at the home of John and Mary Reader [sic] and their three young daughters, Gertrude 3, 21 month old Jessie and six month old Mabel at No.26 Belvoir Street, Norwich. John Reader is described as a confectioner counterman.
Ten years later, Mary (now 75 and still described as a nurse) is with her daughter and son-in-law, Mary and William Bush at 8 Mancroft Street, Norwich. It is possible that Mary was helping (or perhaps nursing) her daughter who has a six week old son.
The census of 1901 was undertaken on the 31st March 1901 just a week before widow Mary Green was buried in Great Ellingham.
Death in Deptford
The burial register states that Mary Green was living in Deptford at the time of her death. The registration of the death of 83 year old Mary Green appears in the Greenwich District between April and June 1901. Deptford lies within this district. I have not been able to find Mary Green on the 1901 census. It may well be that Mary died just before or on census day 1901. I wonder how Mary's remains were transported from Deptford to Great Ellingham? Perhaps by train?
Sources:
Great Ellingham Parish Registers. Norfolk Record Office/PD/609. Also available at FamilySearch.org
GRO Index. FreeBMD website.https://www.familysearch.org/search/image/index?owc=4J8C-CB7%3A29627201%3Fcc%3D1416598
https://www.freebmd.org.uk/cgi/information.pl?cite=8mrXT7l%2BW5bTK%2BiTTt4Lsw&scan=1
https://www.freebmd.org.uk/cgi/information.pl?cite=AdhSSASr9ymlGejj9HAfQw&scan=1
1861 census RG9/1238/65
1871 census RG10/1841/79
1881 census RG11/1951/126
1891 census RG12/1531/75