Auction
The Norfolk News of 17th September, 1864, announced the forthcoming Auction taking place at twelve o'clock on Monday, September 26th, 1864 in Great Ellingham. The Auction would include the live and dead farming stock, household furniture and other effects belonging to the late Robert Le Grice.
Amongst these items were two tumbrils, a road waggon, ploughs, harrows, luggage cart, harnesses, barn implements, hurdles, ladders along with brewing and dairy utensils.
Robert Le Grice
The 1861 census finds 68 year old farmer of 62 acres Robert Le Grice with his wife Mary living in the Long Street (the north side). With the couple is their 14 year old house servant, Rosina Palmer.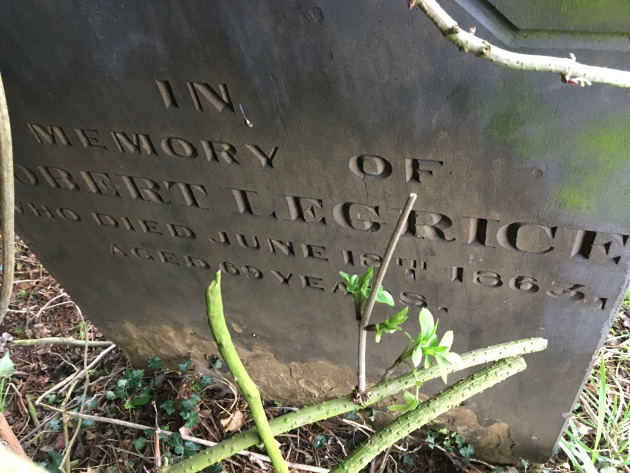 Robert Le Grice died at the age of 69 on June 18th, 1863 and was buried in the churchyard at Great Ellingham a week later on June 25th.
Robert's Parents
Robert was one of at least eight children of his parents, Robert and Sarah Le Grice (Grice) baptised in the church of St Peter, Little Ellingham. His mother was formerly, Sarah Reynolds. Robert's baptism took place on the 19th May, 1793.
Robert Grice and Sarah Reynolds had married in East Bradenham Parish Church on or about the 15th November, 1784. Both single, Robert was then said to be of West Bradenham and Sarah of East Bradenham.
A few months later on January 9th, 1785, their daughter Charlotte was privately baptised in East Bradenham. Robert and Sarah Le Grice were in Little Ellingham by 1793.
Charlotte later married Robert Savage.
Sources:
Little Ellingham Parish Registers. Norfolk Record Office PD/568. Also available at FreeReg.org https://www.freereg.org.uk/search_queries/5e2db70b791e3b6713aa9e5f?locale=en Accessed 26.01.2020
East Bradenham Parish Registers & Archdeacon's Transcripts. Norfolk Record Office PD/298. Also available at FreeReg.org https://www.freereg.org.uk/search_queries/5e2db17933045b64c5a1efae?locale=en Accessed 26.01.2020
Great Ellingham Parish Registers. Norfolk Record Office. PD/609. Also available at FamilySearch.org https://www.familysearch.org/search/image/index?owc=4J8C-CB7%3A29627201%3Fcc%3D1416598
1861 census RG9/1237/78
Norfolk News 17th September, 1864