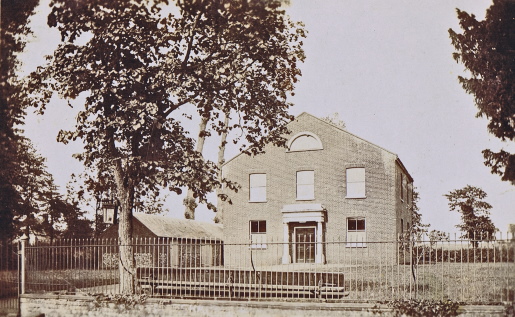 Marriage
The Norfolk Chronicle of 7th October 1848, reported that 'on Sunday last' the marriage took place at the Baptist Chapel, Great Ellingham between Robert Savage, the second son of Mr T Savag(e) a butcher of Neatishead and Miss Charlotte Lee Grice (Le Grice), the second daughter of Mr Le Grice a farmer of Great Ellingham.
Robert & Charlotte Savage
Robert and Charlotte Savage did not settle in Great Ellingham. The 1851 census captures 21 year old Charlotte and her 24 year old husband Robert living at Upper Westwick in the parish of Norwich St Gregory. Robert, born in Catton, is described as a master butcher. The couple have a 13 year old house servant Mary Ann Hook.
Robert & Mary Le Grice
Charlotte's parents were Robert and Mary Le Grice. The 1841 census finds Robert and Mary Le Grice with children William 15, Charlotte 11, Robert 13, Charles 8 and Saul aged 6 living in Great Ellingham. Robert Le Grice is described as a farmer.
10 years later, Robert and Mary Le Grice are still living in Great Ellingham – in Long Street. With Robert and Mary is their 25 year old unmarried daughter Mary Ann. The census also tells us that Robert Le Grice was born around 1792 in Little Ellingham.
The 1861 census finds Robert and Mary Le Grice both now aged 68 and living at the North side of Long Street.
Robert Le Grice was buried in the churchyard at St James on 25th June, 1863 aged 69 years.
Following Robert's death, Mary appears to move out of Great Ellingham. The 1871 census shows widowed Mary Le Grice as a visitor at the home of her daughter and son in law, Charlotte and Robert Savage, in Bridge Street, Norwich. Robert Savage, now aged 43, is a butcher employing two men and four boys. Charlotte and Robert have six children listed with them on the census. The extended household also includes Charlotte's sister Harriet (aged 39 and unmarried) and a 15 year old house servant.
Just over three years later, Mary Le Grice of Attleborough was buried in the churchyard at Great Ellingham on 19th November, 1874 aged 82.
Sources:
Norfolk Chronicle 7th October, 1848
1841 census HO107/781/8
1851 census HO107/1816/73, HO107/1823/127
1861 census RG9/1237/78
1871 census RG10/1818/20