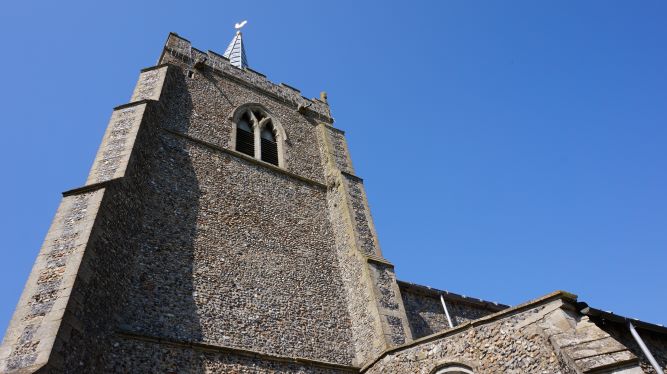 Tower and Spire of Great Ellingham Church
Celebrations for the King's Coronation
The Bell-ringers, led by Mr Wilkins, were at their post in the Church Tower at Great Ellingham soon after five o'clock on the morning of the 9th August 1902. The bells would be rung in celebration of the King's Coronation.
The Coronation of Edward VII and Queen Alexandra was originally scheduled to take place on 26th June of that year but owing to the sudden illness of the King, it was postponed at short notice.
Coronation Celebration Organising Committee
Meetings were held in the village as early as May to see what could be devised for the great event. The organising committee found themselves in possession of a substantial sum of £50 7s and an elaborate programme of the day's proceedings was sketched out for the 26th June.
All the "eatables" had been cooked and prepared before the village proceedings were abandoned. Accordingly it was decided that "the parish should meet together quietly and sit down to dinner".
Coronation Day
On the day of the Coronation (9th August, 1902), a service was held in the Parish Church at 10.45 am. Athletic sports were held at 2 o'clock with tea for the children at 4pm (and adults at 5pm). Sports were resumed after tea until dusk. The Band played selections of music from time to time.
Dancing was held in the Board Schools until 11 pm. Prizes were presented to the successful sports competitors between the dances by Mrs Harry Parker. There was also a good display of fireworks.
Sources:
Eastern Daily Press Thursday 14th August 1902
https://en.wikipedia.org/wiki/Coronation_of_King_Edward_VII_and_Queen_Alexandra – accessed 04 May 2019