Court Case
A special sitting of the Wymondham Petty Sessions took place on 13th April, 1869 to hear a case of the theft of three pistols at Wymondham on 8th April.
Robert James Matthews aged 17 of Great Ellingham was charged with stealing three pistols the property of Wymondham ironmonger, Arthur West.
The Court was told that Matthews went into Arthur West's shop and bought a firearm. At the same time he stole three pistols, which West afterwards found missing. Matthews was also charged with stealing two scent bottles from the chemist shop of Sparham Fison, also in Wymondham.
Matthews was apprehended in Norwich by Police Constable Hook who had been sent in pursuit. By this time, Matthews had bought another firearm and had sold one of the pistols. Matthews was found to be in possession of the remaining stolen goods.
The report of the court case appeared in the Norfolk Chronicle on 17th April, 1869. The report mentioned that Robert Matthews' father was in court. Mr Matthews senior produced a Doctor's certificate. Robert Matthews was also examined by Wymondham surgeon, a Mr Hughes. Matthews was found to be of 'unsound mind' and was discharged on his father's promise to keep him (Robert) under restraint. His father told the court that Robert had recently took advantage of a drawer (in their home) being unlocked from which he took ten pounds and ten shillings, from which only seventeen shillings remained.
Who was Robert James Matthews?
The son of James and Charlotte Matthews, Robert James Matthews was baptised in Wolferton, Norfolk on 17th August, 1851. His father James was born in Suffield (North Norfolk) and his mother Charlotte born in Wormegay (about 14 miles south of Wolferton).
With his parents, Robert Matthews moved to Great Ellingham when his father purchased property and land in Great Ellingham. This included Tanyard Farm at Low Common.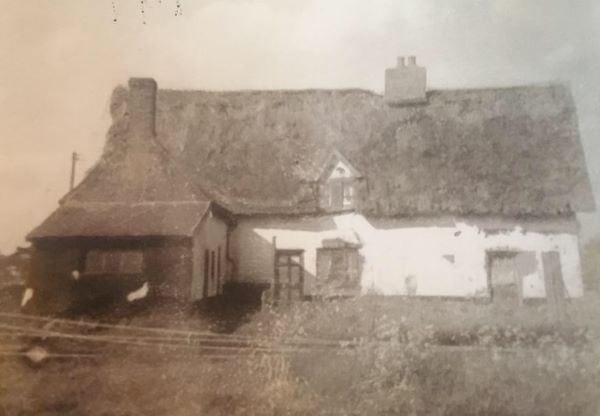 Tanyard Farm. Date unknown. Photograph courtesy of Lucinda Bell-Tye
The 1871 census captures 17 year old Robert Matthews living in Low Common, Great Ellingham with his parents James and Charlotte Matthews in an extended family household, which also included his maternal grandfather 89 year old Jeremiah Grice (Le Grice). The census tells us that Robert was born in Wolverton (Wolferton). Robert's father was farming some 45 acres of land. Robert is not stated to have any occupation.
Robert, unmarried and aged 29, was still living with his parents in Low Common at the time of the 1881 census (presumably at Tanyard Farm). His occupation at that time was stated to be 'farmer's son'.
Robert James Matthews was buried in the churchyard of St James at Great Ellingham on 26th July, 1887 aged 35 years.
Sources:
Transcript of Wolferton Baptisms 1813-1880. Norfolk Family History Society via website https://www.norfolkonlinerecordsearch.co.uk/search/Matthews—-parish–wolferton/1832-wolferton-baptisms/accessed 04.12.2019. Originals held at Norfolk Record Office PD/691
Great Ellingham Parish Registers Norfolk Record Office PD/609
Norfolk Chronicle 17th April 1869
1871 census RG10/1841/93
1881 census RG11/1974/94