The surname Houchen has appeared in the Great Ellingham Parish Registers for many, many years with variations such as Howchen, Houchin. These alternative spellings also occur in the census returns. However I will keep to the spelling as 'Houchen' whether or not the spelling appears as such in the documentation to which I have referred.
Last Will & Testament
On the 9th March, 1853, and at the aged of 69, Edmund Houchen, a thatcher of Great Ellingham made his last Will and Testament. Edmund's signature to the Will was witnessed by two prominent members of the community, namely Benjamin Dennis and John Warren.
Witnesses
The 1851 census finds widower 78 year old, parish clerk and collector of rates, Benjamin Dennis living in Town Green, Great Ellingham. With Benjamin is his son, also Benjamin, who is described as a 21 year old farm labourer. I think it more likely that it was Benjamin Dennis senior who witnessed Edmund Houchen's Will.
The same census captures 74 year old John Warren (also a widower) living in Church Street in the household of his son in law Jonathan Rivett. John Warren is described as a landed proprietor. I believe this is the John Warren who also witnessed Edmund Houchen's signature to his Will in 1853.
Death of Edmund Houchen
Nearly three years after signing his Will, Edmund Houchen died on the 17th December, 1855. He was buried in the churchyard at Great Ellingham on January 24th, 1856.
I think it unusual for the burial not to have taken place much sooner and wondered why the delay. Could it have been that the winter weather was particularly severe and the ground so frosted that the grave could not be dug?
However, this would not appear the case as other burials for the month of December 1855 are recorded in the parish registers. It may be that Edmund Houchen's family were living away and, with communication not as it is today, it may have taken some time to notify the family of Edward's demise and to make the necessary arrangements.
The Content of Edmund's last Will & Testament
In his Will, Edmund appointed his son Stephen Houchen and Robert Taylor (a carpenter of Hingham) as his executors. He left all his property and personal belongings to his wife Mary but only for her use during her lifetime. His wife should pay all his debts as well as the costs of his funeral.
After Mary's death, Edmund directed that his estate should be divided between his four sons: Edmund, James, John and Stephen. Further, and after the death of Mary, Edmund directed his sons Edmund and Stephen to pay the sum of fifteen shillings to "Henry Houchen the son of Taylor Houchen my nephew".
Grant of Probate
Probate was granted on the 5th February, 1856, to shoemaker Stephen Houchen of Great Ellingham, and carpenter, Robert Taylor of Hingham. Robert Taylor swore 'on oath' that the Will was indeed witnessed and signed by the two witnesses, Benjamin Dennis and John Warren who, by then, had also died.
Edmund Houchen's Estate
The total value of Edmund Houchen's estate was around £791. This value included twelve and a half acres of land at Great Ellingham on which stood two dwellinghouses, a bakery office, a barn, stable, cow-house and outbuildings of clay, stud and tile which were occupied by Edmund Houchen (presumably the Testator) and John Houchen (his son). Farming utensils, carts, livestock, wheat, barley and 'money in the house' also formed part of the valuation for probate.
But who was Edmund Houchen?
1841 census
The 1841 census finds the household of 55 year old farmer Edmund Houchen in Bow Street, Great Ellingham. With Edmund is Mary Houchen (also said to be aged 55), John Houchen and Stephen Houchen both aged 20. It is worth remembering that the ages given on the 1841 census were rounded down to the nearest multiple of 5. Accordingly the ages of Edmund and members of his household are not likely to be accurate.
1851 census
Ten years later, Edmund and his wife Mary are still living in Bow Street. Although the census lists Edmund as Edward, I believe this is an error by the enumerator – errors on census returns are not uncommon.
The census confirms that Edmund was born in Great Ellingham and his wife, Mary, in Hingham. They are said to be 66 and 64 respectively. Edmund is farming 12 acres and employing one man.
Edmund's Parents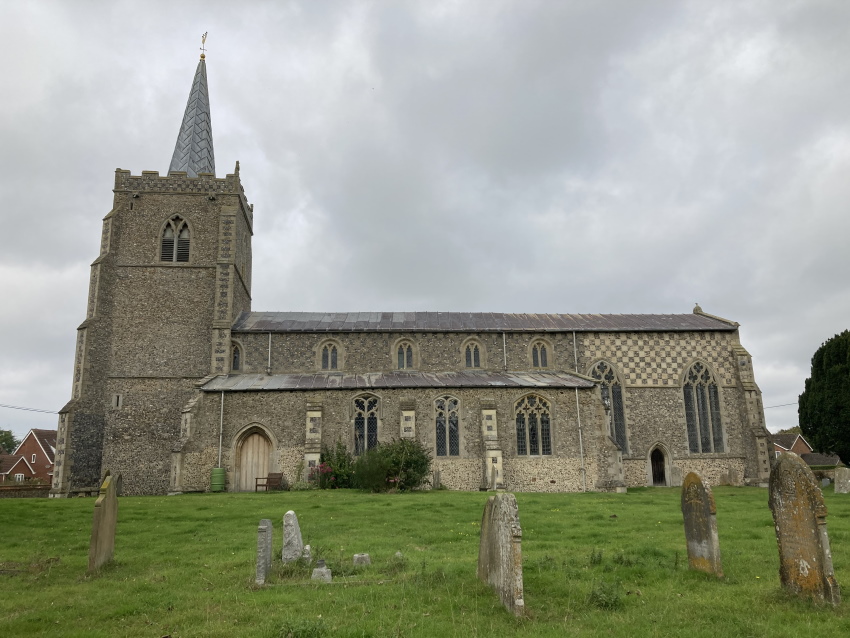 Great Ellingham Church of St James
Edmund was one of at least twelve children born to Stephen and Sarah Houchen (née Ashby). His parents were married in the Church of St James at Great Ellingham on the 14th February, 1782. Edmund was baptised on the 14th March, 1784.
Edmund Houchen & Mary Taylor
Around the age of 26 years, Edmund Houchen married Mary Taylor in the Parish Church of Hingham. Mary was some two years younger than Edmund.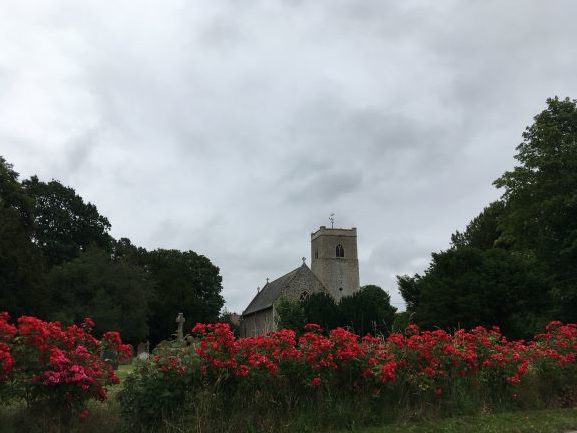 Little Ellingham Parish Church
Baptisms for the Houchen family appear in the Little Ellingham Parish Registers. These entries include the baptisms between 1815 and 1820 of Edmund and Mary Houchen's children James, John and Stephen. Their son Edmund was baptised in the Parish Church at Great Ellingham in 1812.
Following Edmund's death, Mary Houchen continued to live in Bow Street. The 1861 census finds 70 year old Mary Houchen farming 17 acres in Bow Street.
Mary Houchen died in February 1864 aged 78.
Sources:
Will (copy) of Edmund Houchin, thatcher of Great Ellingham. Pomeroy Collection. ID8801. Box 79/71/1. Bundle 12. Wymondham Town Archive, 14 Middleton Street, Wymondham NR18 0AD.
Will (probate copy) of Edmund Houchin, thatcher of Great Ellingham. Pomeroy Collection. ID8805. Box 79/71/5. Bundle 12. Wymondham Town Archive, 14 Middleton Street, Wymondham NR18 0AD.
Great Ellingham Parish Registers Norfolk Record Office PD/609. Also available at FamilySearch.org https://www.familysearch.org/search/image/index?owc=4J8C-CB7%3A29627201%3Fcc%3D1416598
Hingham Parish Registers Norfolk Record Office PD/575. Also available at FamilySearch.org https://www.familysearch.org/frontier/search-bifrost/image/index?owc=4JDN-C2Q%3A29727201%3Fcc%3D1416598
Little Ellingham Parish Registers. Norfolk Record Office PD/568. Transcription Nrofolk Family History Society, Kirby Hall, 70 St Giles Street, Norwich NR2 1LS accessed online 14.10.2019 https://www.norfolkfhs.org.uk
1841 census HO107/781/8
1851 census HO107/1823/114, HO107/1823/108, HO107/1823/132
1861 census RG9/1237/84