Appearance at Norwich Assizes
26 year old Susan Pea appeared at the Norwich Assizes at the beginning of April 1837. She was charged with stealing two bushels of turnips at Great Ellingham, the property of John Turner. Susan was found guilty and sentenced to 14 days imprisonment.
Two bushels is approximately eight stone (or nearly 51 kilograms). A fair amount of turnips to steal. With no further details given in the reference to the case in the Norfolk Chronicle of the 8th April, 1837, we do not know the circumstances in which Susan Pea stole the turnips, or why.
However, this was a time of significant hardship for agricultural labourers and their families in Norfolk. Amongst other economic factors, there was great opposition to the introduction of mechanised practices in agriculture. These changes resulted in unemployment and reduced wages. The family of agricultural labourer, John Pea, may well have been affected.
The Pea Family
Marriage and Children
John Pea married Susan Ashby in the parish church at Great Ellingham on the 20th November, 1830. The couple, both single and of Great Ellingham, tied the knot after the customary reading of the banns of marriage.
John Pea was likely the son of William Pea (Peas) and his wife Elizabeth (née Brooks) who was baptised in the same church on the April 10th, 1808. Susan, the daughter of Joseph Ashby and his wife Sarah (née Clarke), was also baptised in St James's Church but two years later on the 22nd July, 1810.
The couple had at least seven children including a set of twins. Baptisms appear in the registers of St James's Church for Mary Ann on the 6th February, 1831, Sarah Ann on 29th December, 1833, William 17th April, 1836, Charles 23rd December, 1838, twin children John and Elizabeth on 16th April, 1848 and Emma on 16th October, 1853. Sadly, John and Susan (also found as Susanna) buried their twin son John on the 30th April, 1848.
The 1841 census (undertaken four years after Susan Pea's appearance at the Assizes), captures the Pea family living in Great Ellingham. John and Susanna Pea are both said to be aged 30. This is not necessarily their true age, as the ages for those inhabitants aged 15 and over were generally rounded down to the nearest multiple of 5. The children with John and Susan Pea are Mary aged 10 and two year old Charles.
Ten years later, the 1851 finds 42 year old farm labourer, John Pea, with his 40 year old wife Susan and children, Charles 12 and Elizabeth 2, living in Long Street.
Widow Susan Pea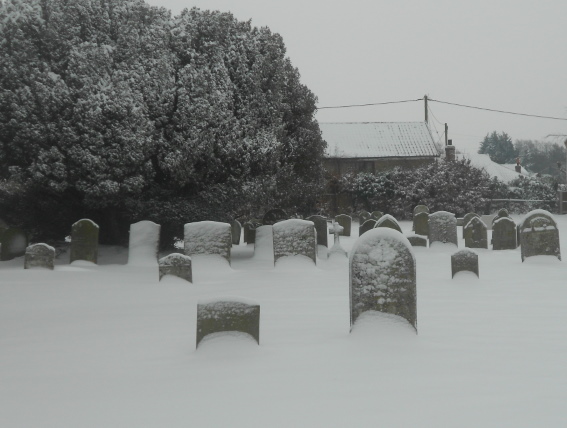 St James's Churchyard, Great Ellingham. Photograph taken 5th February, 2012
Susan Pea buried her husband, John Pea, in the churchyard at Great Ellingham on New Year's Day, 1860. He was 51.
Perhaps as a result of John Pea's death (and I think it feasible that the Pea family lived in tied accommodation), Susan Pea moved from Long Street to Low Common. The 1861 census reveals 52 year old widow Susannah Pea with her daughters, 12 year old Elizabeth and nine year old Emma at Low Common.
Did widow Susan Pea plan to Remarry?
Banns for the marriage of widower William Lawrence and widow Susannah Pea (both said to be of Great Ellingham), were read in the parish church at Great Ellingham on three consecutive Saturdays in September, 1861 (i.e. the 14th, 21st and 28th). I have not found a corresponding marriage.
However, if this was Susan Pea the widow of John Pea, the marriage to William Lawrence did not take place. The 1871 census finds 62 year old widow Susan Pea with her two daughers, Elizabeth and Emma, still living at Low Common. Elizabeth had given birth to Alice in 1867 and Albert Charles in 1869. Both children are also listed with the Pea household.
Susan Pea moves to Yorkshire
The 1881 census captures 72 year old widow Susan Pea at the home of her 27 year old daughter Emma, and her husband 41 year old Joseph Robertshaw at Ellar Carr, Bingley, Yorkshire. Both Joseph and Emma were working at Ellar Carr Mill – Joseph as a cotton warp dresser and Emma a 'stuff' weaver. Joseph and Emma have two children, John aged 4 and one year old Joseph. Also with the household is Emma's niece, 13 year old Alice, the daughter of her sister Elizabeth. Alice is also working at the mill as a factory hand.
Ten years later, the Robertshaw family and 83 year old Susan Pea are living at Bank Bottom, Bingley. Joseph and Emma Robertshaw have two further children – Percy aged 3 and ten month old Ethel. Joseph (aged 57) and his son John (aged 14) are both working at the worsted factory (presumably at Ellar Carr).
Death of Susan Pea
Great Ellingham born Susan Pea (nee Ashby) died in the District of West Riding Yorkshire in 1891. Her death was registered between April and June of that year.
Sources:
Norfolk Chronicle 8th April, 1837. Viewed via British Newspaper Archive https://www.britishnewspaperarchive.co.uk 02.12.2020
Great Ellingham Parish Registers. Norfolk Record Office.PD/609. Also available at www.familysearch.org
GRO Index https://www.gro.gov.uk
1841 census HO107/781/8
1851 census HO107/1823/127
1861 census RG9/1237/95
1871 census RG10/1841/94
1881 census RG11/4344/73
1891 census RG2/5334/139