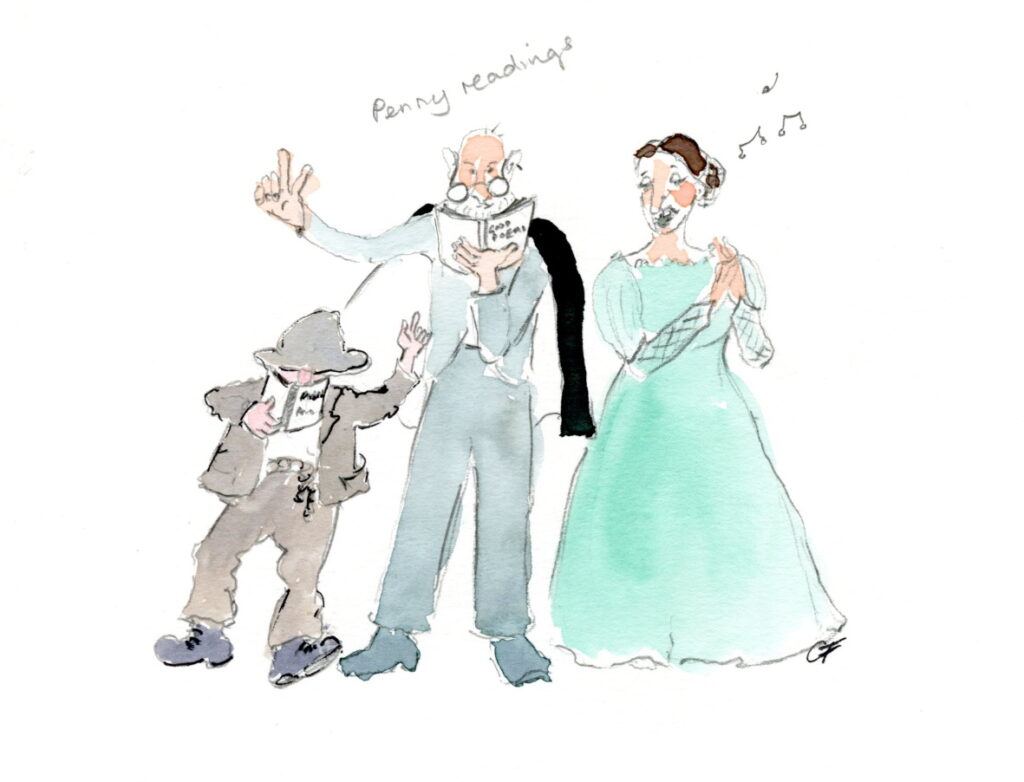 Illustration by Christine Fuller
What were Penny Readings?
According to Wikipedia, "The penny reading was a form of popular public entertainment that arose in the United Kingdom in the middle of the 19th century, consisting of readings and other performances, for which the admission charged was one penny."
Penny Readings with Entertainment in Great Ellingham
The Norfolk News of 27th April, 1867, reported that at Great Ellingham, a series of Penny Readings had taken place in the village for the benefit of the British School.
The school had seen a large increase in the scholars since the appointment of the new master and mistress.
The series of readings ended on the Good Friday by a public tea meeting which, it was reported, was numerously attended, after which readings and singing were given in the school-room.
"Old residents of the village" were present on the occasion. People also came from Dereham and Thetford to take part in the evening's entertainment.
It was also stated that "In connection with the readings, the pupils of the school gave the trials of John Barleycorn and Sir Timothy Traffic, the characters being exceedingly well sustained".
The crowd attending the entertainment were delighted with the excellent manner in which all performed their parts. This entertainment may well have connections with the British Folk Ballad John Barleycorn.
The article concluded by saying that on Easter Monday, the children partook of a sumptuous tea kindly given to them by the committee and friends of the school.
Sources:
Norfolk News 27th April, 1867
Wikipedia https://en.wikipedia.org/wiki/Penny_reading accessed 07.07.2019
Wikipedia https://en.wikipedia.org/wiki/John_Barleycorn accessed 07.07.2019