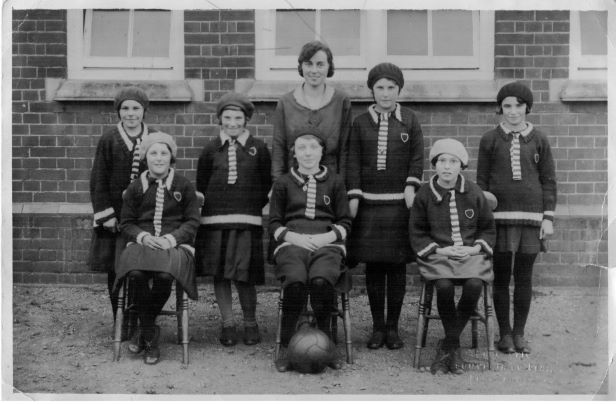 Great Ellingham Girls School Netball Team. Possibly early 1930s. Teacher Olive Summers. Back row: Joy Lee, Mary Pollard, Ada Saunders, Ethel Edwards Front row: Georgina Newby, Vera Catling, Elsie Leech. Photograph courtesy of Carol Ewin.
At an annual meeting of the South Norfolk Schools' Football League held in October, 1927, it was suggested that 'something be done for girls'. Mr R R Fordham, the headmaster of Great Ellingham schools, elected to call a meeting with a view to inaugurating a Schools' Netball League for girls.
Two years later, the Diss Express of October 25th, 1929, reported that the South Norfolk Schools' Netball League had just begun its third season after two successful years.
Great Ellingham had won the shield in the first year, and Kenninghall were the present holders. Great Ellingham would be competing in the League with teams from Attleborough, Banham, East Harling, North Lopham and Kenninghall.
Recollections of this particular time by former pupils of Great Ellingham School (which appear in Jean Watts' 'Great Ellingham County Primary School Centenary 1896-1996'), refer to Great Ellingham Netball Team winning the South Norfolk Shield, with members of the team wearing navy skirts, red and white jumpers and navy hats with the Great Ellingham School badge.
Sources:
Independent & The Journal Saturday 8th October 1927. Accessed via The British Newspaper Archive www.britishnewspaperarchive.co.uk 24.01.2021
Diss Express and Norfolk and Suffolk Journal Friday October 25th 1929. Accessed via The British Newspaper Archive www.britishnewspaperarchive.co.uk 24.01.2021
Great Ellingham County Primary School Centenary 1896-1996 Complied by J E Watts