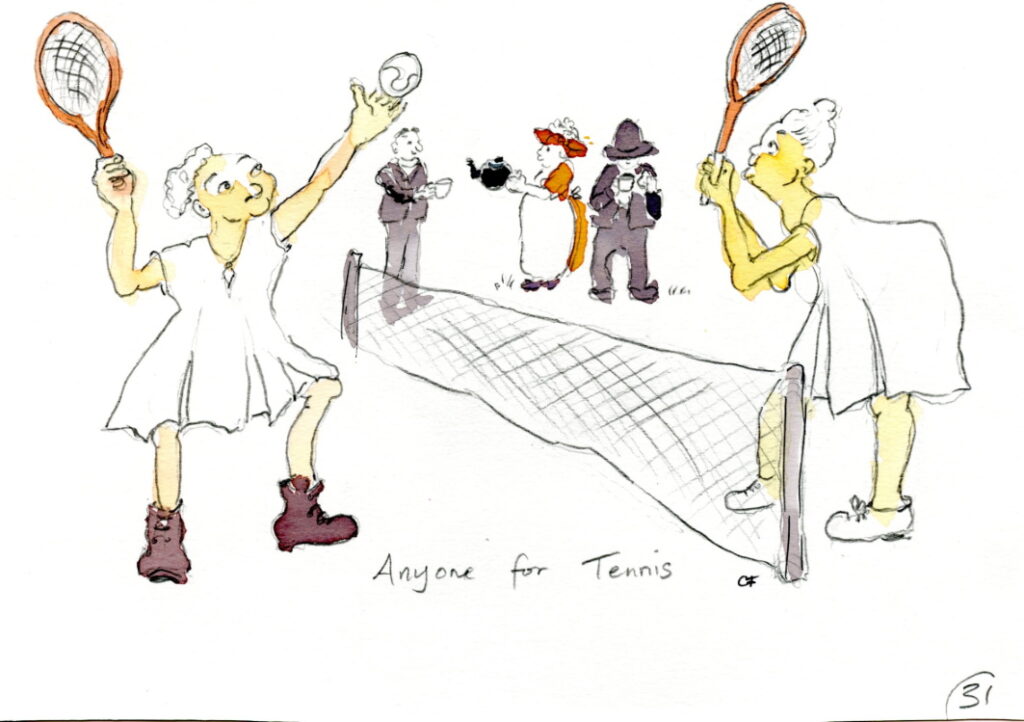 Illustration by Christine Fuller
The Eastern Daily Press of Wednesday the 26th November, 1930, reported on a social evening held at 'the Council School, Great Ellingham' on the previous Friday.
The event, organised to boost the funds of the village Tennis Club, was described as a success. Entertainment was provided by members and friends of the club, who included Mr and Mrs Sidell, Mr and Mrs Huggins, Mr Chilleystone and Mr Reynolds. Little Ellingham Band was also in attendance.
The Master of Ceremonies, Mr E Beales, gave thanks to all who had contributed to the successful evening. He particularly offered his thanks to Mrs King and Mrs Rix for their assistance with the refreshments.
Where were the Tennis Courts?
Assuming that the Tennis Club played their games on tennis courts in the village, I am wondering where these may have been. It has been suggested that the Tennis Club may have been formed at Town Green Farm.
I know at one time there was a tennis court at Bury Hall. I am also reliably informed that in the 1940s, there were tennis courts at Ye Olde Thatche Shoppe (in Church Street), and in the 1950s there were tennis courts at the recreation ground (where the scout hut now stands).
If anyone has any other suggestions, please do contact me via the Contact page.
Source:
26th November, 1930 Eastern Daily Press. Accessed via Localrecall.co.uk accessed 18th July, 2020
Thanks to Ray Beales and Carol Ewin