Before parish councils were first established c.1894, the responsibility for the day to day administration of the parish fell to the rector and some of the more affluent landowners.
The Norfolk News of the 26th April, 1873, published a report of a meeting attended by many discontented parishioners in Great Ellingham.
A correspondent, who appears to have witnessed the agitation first-hand, provided the report to the newspaper.
Disgruntled Villagers
On the Easter Monday of April 1873, the "usually quiet village" became a scene of "considerable activity and excitement." Historically, Easter Monday is the chosen day for the election of the churchwardens in Great Ellingham.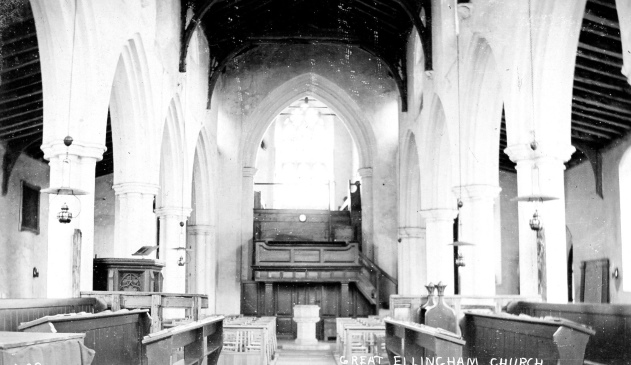 Interior of St James's Church. Postcard courtesy of Christine Bell
A crowd of rate-payers and 'cottagers' (the latter being in the majority), filled the vestry of St James.
The villagers were upset over the selection of the recipients of coal purchased by income from the 'Poors Firing Land'. This dissatisfaction had gradually increased. Six trustees (including the two churchwardens) controlled the allocation. However in years past, this had been in the hands of the rector, his warden and the parish warden.
Many villagers felt that the distribution of the coal had not been impartial. Although entitled, many had not received any coal. Others received less coal than they believed the income from the land warranted. In addition (and for many years), accounts for the Poors' Land had not been rendered.
The complainants were determined to get rid of the parish warden and elect "some one in whom they had confidence".
The chairman of the meeting (and the report particularly mentions that he was a 'new comer'), immediately proposed the election of the parish warden. Despite strong opposition, "the people's man" was immediately elected.
Nevertheless, the friends of the outgoing wardens demanded a poll. This duly took place the following day. Despite acts to canvass alternative support, the "result was a triumph for the people."
Proposed Scheme
The newspaper article concluded by saying that "a scheme is being laid before the commissioners to appropriate a part of the income of these poor's lands to repair the Church, and maintain the Church schools."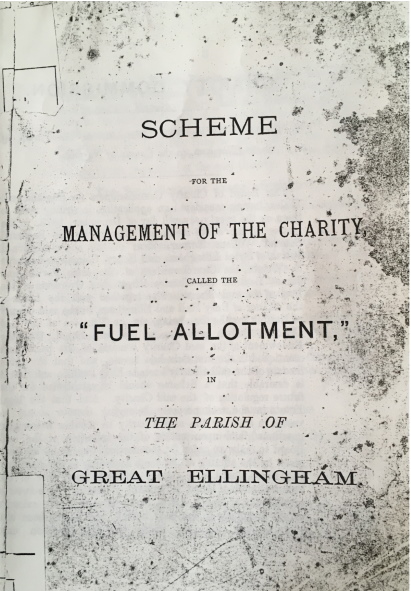 Front cover of the Order dated 27th April 1874. Courtesy of R McDouall
Indeed, on the 27th December, 1873, the Trustees of the Fuel Allotment Charity of Great Ellingham made an application to the Charity Commission for the approval and registration of a scheme. This scheme was approved and sealed on the 28th April, 1874.
Sources:
Norfolk News Saturday 26th April 1873. Viewed via https://www.britishnewspaperarchive.co.uk 24th September 2021
Copy of the Order dated 27th April 1874. Scheme for the Management of the Charity called the Fuel Allotment, the Parish of Great Ellingham. R McDouall