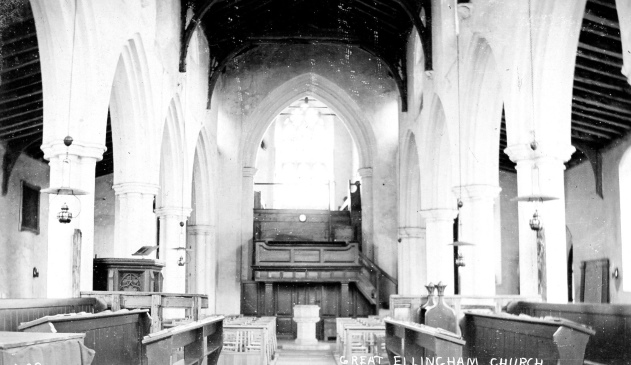 Interior of Church. Postcard Christine Bell
1907
The Norfolk Chronicle & Norwich Gazette of 9th March 1907, reported that the Bishop of Ipswich held a confirmation service at the parish church in Great Ellingham on the previous Tuesday.
It was also reported that this was "the first occasion on record of such a service". 34 candidates, who came from the parish as well as the surrounding villages, were presented to the Bishop.
Tea was provide in the parish room following the ceremony.
1927
The Breckles Deanery Monthly Magazine of May 1927, reported that a Confirmation service took place at Wymondham Abbey on Palm Sunday of that year. The congregation in the Abbey totalled 1,100. Eight candidates came from Little Ellingham and seven from Great Ellingham.
Sources:
Norfolk Chronicle & Norwich Gazette 9th March 1907
Breckles Deanery Monthly Magazine May 1927 viewed and held at Rockland All Saints Church