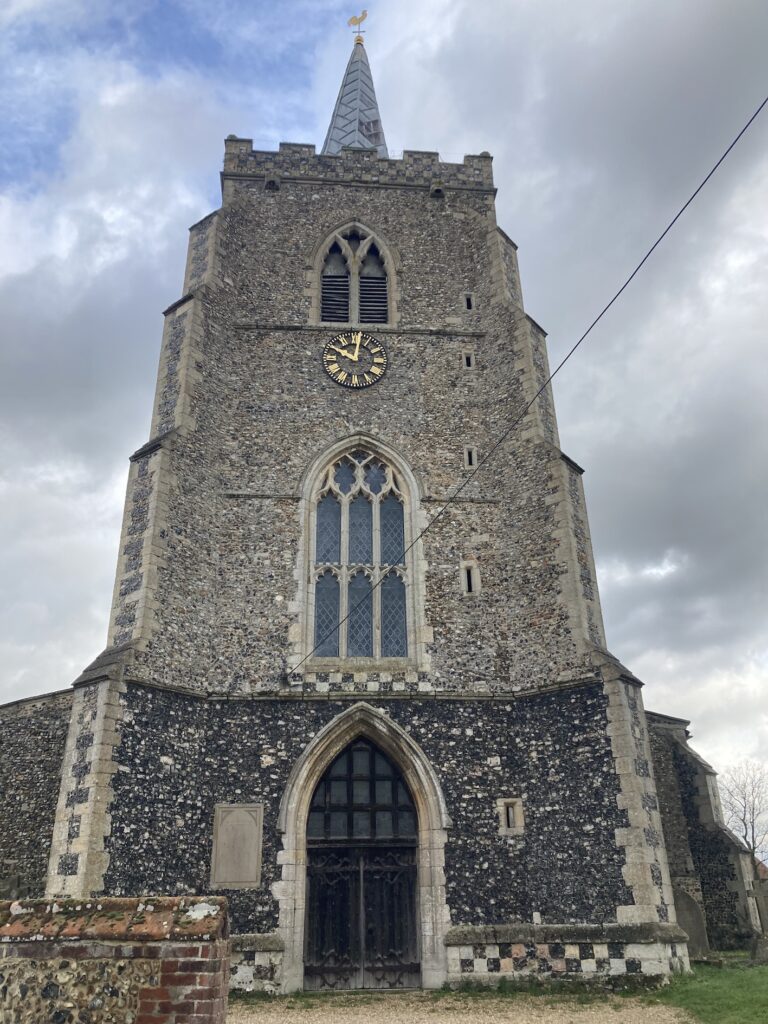 The Clock on the tower of St James's Church, Great Ellingham. Photograph taken February 2023
'Smith of Derby' writes to the Reverend Lavender
Towards the end of November, 1968, the Reverend A R A Lavender received a letter from the Managing Director of the prestigious Clock Manufacturers 'Smith of Derby'.
J E Howard Smith informed the Reverend Lavender that when passing through Great Ellingham the previous week, he had noticed that the clock in the Church tower had stopped and was in need of attention.
He explained that his company was 'almost certainly the largest makers and repairers of which clocks, both mechanical and electric, in this country'. Howard Smith also asked permission for his company to inspect the clock and submit a quotation for repair.
In giving further 'evidence of our status', Smith stated that 'we are the makers of the great clock of St Paul's cathedral and of large numbers of Churches and Public Buildings in all parts of the world. A very large recent installation is that of the interesting Wren Church of St James's Piccadilly in London, and we have also just converted the clock of Norwich Cathedral to the system of direct electric drive..'
It appears that 'Smith of Derby' did indeed receive a positive response.
Report & Quotation
Following his visit to Great Ellingham on the 23rd January, 1969, Howard Smith sent a letter dated 11th February, 1969, to the Clerk of the Parish Council. In the letter, Howard Smith set out a report and two quotations for work to the clock.
He stated:
This clock, which was installed in 1921, appears to be in fairly good mechanical order but it is so dirty and completely smothered in thick grease that it is almost impossible to assess its true condition. Since however the clock is only 48 years old, it is fair to assume that no major defects or wear will be found hidden under the dirt. We must mention also that the design of this clock is such that it is not easy to give an assurance of reliability in the future but since we understand it has gone well and kept good time in the past the cleaning and overhaul will no doubt give it a further lease of useful life.
Quotation No.1
To dismantle, thoroughly clean and degrease all parts, reassemble, adjust and freshly oil the clock; also to secure the control fly of the gravity escapement and to polish the pallet stops; also to fit split pin to collar on maintaining power shaft and to polish all working surfaces of the striking stop and release mechanism; also to clean and oil the dial gearing in situ, and to clean and oil the bevel gears and striking hammer and to fit new wire connections and links as necessary between the clock and hammer, and to leave in good working order, including all clockmakers' time and travelling expenses, and transport, would cost ….. £76 (SEVENTY-SIX POUNDS) nett
Smith goes on to say that 'It is quite impossible to judge the state of the wire ropes which support the weights but if after cleaning, these should be found unsafe, the need for replacement would be explained to you and permission received before we proceed further. The cost of steel write ropes, including fitting if undertaken at the same time as No.1 would be at the rate of 8d (eight-pence) per foot'
Quotation No.2
The cost, extra to No.1., to clean and repair the existing dial with best oil paints and to finish with durable black (or dark blue) enamel and 23 carat double thickness English gold leaf, including all extra clockmakers' time and travelling expenses, and the provision and use of our own rope equipment to reach the dial, if executed at the same time as No.1, would be ……. £36 (THIRTY-SIX POUNDS) Nett.
Unfortunately, I do not know whether or not any of the work was carried out!
Earlier Works to the Clock
However only around three years earlier (between July and November 1965), the clock face was cleaned and painted.
Builders and Contractors, Cordy & Son of Hingham, submitted their account to the Great Ellingham Parish Council for erecting scaffolding, cleaning and painting clock face at St James's Church, Great Ellingham. This work was in accordance with their estimate of July 27th, 1965. The sum requested and paid was £52.
A Memorial to the Fallen
Smith of Derby's report and quotation mentions that the clock was installed in 1921. This date would appear to be fairly accurate.
Former parish clerk, William R Lebbell, recalled that after WW1, an appeal for funds was made to the Parish for a memorial to the fallen of the parish.
The parish raised sufficient funds to purchase the Church clock. Lebbell also says in his 'potted history' of the village written around 1970, that the clock had undergone some repairs. Further, it used to be hand wound but has now been automated.
However, I am reliably informed that the clock is still hand wound!
Sources:
1968 November 25. Letter Smith of Derby to The Rev. A R A Lavender.
1969 February 11. Letter Smith of Derby to Clerk to the Parish Council.
1965 November 29. Receipted Invoice Cordy & Son Hingham to Great Ellingham Parish Council.
All three documents held at Norfolk Record Office. Great Ellingham Parish Council 1962-1970. Cat. Ref. No. PC/116/46
Lebbell, W R & Fay,S. 'A Little History of Great Ellingham'. Date unknown but believed 1960s-1970s.