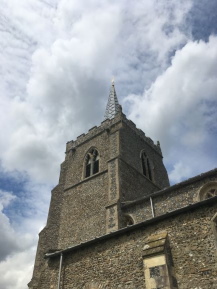 William Chaplin and Sarah Bailey married in Great Ellingham Church on April 30th, 1767.
Their first son, William, was baptised in the Parish Church on September 18th, 1768. William and Sarah had at least a further ten children.
Where Did They Live?
The Statement of Claims for the Great Ellingham Inclosure of 1800, reveal that a William Chaplin was a tenant of John Garnham and occupied one messuage (a dwellinghouse with associated outbuildings and land) together with 56 acres of land. Further, a Samuel Reynolds claimed one cottage and three acres of land which was occupied by himself and a William Chaplin.
The Inclosures Commissioner's Valuation (also of 1800), confirm that a William Chaplin occupied a Farm House, Barn, Stables, Yard and Garden in addition to land comprising various named pieces such as Alders Croft, Stony Lane Close, Home Croft, Hempland. William also occupied several allotments which included allotments in Lepps Field and Stalland Common. This was the property owned by John Garnham.
Eighteenth century maps (held at the Norfolk Record Office) show that John Garnham owned land at Stalland Common as well as land including a dwelling at Bush Green. Samuel Reynolds' cottage (occupied by himself and William Chaplin) was in Bow Street with an allotment opposite the cottage in Anchor Common.
At the time of the Inclosure Valuations (1800), William and Sarah's son William would have been in his early thirties. I assume that William and Sarah inhabited one the properties (possibly the property at Bush Green) and their son the other (in Bow Street).
Burials of William & Sarah Chaplin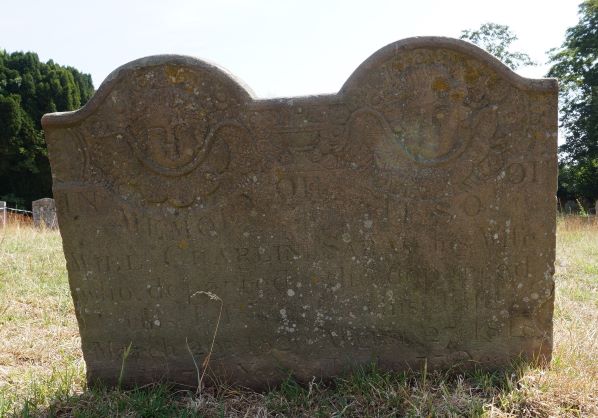 Headstone in Great Ellingham Churchyard for William & Sarah Chaplin
Sarah died August 27th, 1818 and was buried in the churchyard in Great Ellingham on the 1st September. She was in her 73rd year. William died aged 78 in the March of 1820 and, accordingly to the burial entry, was at the time of his death living in Hingham.
1851: Chaplin Descendants
Some thirty years after William's death, the census of 1851 shows several households in Great Ellingham headed by a Chaplin. Many of these heads of household are direct descendants of William and Sarah Chaplin.
Four Chaplin families were living in Bow Street including William and Sarah's son William Chaplin (aged 82) and his wife Mary. In addition a Charlotte Chaplin aged 13 is listed as a visitor at the household of George Beales).
Two families in Long Street and two in Church Street. Christmas Chaplin was in Stalling (Stalland) Common, a servant for widowed farmer, Mary Mann.
At Bush Green is 32 year old Daniel Chaplin, farming 25 acres.
In Town Green is 34 year old James Chaplin described as an innkeeper. At least part of what we know as being Chequers Lane today (particularly that part of Chequers Lane nearer the junction of Church Street and Long Street), appears to have been described as being in Town Green in the 1851 census. The Norfolk Pubs website lists James Chaplin as licensee of the Chequers Inn from at least 1851-1854. The website also lists an Edward Chapling a licensee in 1830 and Edward Chaplin in 1839.
Sources:
Great Ellingham Parish Registers Norfolk Record Office PD/609. Also available at FamilySearch.org https://www.familysearch.org/search/image/index?owc=4J8C-CB7%3A29627201%3Fcc%3D1416598
1851 census Great Ellingham Enumerations Districts 4a & 4b HO107/1823
18th Century Map Stalland and Bush Green Commons, Great Ellingham held at the Norfolk Record Office catalogue reference MC2213/116, 941X7
18th Century Map Pennel and Anchor Commons, Great Ellingham held at the Norfolk Record Office catalogue reference MC2214/119, 941X7
1800 Inclosure Commissioner's Particulars & Valuation held at Norfolk Record Office catalogue reference MC2213/119, 941X7
http://www.norfolkpubs.co.uk – accessed 04 May 2019