Auction
A notice of sales by auction at Great Ellingham appeared in the Norfolk Chronicle of 21st September, 1833.
"All the very superior Cart Horses, Colts, Pony, Cows, Young Stock, Agricultural Carriages, Implements, Harness &c and a part of the useful Furniture, the Dairy and Brewing Utensils, &c on the Farming Premises, in the occupation of Mr William Harley, at Great Ellingham, Norfolk".
The auction, to be conducted by William Spelman auctioneer of Norwich, would take place on the premises of Mr Harley in Great Ellingham on Friday, 27th September.
Amongst the furniture being sold were bedsteads and hangings, featherbeds, mattresses, a mahogany bureau, mahogany and wainscot tables, chests of drawers, an eight day clock and some chairs.
Who was William Harley and where was his Premises?
An 'Estates and Occupations' prepared before 1840, lists William Harley occupying a Farm House, Barns, Stables, Yards and Gardens together with a substantial amount of land in Great Ellingham. William Harley was a tenant farmer of Lord Walsingham.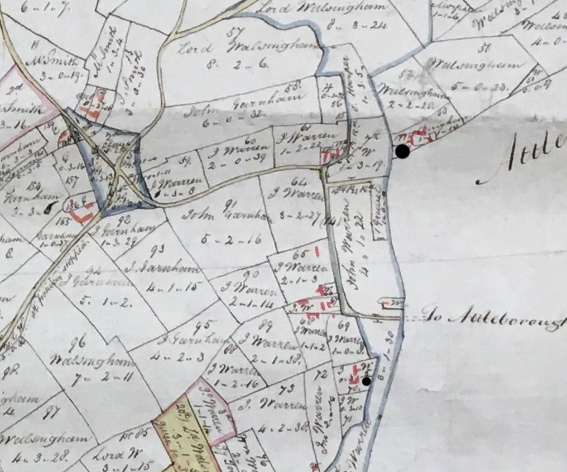 Extract from 1802 Map of Great Ellingham. Original held at Norfolk Record Office. Russell James Colman Plans. Cat. Ref. C/Ca 1/84. With kind permission of NRO
The large black dot on the above extract from an 1802 Map of Great Ellingham shows the position of the farm house and premises occupied by William Harley from at least 1817 until the 1830s. Today, we know the property as Portwood Farm.
William Harley was living in Great Ellingham from at least 1814, when he married Ruth Newman of Fundenhall, in the Parish Church at Great Ellingham. William was then around the age of 50.
Whilst a Survey of Great Ellingham dated 1817 to 1819 shows William Harley to be at Portwood Farm, the document also indicates that William was living in a cottage not far from Portwood Farm prior to moving to Portwood Farm.
The small black dot on the above extract from the 1802 map shows the position of two cottages, one of which was occupied by William Harley prior to c.1817.
Around six years after the auction, William Harley died. He was buried in the churchyard of St James on the 23rd May, 1839. He was 75.
Widow Ruth Harley
The 1841 census captures Ruth Harley (aged between 45 and 49) living in Great Ellingham. I believe Ruth was living not far from the Chequers Public House.
Some four years later, an announcement appeared in the Bury & Norwich Post on 31st January, 1844, of the marriage on the 19th January in Norwich of Mr Jas. Piggin of Norwich to Ruth, the widow of the late Mr William Harley of Great Ellingham.
Sources:
18th century Map. Stalland and Bush Green Commons, Great Ellingham. Norfolk Record Office. Catalgoue Ref NRO, MC 2213/116.
1802 Russell James Colman Plans. Great Ellingham. Catalogue Ref. C/Ca 1/84.
1799-1842 F W Horner, Records of the Surveyors to Commissioners for Inclosure in Parishes in Norfolk and Suffolk. Great Ellingham (Act 1799). Norfolk Record Office. Catalogue Ref: NRO, BR 90/2
1800 Inclosure Commissioner's Particulars and Valuation, Great Ellingham. Norfolk Record Office. Catalogue Ref: NRO, MC 2213/119
1753-1847 Manor of Buckenham Castle, Lathes, Close and Priory. Court Book. Norfolk Record Office. Catalogue Ref: MC 1833/8 -MC 1833/16. Also available at https://www.familysearch.org
Norfolk Chronicle 21st September, 1833. Viewed via www.britishnewspaperarchive.co.uk 03 January 2021
Great Ellingham Parish Registers. Norfolk Record Office. PD 609. Also available at https://www.familysearch.org
Bury & Norwich Post 31st January, 1844. Viewed via www.britishnewspaperarchive.co.uk 05 January 2021
1841 census H0107/781/8