1784 – William Frost signs his last Will & Testament
During the reign of King George IV, William Frost, a peruke maker (wig maker) of Great Ellingham, made his last Will and Testament some 10 years before he died. Perhaps William was feeling very unwell at that time or, he was perfectly well and that he just wanted to 'put his affairs in order' when he signed the Will on August 4th 1784.
William's signature was witnessed by members of the Steel family – John Steel snr, John Steel jnr and Susanna Steel, all of whom also signed.
1794 – Death of William Frost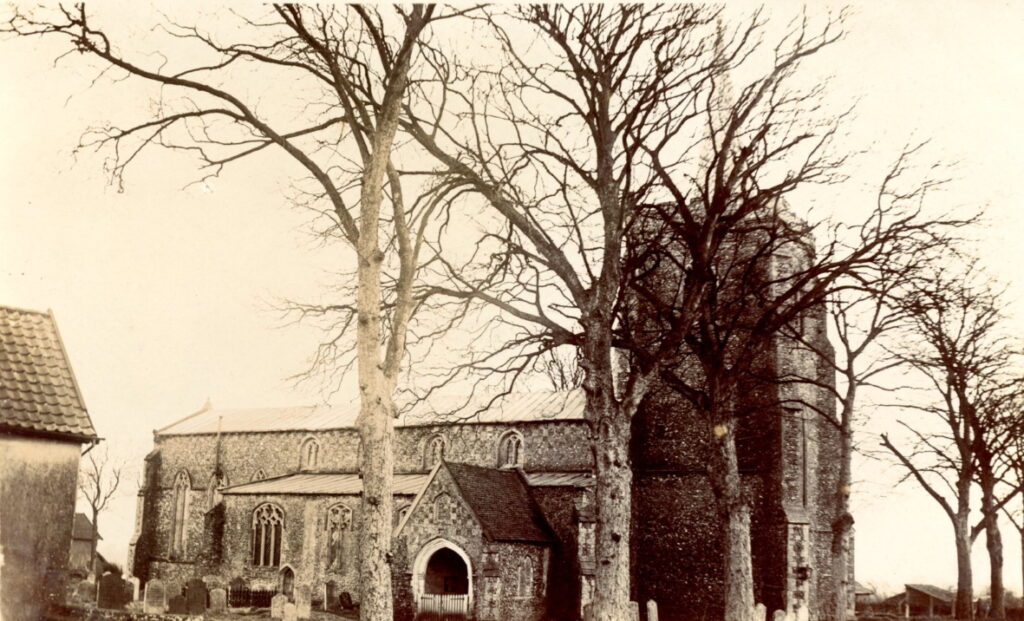 St James's Church, Great Ellingham
William Frost a married man was buried in the churchyard of St James on May 20th, 1794. No age was stated.
What was in his Will?
In his Will, William appointed his 'beloved wife' to be the sole executrix. His body was to be decently buried at Ann's discretion. He left all his goods, chattels, implements of household and commodities, debts and all things belonging to him to his wife Ann.
Further, William gave to his wife his dwellinghouse (and everything associated with it) situate in Wellgate Street, Mattishall. He does not mention any property in Great Ellingham.
The Will does not mention any children or grandchildren. I can only assume that William and Ann did not have any children – or, at least, have any children living at the time that William made his Will.
The Church of St James Parish Registers reveal a baptism for Anne, the daughter of William and Ann Frost on September 20th, 1794. However there is also an entry in the burial register for September 24th, 1794, Ann the infant daughter of William and Ann Frost.
Probate was granted to William's widow Ann Frost at Hingham on 22nd May, 1794.
1797 – Cottage occupied by Ann Frost to be sold
The Norfolk Chronicle of 10th June, 1797, includes the notice of a forthcoming Auction at the White Hart, Wymondham on 23rd June 1797, of property in Great Ellingham.
The main property was described as a small farm comprising a good dwellinghouse with barn stable and other buildings together with a large orchard, planted with fruit trees and several large walnut trees. This farm was occupied by Benjamin Turner and later known as Church Farmhouse in Church Street.
Also to be auctioned, was a cottage near to the dwellinghouse which was in the occupation of Ann Frost. It is possible that the occupier was William Frost's widow.
Given that I have not found a burial for widow Ann Frost in the Great Ellingham Parish Registers, it is possible that Ann Frost moved out of the village following the death of her husband and a sale of the cottage.
Sources:
Norfolk Record Office. NCC Will Register Coe 99. Frost, William, peruke maker, of Great Ellingham. 1794.
Great Ellingham Parish Registers. Norfolk Record Office PD/690. Also available at FamilySearch.org https://www.familysearch.org/search/image/index?owc=4J8C-CB7%3A29627201%3Fcc%3D1416598
Norfolk Chronicle 10th June 1797