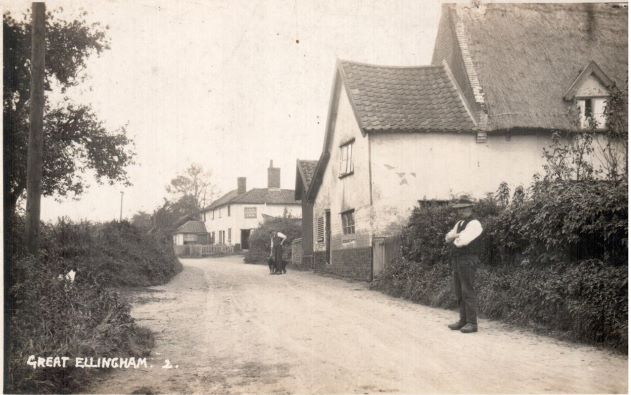 Chequers Lane. Date unknown. Postcard courtesy of Carol Ewin
In 1891, William Bird had a grocer's shop in Chequers Lane, Great Ellingham. He was also a coal dealer. William's wife Anna minded the shop whilst her husband delivered coal to his customers by horse and cart.
County Court Case
One such customer was John Hawes. Unfortunately, Hawes failed to pay Bird the one shilling and eightpence (1s 8d) for the coal which Bird had delivered to him. As a result, Bird brought an action against Hawes to recover the debt. The case was heard at the County Court held at Watton on the 16th June, 1891.
The Norwich Mercury published a brief account of the case a few days later. We do not know how long the debt had been outstanding, and what steps Bird had taken to recover the debt. However, the case was evidently proven as the court made 'an order for payment forthwith'.
William & Anna Bird
On the 19th April, 1886, William Bird married Anna Bilham in the Church of St James, Great Ellingham. At the time of the marriage, they were both single and living in the parish.
At 30, Anna Bilham was some eight years older than her 22 year old husband. The daughter of the late Stephen Bilham, Anna was born in Kenninghall, a village around nine miles from Great Ellingham.
Unknown Father
The name of William's father is not entered in the marriage register. This could mean that at the time of the marriage, his father was dead – although unlikely given that Anna's deceased's father's name appears in the register. However, and perhaps more likely, the omission of his father's name was an indication that William was illegitimate. Further, William may have not have known the identity of his father.
Nephew
In 1881, 17 year old William Bird is living with the extended household of 30 year old farm labourer Thomas Houchen and his wife Eliza (née Newby) in Long Street. The census describes William as a 'nephew' to Thomas Houchen. This suggests that William is the son of a sibling of either Thomas Houchen or his wife Eliza (née Newby).
However ten years earlier, the 1871 census shows six year old William Bird as a nephew to 56 year old farmer George Newby and his wife Ann (née Bird) i.e. Eliza Houchen's parents. This family too lived in Long Street.
This extended household comprise George and Ann Newby, their 16 year old son George, daughter Ellen Barnard aged 26 and her husband 26 year old George Barnard, daughter Eliza Newby aged 19, married daughter 21 year old Martha Woodrow and, finally, six year old William Bird.
Given that Ann was formerly spinster Ann Bird, I think it more likely that William was Ann Newby's nephew (and, consequently, in 1881, a great nephew to Eliza Houchen). But this is no more than an unproven hunch.
Place of Birth
There is also confusion with regard to William's place of birth. At the time of the 1891 census (and again in 1901), William stated his place of birth to be Great Ellingham.
In 1911, William's place of birth is Bergh Apton. However, the 1871 census gives his place of birth as Bridgham and, in 1881, his place of birth is said to be Bergh Apton.
I have not found a corresponding baptism for William in any of the three places.
William will have provided the information to the enumerator in 1891, 1901 and 1911, whereas in 1871 and 1881, a member of his family gave the informaton. We cannot be sure that William knew where he was born. Until 1911, he may have assumed that he was born in Great Ellingham. After all, William lived in the village from at least the age of 6. However, in later years he may have been told the circumstances and the place of his birth.
Nevertheless, it is likely that William's birth is the birth of 'William Bird' (mother's maiden name Bird) registered in the district of Loddon between April and June of 1864 The Loddon District includes births taking place in Bergh Apton. Although the birth certificate would give William's mother's name, it would unlikely reveal his father's identity.
Great Ellingham to Beetley
Some time between 1901 and 1911, William and Anna Bird left Great Ellingham. The 1911 census captures the couple (then aged 46 and 59 respectively), living in a five-roomed property in Beetley, a village some 15 miles north of Great Ellingham. William is a farmer and also an employer.
Although they had completed 22 years of marriage, William and Anna did not have children.
Sources:
Norwich Mercury 24th June 1891. Viewed via www.britishnewspaperarchive.co.uk 20th June 2021
Great Ellingham Parish Registes. Norfolk Record Office. PD 609. Also available at www.familysearch.org
1871 census RG10/1841/92
1881 census RG11/1974/91
1891 census RG12/1549/73
1901 census RG13/1873/19
1911 census RG14/11521/24
GRO Index https://www.gro.gov.uk/gro/content/ Also searchable via https://www.freebmd.org.uk/